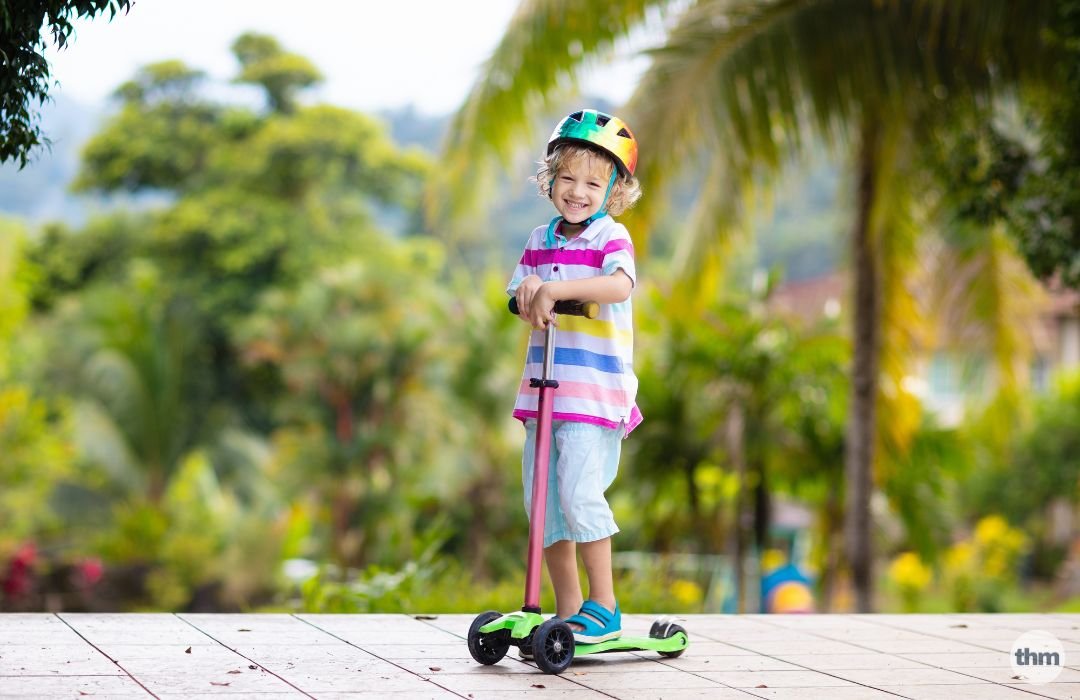 The Best Kids Scooters
Fun, Safe, and Durable!
Last updated: September, 2023
Kick scooters are a fantastic way to keep your kids active, entertained, and outdoors. These fun and versatile devices are not only great for recreational use but also promote balance, coordination, and physical activity. With a plethora of options available on the market, it can be overwhelming to choose the perfect kick scooter for your child. To help you make an informed decision, we've compiled a list of the best kick scooters for kids, taking into consideration factors such as durability, safety, design, and overall performance.
Why Kick Scooters?
Kick scooters are not just a fun toy, they're a gateway to independence for your child. They help develop balance, coordination, and motor skills, all while providing hours of outdoor fun. Plus, they're a great way to get your kids moving and away from screens!
The Benefits of Kick Scooters for Kids
Introducing your child to the world of kick scooters can bring about a plethora of benefits that extend beyond the sheer joy of riding. From physical development to enhancing social skills, kick scooters offer a range of advantages that make them a valuable addition to your child's playtime activities. Here are some of the key benefits of using a kick scooter:
Physical Activity and Fitness
In a time when screen time dominates much of children's leisure time, kick scooters offer a refreshing way to get kids moving. Riding a kick scooter engages various muscle groups, helping children develop balance, coordination, and gross motor skills. It's an excellent form of cardiovascular exercise that promotes a healthy lifestyle and encourages an active routine from an early age.
Outdoor Exploration
Kick scooters provide the perfect excuse for kids to venture outdoors and explore their surroundings. Whether it's a local park, a sidewalk, or a quiet residential street, the scooter offers a sense of freedom and independence. Exploring the neighborhood on a scooter not only allows kids to enjoy fresh air and nature but also encourages them to observe and appreciate their environment.
Balance and Coordination
The act of scooting involves maintaining balance and coordination, which are essential skills for a child's overall development. As kids push off the ground and glide, they learn how to distribute their weight, adjust their posture, and control their movements. These skills not only enhance their ability to ride a scooter but also contribute to improved balance in various activities.
Confidence Boost
Mastering the art of riding a kick scooter can be a significant achievement for a child. As they progress from tentative pushes to confident glides, they experience a boost in self-esteem and self-confidence. The sense of accomplishment gained from conquering new skills on the scooter can have a positive ripple effect, encouraging kids to tackle other challenges with the same determination.
Social Interaction
Kick scooters can serve as a social catalyst, providing opportunities for kids to interact with their peers. Riding scooters together encourages teamwork, cooperation, and friendly competition. Whether it's racing down the street, playing games, or taking turns, kick scooters facilitate social connections and foster valuable interpersonal skills.
Screen-Free Entertainment
Kick scooters offer a welcome alternative to digital devices, offering kids a chance to unplug from screens and engage in active play. With the allure of the outdoors and the thrill of movement, scooting provides entertainment that is both enjoyable and healthy. It's a valuable way to strike a balance between technology and physical activity.
What Makes a Two-Wheel Scooter Different from a Three-Wheel Scooter?
When shopping for a kick scooter for your child, one of the decisions you'll need to make is whether to go for a two-wheel or three-wheel model. Each type of scooter has its own set of features and benefits, catering to different age groups, skill levels, and preferences. Let's delve into the differences between two-wheel and three-wheel scooters to help you make an informed choice.
Two-Wheel Scooters:
1. Balance and Coordination: Two-wheel scooters require a higher level of balance and coordination compared to their three-wheel counterparts. This makes them better suited for older children who have already developed a good sense of balance and motor skills.
2. Maneuverability: Two-wheel scooters are generally more maneuverable and allow for sharper turns and quick changes in direction. This can be appealing to kids who are looking for a more dynamic and challenging riding experience.
3. Skill Progression: Riding a two-wheel scooter can be seen as a stepping stone to riding a bicycle. Mastering the balance required for a two-wheel scooter can lay the groundwork for learning how to ride a bike in the future.
4. Portability: Two-wheel scooters are often more compact and lightweight, making them easier to carry and transport. This feature can be convenient for families on the go.
Three-Wheel Scooters:
1. Stability: Three-wheel scooters, also known as tri-scooters, offer enhanced stability due to their additional wheel. This feature makes them an excellent choice for younger riders who are still developing their balance skills.
2. Confidence Building: The added stability of three-wheel scooters can boost a child's confidence, allowing them to focus more on the joy of riding rather than worrying about maintaining balance.
3. Ease of Use: Three-wheel scooters are generally easier for beginners to use because they require less balance and coordination. This makes them suitable for toddlers and young children who are just starting to explore the world of scooting.
4. Safety: The wider base and lower deck of three-wheel scooters contribute to a more stable and secure riding experience. This can provide parents with peace of mind when their little ones are out on their scooters.
The Best Kick Scooters for Kids: A Detailed Review
Let's dive deeper into our top picks for the best kick scooters for kids. We'll cover everything from age range and maximum weight to deck length, dimensions, and unique features.
Razor A Kick Scooter
The best kick scooter overall
---
Specifications
Dimensions:
23.9" x 11.3" x 32.4"
The Razor A Kick Scooter is a classic choice that delivers on both performance and durability. Designed for kids aged 5 and above, this scooter is built to withstand the rough and tumble of everyday play. The aircraft-grade aluminum construction ensures longevity, while the urethane wheels provide a smooth ride, making it a reliable choice for parents.
One of the standout features of the Razor A Kick Scooter is its foldable design and adjustable handlebars. This makes it easy to store and transport, a convenience for families on the go. The scooter's simplicity is its strength, it doesn't boast flashy extras, but it delivers where it counts.
However, its basic design might not appeal to older kids seeking more advanced features. But for younger kids learning to scoot, the Razor A Kick Scooter is a solid, reliable choice that offers great value for money. It's a scooter that gets the job done, providing a fun, smooth ride that kids will love.
In conclusion, the Razor A Kick Scooter is a timeless classic that combines durability, ease of use, and smooth performance, making it a top pick for young riders.
Micro Kickboard Mini Original 3-Wheeled Kick Scooter
---
Specifications
Deck Length:
2 x 4.5 inches
Dimensions:
24 x 10.25 x 11.75 In.
The Micro Mini Kick Scooter was created by Micro Kickboard for kids under five. The scooter has features that are intended to teach balance and coordination to kids. It has a low-to-the-ground deck, three polyurethane wheels, and the ability to lean to steer.
The child can balance the scooter while turning by using the two large front wheels and reinforced fiberglass deck, which also provides a comfortable ride. Because the wheels won't leave a mark, parents don't need to worry if their children play inside.
Any child will quickly get used to the sturdy rear braking system on the carbon fiber scooter. Unfortunately, the handlebars cannot be raised or lowered; they are fixed at 24 inches. The handlebar can be removed, which makes the scooter easier to store and transport.
Razor A2 Kick Scooter
---
Specifications
Dimensions:
26.5" x 13" x 34"
The fun older brother to the Razor A kick scooter is the Razor A2. Despite having a similar appearance, the A2 has a few tricks up its sleeve. Two 98mm Urethane wheels are mounted on a strong aircraft-grade aluminum frame that supports the Razor A2.
The front wheel springless shock absorber system separates the A2 model from the A. It also has a new wheelie bar and updated deck design, enabling the rider to enjoy a smooth ride and pull off incredible stunts and tricks for their friends.
It has a folding mechanism and a handlebar that can be adjusted in height, just like the Razor A, making it simple to carry or store. It has a well-known rear-wheel braking mechanism. It has a better finger guard than the Razor A.
Micro Kickboard Maxi Deluxe Kick Scooter
---
Specifications
Dimensions:
12.99" x 5.59" x 35.83"
The Micro Maxi is the Micro Mini's bigger brother, and it was created for children aged five and up. The Micro Maxi has features designed to help kids with balance and coordination, just like the Micro Mini.
Three polyurethane wheels and a sturdy aluminum frame are a couple of the features. The scooter's lean-to-steer feature is supported by the number and placement of wheels as well as the frame design. Kids can brake the scooter with their kicking foot thanks to its rear braking system.
Battery-free, motion-activated LED light-up wheels make up the two front wheels. The handlebar's adjustable height ranges from 24″ to 34″. Unfortunately, the handlebar cannot be folded, but it can be removed, making it simple to store the scooter.
Beleev V5 Kick Scooter
---
Specifications
Deck Length:
17.80" x 4.80"
Dimensions:
34.3" x 13.4" x 5.2"
The Beleev V5 Kick Scooter has a cutting-edge design focused on personalization and usability.
There are four different handlebar height settings available: 31.9″, 35.2″, 38.6″, and 40.9″. To ensure a stable and secure ride, the handlebar features a rubber handle with a strong and reliable T-bar lock.
The scooter can be folded in one second. Pull the lever down to unlock the T-bar and fold the scooter. No tools or assembly are needed. The handlebars on this scooter can fold, making storage and transportation a breeze.
The scooter has a carry strap that enables the user to fold it and sling it over their shoulder. For those who use scooters to commute to school, this is the ideal addition. The scooter can be folded, carried into the building, and kept on top or in a locker.
With 200mm high-rebound Pu extra-large wheels and a shock absorption mechanism, the Beleev V5 Kick Scooter provides a smooth and comfortable ride for the user. The scooter's wide, low-to-the-ground deck is non-slip and textured, giving your child room to place both feet while also providing grip for their sneakers.
Lascoota Kick Scooter
---
Specifications
Deck Length:
22.5" x 5.5"
Dimensions:
37″ x 22.5" x 5.5"
The Beleev V5 Kick Scooter and the Lascoota Kick Scooter have comparable designs. With the push of a button, the quick-release folding mechanism is engaged. It has a carry strap like the Beleev V5 Kick Scooter, allowing you to sling the scooter over your shoulder.
The scooter has a rear-wheel brake, a kickstand, an extra-wide non-slip deck, and an aluminum and alloy steel frame. Its front suspension and 8-inch wheels make for a comfortable ride.
The aluminum T handlebar can be adjusted to one of four heights: 32″, 35″, 37″, or 39″. The rubber grips on the handlebars make riding more comfortable.
Micro Kickboard Sprite Kick Scooter
---
Specifications
Dimensions:
13.5" x 4" x 34"
the Micro Kickboard company produces some of the best scooters on the market. In order to create a fun scooter, they went one step further. The Micro Sprite now has 120mm motion-activated light-up LED polyurethane wheels. The model is fairly simple, aside from the wheels.
The scooter has a kickstand and an aluminum foldable frame. It is more challenging to transport because it lacks a carry strap, unlike the Beleev V5 and the Lascoota Kick Scooter. But you can store it easily because of its foldable design and kickstand.
You can set the height of the T-bar anywhere between 25″ and 37″. The steering is very reminiscent of a bicycle, and the handlebars can be turned 360 degrees.
Razor A5 Lux Kick Scooter
---
Specifications
Dimensions:
13.5" x 4" x 34"
An additional well-liked Razor scooter is the A5. if you are unable to keep up with your child's rapid growth. Then you ought to think about this scooter. On their website, Razor states that this scooter was created with larger riders in mind.
Two very large 200mm polyurethane wheels are on it. The scooter's foldable aluminum steel frame is strong and lightweight, and it has an adjustable T-tube and wider deck to accommodate taller riders. The A5 frame has an anodized finish with eye-catching colors and stylish graphics.
The rear-fender brake system, like those on the other scooters on this list, is activated by your child using their kicking leg to press the pedal.
Fuzion X-5 Pro Kick Scooter
---
Specifications
Dimensions:
26.5" x 4" x 32.2"
The Fusion X-5 is outfitted with grade-A parts that are typically reserved for more expensive scooters. Intermediate riders should consider the X-5.
The X-5 has 100mm five-spoke aluminum core wheels with cast polyurethane and an aircraft-grade aluminum deck. This model's handlebars have a V shape rather than the customary T shape. High-tensile steel is used to reinforce the pro-rise handlebars. A custom Fuzion enigma brake made of steel and nylon serves as the rear braking system. It is robust and silent.
Before you can drive this model, it needs to be lightly assembled. It shouldn't take more than two minutes to assemble. The three bolts only need to be tightened. The IHC compression system in the new X-5 has sealed bearings.
How to Choose the Best Kick Scooter for Your Child
Choosing the right kick scooter for your child can seem daunting with so many options available. But don't worry, we're here to help. Here are some key factors to consider:
Age and Skill Level
The age and skill level of your child plays a crucial role in choosing the right scooter. For younger kids or beginners, a three-wheeled scooter offers more stability and is easier to balance. As they grow older and gain confidence, they can transition to a two-wheeled scooter.
Deck Size and Height
The deck is where your child stands, so it's important to choose a scooter with a deck size that's appropriate for your child's size. A wider deck provides more space for your child's feet, offering more stability. The height of the deck from the ground should also be considered. Lower decks are easier to ride and balance, while higher decks provide more clearance for uneven surfaces.
Handlebar Height
The handlebars should be at a comfortable height for your child. If they're too high, your child will have difficulty steering and controlling the scooter. If they're too low, your child will have to lean forward, which can be uncomfortable and affect their balance.
Wheel Size and Material
Larger wheels roll more smoothly and are better for speed and riding on uneven surfaces, while smaller wheels offer more control and are better for tricks and stunts. The material of the wheels also matters. Plastic wheels are cheaper but less durable, while urethane wheels offer a smoother ride and last longer.
Weight Limit
Ensure the scooter can support your child's weight. Most kids' scooters can support up to 100 pounds, but some models can support more. Always check the manufacturer's weight limit to ensure the scooter is safe for your child to use.
Safety Features
Look for scooters with safety features such as a rear fender brake, non-slip deck, and reflectors or LED lights for visibility. Also, ensure your child always wears safety gear, including a helmet, knee pads, and elbow pads.
Design and Color
While this may not affect the performance of the scooter, the design and color can make a big difference to your child. A scooter with their favorite color or characters can make riding more fun and encourage them to use it more often.
By considering these factors, you can ensure you choose the best kick scooter that's safe, comfortable, and fun for your child.
Navigating the Road Safely: A Kick Scooter Safety Guide
Kick scooters are a fantastic way for kids to have fun and stay active, but just like any other activity, safety should always be a top priority. Whether your child is a beginner or an experienced rider, following proper safety guidelines is essential to ensure their well-being while enjoying their scooter adventures. In this safety guide, we'll walk you through key safety tips to keep in mind when your child is riding a kick scooter.
1. Wear the Right Safety Gear:
Before your child sets off on their kick scooter, make sure they're properly equipped with the right safety gear. This includes:
Helmet: A well-fitting helmet is the most important piece of safety equipment. It should sit snugly on your child's head, covering their forehead and fitting securely under the chin.
Knee and Elbow Pads: These protective pads provide an extra layer of cushioning in case of falls. They are particularly important for new riders who might be more prone to losing their balance.
Wrist Guards: Wrist guards can prevent wrist injuries in case of a fall or collision, which are common when learning to ride a scooter.
2. Choose the Right Scooter:
Selecting the appropriate scooter for your child's age and skill level is crucial. Consider the following factors:
Size: Ensure that the scooter's handlebars are at an appropriate height for your child. They should be comfortable while standing upright and holding the handlebars.
Stability: For younger children or beginners, three-wheel scooters provide added stability. Older and more experienced riders may prefer the challenge of a two-wheel scooter.
3. Inspect the Scooter:
Before each ride, give the scooter a quick inspection to ensure that all parts are in good working condition:
Wheels: Check for any wear and tear, and ensure that the wheels spin smoothly.
Brakes: Test the brakes to make sure they are responsive and working properly.
Handlebars: Ensure that the handlebars are securely attached and tightened.
4. Choose Safe Riding Areas:
When selecting a location for your child to ride their kick scooter, prioritize safe and designated areas:
Sidewalks: Choose smooth and well-maintained sidewalks that are free from obstacles and cracks.
Parks: Parks with designated paths or open spaces can provide a safe environment for scooting.
Bike Paths: If available, bike paths can be an ideal location for scooter riding, as they are designed for non-motorized wheeled activities.
5. Teach Proper Riding Techniques:
Teach your child the fundamentals of safe scooting:
Both Hands on the Handlebars: Encourage your child to keep both hands on the handlebars at all times for better control and balance.
Proper Foot Position: Show them how to stand with one foot on the scooter deck and the other pushing off the ground.
Awareness: Teach your child to be aware of their surroundings and to watch out for pedestrians, cyclists, and potential hazards.
6. Set Rules and Boundaries:
Establish rules that your child must follow while riding their kick scooter:
No Riding in the Street: Avoid busy roads and intersections. Stick to sidewalks, paths, and designated areas.
No Stunts or Tricks: Unless your child is on a specifically designed trick scooter, discourage them from attempting stunts or tricks that could lead to accidents.
7. Supervision and Communication:
For younger children, especially those who are just learning to ride, supervision is essential. As they gain confidence and skill, gradually allow them more independence while continuing to communicate safety guidelines.
Frequently Asked Questions (FAQs)
Conclusion
Kick scooters are a fantastic way to keep kids active and engaged while enjoying the outdoors. Whether your child is a beginner or a more experienced rider, there's a kick scooter on the market to suit their needs. The Razor A3, Micro Kickboard Mini Deluxe, Globber Primo Foldable, Fuzion X-3 Pro, Razor Jr. Folding Kiddie Kick Scooter, and Micro Kickboard Sprite are all excellent options that prioritize safety, durability, and performance. So, get your child a kick scooter and watch them have endless hours of fun while staying active and healthy.