Best 3 Wheel Scooters For Kids
Last updated: December, 2023
When it comes to outdoor fun and mobility for kids, 3-wheel scooters have become a popular choice. These scooters are not only a source of entertainment but also a means of developing balance and coordination skills. In this article, we'll explore the best 3-wheel scooters for kids, ensuring that your child's safety and enjoyment are top priorities.
The Best 3 Wheel Scooters For Kids: A Detailed Review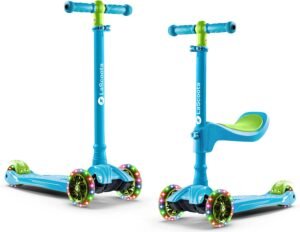 LaScoota 3 Wheel Scooter
---
Specifications
Height Adjustable:
4 Height Adjustments
This three-wheel scooter was carefully designed by LaScoota with regard to toughness, safety, comfort, and style. They completed every task. To make sure it is robust enough to withstand heavy and frequent use, they made the body out of aluminum. A rear-wheel foot brake system was added, which is ideal for young children who are still learning to balance. The scooter's brake system will slow it down from behind, preventing it from falling forward.
The scooter's self-balancing lean-to-steer design lets your child lean in the direction they want to go while remaining upright. This function stops sudden turns and jackknifing. When the scooter is wet, accidents due to slick surfaces are prevented by the non-slip design of the foot deck and handlebars. With this scooter from LaScoota, which has a sit-or-stand design, your child can ride sitting down as if it were a miniature bike thanks to a completely removable seat that you can attach to the T-bar. To accommodate people of all sizes comfortably, the seat is adjustable.
The fun is on the scooter wheels, aside from zipping down your street. When the scooter is ridden, numerous LED lights inside the wheels illuminate. Parents should be aware that replacement parts occasionally take a while to arrive from the manufacturer and cannot be bought from another vendor. The adjustable handlebar and light-up wheels that make riding fun are beloved by both children and parents. The LaScoota 2-in-1 scooter's nearly complete assembly is another perk for parents. Put the handlebars in place, then take off.
Beleev A2 3-Wheel Scooter
---
Specifications
Height Adjustable:
26″ – 33″
The makers of the BELEEV 3-wheel scooter have added enough enjoyable features to the toy to make it appealing while keeping the price low. A smaller LED wheel is in the back and two larger ones are in the front. These lights don't need batteries because they are motion-activated. It would be an intriguing feature to turn on on a dark Christmas morning. The lights give the scooter a space-age glow when it is moving.
The model has an adjustable handlebar with four adjustment levels ranging from 26 to 33 inches and features a candy-sweet color scheme of pinks and blues. The BELEEV will develop with your child and end up being a beloved family toy. The deck of the scooter is wide for increased stability and balance, giving your child's foot plenty of room to kick. Since the deck is close to the ground, getting on and off doesn't cause any wobbling or hesitation.
The BELEEV is constructed with ABEC-7 skateboard standard bearings and has a sturdy build that can support 110 lbs. The scooter's ability to lean to steer goes along with the bearings. These characteristics enable the scooter to move across the surface quietly, flexibly, and smoothly.
After six months to a year of use, there have been a few reports of brake pads wearing out and eventually breaking. However, parents value the lifetime warranty the manufacturer offers to replace any parts. While some parents were disappointed that the lights were not as colorful as they had hoped, others loved the layout. The Beleev 3-wheel scooter scored big points for its smooth ride and steering system.
Micro Mini Deluxe Scooter
---
Specifications
Height Adjustable:
19.29″ – 27″
One of the top manufacturers of kids' scooters is Micro, and their Deluxe model is a great addition to their line. It features toddlers and young children a comfortable and stable ride thanks to Micro's renowned simple-to-use Lean to Steer design. Little feet can comfortably fit side by side on a foot deck that is extra wide and grippy.
The designers have improved upon an award-winning design by creating this updated version of the Micro Mini Original. With its adjustable T-bar handlebar that can be expanded from 49 cm to 68 cm, the Micro Mini Deluxe can accommodate older kids who prefer a three-wheeled scooter. To help parents set the handlebar to the ideal height and tighten it before riding, a hex wrench is provided. Its robust construction can support up to 110 lbs.
The manufacturer offers a two-year warranty on this scooter and offers replacement parts, so the Deluxe can withstand frequent use by numerous kids. The deck needs to be inserted into the handlebar after a quick and easy assembly. This scooter, which weighs about 4 pounds, is light enough for young children to lift themselves or for urban families who live in apartments to transport easily upstairs and downstairs.
Razor Jr Lil' Kick Scooter
---
Specifications
Height Adjustable:
25″ – 34″
Due to its three-wheel design, which is the opposite of the others on our list, the Razor Jr. Lil' Kick scooter stands out from the rest. This scooter has two wheels in the back and one in the front rather than two in the front and one in the back. A single wheel in the front makes steering easy, and the extra-wide rear wheelbase adds stability. Simply turn the handlebars to turn the wheel. There is also no complicated rear wheel brake to learn. To halt moving forward, drag a foot across the surface.
This scooter is best suited for young children under the age of 6, as its 45-pound weight limit. If you have kids who are in the upper percentile for height, be aware that the handlebar is not adjustable. The Razor Jr. Lil' Kick Scooter has a wide, slip-resistant scooter deck and a welded steel frame that can withstand anything your little one can dish out. You can easily scoot around on the low-profile deck thanks to the smooth-rolling wheels.
The Razor Jr. Lil' Kick Scooter is strong and simple to put together, which I like. Although it has a lower weight limit than some of the other options on our list, and the handlebar is not adjustable, it is best for young children. Kids can't put one foot behind the other because the foot deck is too narrow, but less coordinated toddlers can put their feet side by side because it is longer than other options. This scooter is best suited for young children with a short stride because it has two wheels in the back, which some kids have had trouble with accidentally kicking when trying to push with their foot.
Allek Kick Scooter B03
---
Specifications
Height Adjustable:
25″ – 34″
I must express my deep admiration for the Allek Model B03 self-balancing scooter's exceptional design and performance after having the chance to use one firsthand.
The vivid range of color options the Model B03 provides is one feature that immediately catches the eye and allows for a delightful level of personalization and self-expression. The scratch-resistant aluminum T-bar has three cleverly planned preset stages that can accommodate riders of different heights. But what really distinguishes the Model B03 is Allek's inventive toothed belt mechanism, which makes it simple for riders of different heights to enjoy a more comfortable and controlled ride. The range of adjustment is between 25.5′′ and 32′′.
The scooter's integrated foot deck design, reinforced axle bearings, and carefully crafted components work together to create a truly remarkable weight-bearing capacity that can support riders weighing up to 132 lbs while maintaining unwavering stability.
The large, extra-wide wheels' illumination as they start to rotate is one of the vehicle's many impressive features. Batteries are required for these lovely LED-illuminated wheels to function. If your children ride their scooters in areas with poor lighting at night, it is well worth the effort because they offer excellent visibility.
Allek's brilliant Lean-to-Steer technology, which is a great help in smoothing out tricky turns and offers excellent support if your kids struggle with maintaining their balance or coordination, is without a doubt the Model B03's standout feature. From a parent's perspective, it has been profoundly rewarding to watch my child develop these skills while taking great pleasure in the process.
A full-covered, metal-enhanced rear fender brake was thoughtfully added to the Model B03's design, effortlessly incorporating safety, a top priority, into the overall aesthetic. Kids can control their speed much better and make safe stops with ease thanks to this.
Buyer's Guide: Choosing the Right 3-Wheel Scooter for Kids
3-wheel scooters for kids are a popular choice for outdoor play and transportation. Choosing the right one involves considering factors such as age, skill level, safety features, and durability. This buyer's guide will help you make an informed decision when selecting the perfect 3-wheel scooter for your child.
Age and Weight Recommendations:
The first step is to ensure the scooter is appropriate for your child's age and size. Most 3-wheel scooters have specific age and weight recommendations provided by the manufacturer. Always follow these guidelines to ensure safety and proper use.
Stability and Balance:
For younger children or beginners, prioritize scooters with a stable and wide deck. This helps kids build confidence and balance while riding. Look for low-profile designs that are closer to the ground for added stability.
Adjustable Handlebar Height:
Choose a scooter with an adjustable handlebar height. This feature ensures the scooter can grow with your child, offering extended usability as they get older.
Steering Mechanism:
Consider the steering mechanism. Some scooters use a lean-to-steer method that can enhance a child's balance and coordination. This feature is suitable for older children who have more experience with scooters.
Safety Features:
Safety is paramount. Look for scooters with the following features:
Non-slip deck: Ensure the deck offers good traction for your child's feet.
Reliable brakes: Most 3-wheel scooters have a rear brake, which should be easy for your child to use.
Comfortable handlebar grips: Ergonomic grips are crucial for a comfortable and secure hold.
Weight Limit:
Pay attention to the weight limit of the scooter. Make sure it can support your child's weight. Weight limits typically range from 40 to 100 pounds, depending on the model.
Portability and Storage:
If you need to transport or store the scooter frequently, look for models with folding mechanisms. Foldable scooters are easy to carry and require less storage space.
Durability:
Consider the build quality and materials used. Scooters made from high-quality materials will last longer and withstand wear and tear. Check for sturdy frames and durable wheels.
Brand Reputation:
Trusted brands often provide better quality and customer support. Research the manufacturer's reputation and read reviews to ensure you're buying a reliable product.
Price and Budget:
Set a budget before shopping for a 3-wheel scooter. While you don't need to break the bank, investing in a quality scooter that meets safety standards is essential. Consider your child's age and how long they will use the scooter when determining your budget.
Safety Gear:
Don't forget to include safety gear in your purchase. Helmets, knee pads, and elbow pads are essential for your child's safety while riding a scooter.
Kick Scooter vs. 3-Wheel Scooter
When it comes to choosing a scooter for your child, you might wonder whether a traditional kick scooter or a 3-wheel scooter is the better option. Each type of scooter has its own set of advantages and considerations, and your choice will depend on various factors. Let's explore the differences between the two to help you make an informed decision.
Kick Scooter:
Maneuverability: Kick scooters typically have two wheels and are designed for a more straightforward, side-to-side movement. They require kids to push off the ground with one foot while balancing on the other. This promotes a sense of balance and coordination.
Age Range: Kick scooters are generally suitable for older children, often starting from around 5 or 6 years old. Younger kids might find it challenging to maintain balance on a traditional kick scooter.
Portability: Kick scooters are often foldable and compact, making them easy to carry and transport.
Speed: With practice, older kids can achieve higher speeds on a kick scooter compared to a 3-wheel scooter. However, this also means it's crucial to ensure they understand safety rules and wear protective gear.
Skill Development: Kick scooters are excellent for developing leg strength, balance, and fine motor skills. They offer a more physically active experience compared to 3-wheel scooters.
3-Wheel Scooter:
Stability: 3-wheel scooters are known for their stability and balance. They are designed with a low deck and three wheels, making them ideal for younger children who are just beginning to scoot. The extra wheel offers stability and confidence.
Age Range: 3-wheel scooters are suitable for a wider age range, often starting as early as 2 years old. They provide an excellent starting point for younger children.
Safety: The stability and lower speed of 3-wheel scooters make them a safer option for younger kids. They typically have a rear foot brake that's easy to use.
Portability: While some 3-wheel scooters are foldable, they might not be as compact as traditional kick scooters.
Skill Development: 3-wheel scooters focus on the basics of scooting, introducing kids to the concept of steering and balance. They are an excellent starting point for skill development.
Which One Should You Choose?
The choice between a kick scooter and a 3-wheel scooter depends on your child's age, skill level, and preferences. Here are some guidelines to consider:
For very young children (2-4 years old), a 3-wheel scooter is an ideal choice due to its stability and simplicity.
Older kids (5 and up) with more developed motor skills and balance might enjoy a traditional kick scooter.
Safety is paramount, so consider your child's abilities and provide the necessary protective gear, regardless of the scooter type.
Ultimately, you can also consider owning both types of scooters to accommodate your child's growth and changing interests.
Frequently Asked Questions (FAQs)
Conclusion
Safety is paramount when choosing a scooter for your child. Ensure they are equipped with appropriate protective gear, such as helmets and knee pads, and supervise their scooting adventures as they gain confidence.
Ultimately, the best 3-wheel scooter for your child will depend on their age, skill level, and personal preferences. With the right choice, you can provide your child with countless hours of outdoor fun and healthy physical activity while keeping their safety in mind.