Best Microscope for Kids
Last updated: December, 2023
Microscopes have been captivating young minds for generations, unlocking a hidden world of tiny organisms and intricate structures that the naked eye cannot perceive. Choosing the right microscope for kids can spark their curiosity and inspire a lifelong love for science. In this article, we'll explore the top microscopes designed for kids, ensuring they embark on a journey of exploration and learning.
Why Invest in a Microscope for Kids?
Introducing children to microscopy early on offers a multitude of benefits. It not only helps them develop essential scientific skills but also nurtures their curiosity and encourages a deeper understanding of the natural world. Here are some compelling reasons to invest in a microscope for kids:
Encourages Scientific Exploration
Microscopes allow kids to explore the miniature universe around them, fostering an early interest in science. This curiosity can develop into a lifelong passion for scientific inquiry.
Promotes STEM Education
Stemming from their hands-on experiences with microscopes, children gain exposure to science, technology, engineering, and mathematics, setting the stage for potential careers in these fields.
Enhances Critical Thinking
Microscopy involves careful observation and analysis. Kids learn to think critically, make hypotheses, and draw conclusions as they examine various specimens.
Features to Look for in a Microscope for Kids
When searching for the ideal microscope for kids, there are several essential features to consider:
Durability
Children can be rough with their belongings. Look for a microscope that is sturdy and can withstand the occasional bump or drop.
Ease of Use
User-friendly microscopes with simple controls are essential for kids. Models with easy-to-adjust focus knobs and clear instructions are ideal.
Magnification
Consider microscopes with varying levels of magnification. This allows kids to explore a wide range of specimens, from large insects to tiny microorganisms.
The Best Microscope for Kids: A Detailed Review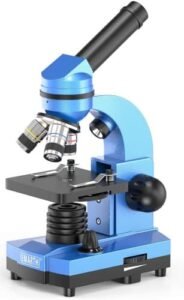 Emarth Microscope for Kids
---
Specifications
Batteries:
3x AA (Excluded)
The WF10x and WF25x eyepieces, three high-magnification objective and optical lenses, and the 360-degree rotatable monocular head with five magnification levels are all built into this child's microscope by Emarth. The five magnification levels—40x, 100x, 250x, 400x, and 1000x—offer top-notch optics that enhance the clarity and sharpness of your children's images. Your child can examine things like flowers, jewelry, coins, dirt, and hair.
A double wireless light compound microscope with transmitted light sources is called the Emarth. This implies that you can see both translucent and opaque specimens that have been brightened from below. The bottom light can be easily changed. You turn the wheel until the brightness is appropriate.
It has a focus knob, just like all microscopes, that you can turn to get sharp images. This microscope is distinctive because it comes with six built-in color filters that let you draw attention to particular traits, proteins, or living things you are looking at.
With the exception of the objective lens housing, which is made of metal, the model is entirely plastic. It may not be the most durable to withstand nicks and bruises, but it's a great model to introduce your kid to science.
Carson MicroBrite Plus Microscope
---
Specifications
Batteries:
1x AA (Excluded)
Warranty:
Limited lifetime
Quite distinct from the other microscopes we've discussed. The Carson MicroBrite Plus is a portable, lightweight microscope. Children of all ages can use the MicroBrite Plus because it is basic and user-friendly. It was made to be used outside, pointed directly at a living creature or plant for close examination.
The Carson MicroBrite Plus offers 60x-120x magnification, though it is not the most powerful microscope on our list. Even a tiny strand of hair can still be examined, though. The aspheric lenses were precisely molded, which resulted in less distortion and better overall image quality. Magnification adjustments are made using a sliding dial, and focus adjustments are made using a large, accessible focus adjustment wheel.
One AA battery is needed for the Carson MicroBrite Plus's single LED Illuminator, which is not provided with the microscope. The MicroBrite Plus is a great alternative for kids to learn about nature without disturbing or harming the environment by taking a sample to examine because it is lightweight and small in size.
You can see flat objects like fabric or banknotes as well as 3D objects like plants and insects thanks to the position of the LED illuminator. Although no slides or accessories are included with the MicroBrite Plus Pocket Microscope, a limited lifetime warranty is.
AmScope M30 Kids Beginner Microscope
---
Specifications
Illumination:
LED & Mirror
Batteries:
2x AA (Excluded)
For children aged 8 to 12, the AmScope M30 is an excellent entry-level microscope. This compound microscope comes with 49 extras and an easy-to-store hard plastic case. This kids' microscope is a great STEM learning tool for children who have outgrown the basic "kiddie" microscope but aren't quite ready for a more expensive or advanced model.
A full shrimp experiment kit is included with the AmScope M30 in addition to the essentials like blank plastic slides and covers, tweezers, eye droppers, petri dishes, and scalpels for kids to observe or learn from. The AmScope M30 has a metal body, a turret that rotates for convenient viewing, a mirror, and a battery-operated LED light illuminator. When the batteries run out, kids can pick between a mirror and a battery-powered LED light. The AmScope M30 only requires one LED bulb, but it also comes with a spare and two AA batteries.
Six different magnification options, including 120x, 240x, 300x, 480x, 600x, and 1200x, are available with the AmScope M30 microscope for children. A built-in color filter wheel boosts contrast and makes it simpler to see sample specimens. The microscope has a 5-year warranty and weighs 2.9 pounds. There are two color options available: full black or white with black trim.
The AmScope PS25 Prepared Microscope Slide Set is something you should put in your shopping cart. Plants and insects are among the samples shown on the slides. The glass slides were made by them, so keep an eye on your younger kids.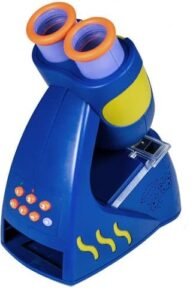 Educational Insights GeoSafari Jr. Talking Microscope
---
Specifications
Batteries:
3x AAA (Excluded)
The GeoSafari Jr. Talking Microscope is the perfect introductory microscope for kids between the ages of 4 and 7. The GeoSafari Jr., the only talking microscope for kindergarteners, will pique your children's interest in STEM subjects and the field of microbiology.
The talking microscope has two different modes: fact mode and quiz mode. Bindi Irwin's voice reads more than 100 audio facts and questions. Children can interact with the GeoSafari Jr. in quiz mode by responding to various questions about the natural world. The audio options for GeoSafari Jr.'s multilingual features include English, Spanish, French, or German.
The Educational Perspectives With the GeoSafari Jr. Talking Microscope, 20 plastic slides are included. Each slide has three colored images that clip firmly into place and has 60 total images. This makes it simple for kids to view the images. Children can learn about each image as they view it thanks to audio facts that have been linked to each slide. Kids can safely store their slides in a useful storage drawer that is also included.
The GeoSafari Jr. offers comfortable focus-free dual eyepieces that enable up to 5x slide magnification. When purchasing the microscope, three AAA batteries are omitted even though they are needed. The Educational Insights GeoSafari Jr. Talking Microscope has far fewer features than the other microscopes on our list. But it's an excellent starting point for learning about microscopes. It is perfect for keeping kids occupied at home without using screens because it is age-appropriate!
My First Lab Duo-Scope Microscope – MFL-06
---
Specifications
Microscope Type:
Comp. & Stereo
Batteries:
3x AAA (Excluded)
For kids ages nine and older, the Duo-Scope Microscope-MFL-06 is a great microscope. It is appropriate for middle-schoolers and even high-school students because it is loaded with top-notch features. The dual illumination feature is the standout component, making it more adaptable than the majority of children's microscopes currently available on the market.
The Duo-Scope MFL-06 has a single LED light source below that is ideal for viewing prepared slides, as well as a second LED light source for viewing solid 3D objects like leaves or insects. When checking out, be sure to add some batteries to your cart because the LED lights need three AA batteries, which are not provided with the microscope. Since the Duo-Scope lacks a mirror illuminator, batteries are crucial.
The My First Lab Duo-Scope Microscope-MFL-06 has glass lenses, in contrast to many other children's microscopes that have plastic lenses. The objective glass lens offers 40X, 100X, or 400X magnification while the eyepiece offers 10X magnification. A rotating head, two focusing knobs, and a six-hole disc diaphragm are additional features.
The microscope comes with 50 different accessories, including a guidebook with guided experiments, five plain slides, four prepared slides, a plastic dropper, lens paper, forceps, a plastic test tube, a petri dish, and more.
The Duo-Scope Microscope-MFL-06 is ideal for both indoor and outdoor use because it is portable and only weighs 2.7 pounds.
National Geographic Ultimate Dual Microscope
---
Specifications
Microscope Type:
Comp. & Stereo
Batteries:
2x AA (Excluded)
The National Geographic Ultimate Dual Microscope has an upper light to examine 3D objects in fine detail and a lower light to view slides and specimen samples. As a result, the Dual Microscope has stereo- and compound-microscopy capabilities.
The Ultimate Dual Microscope, designed for children between the ages of 8 and 15, comes with over 50 accessories, including ten prepared slides, ten blank slides, ten slide covers, tweezers, an eyedropper, a petri dish, a hatchery, a learning guide booklet, and more. With the provided shrimp eggs and hatchery station, children can learn about the brine shrimp life cycle. A tiny geode crystal is included for up-light examination.
The 20x and 50x optical eyepiece sets for the National Geographic Ultimate Dual Microscope are made of glass. The ten expertly crafted slides that come with the microscope include samples of lichen, fungi, muscle tissue, and earthworms.
A protective carry case with padding and a 2-year warranty are included with your purchase. National Geographic's Mega Biology Set, which includes 25 prepared slides, is an additional $20 add-on.
Swift National Optical
---
Specifications
Batteries:
3x AA (Excluded)
Another one of our favorites is The Swift National Optical. It has a 360-degree rotatable monocular head with WF 10X and WF 25X eyepieces and five magnification settings: 40X, 100X, 250X, 400X, and 1000X.
The simple to use model has an adjustable bulb shade, smooth rotating coarse and fine knobs, and a strong solid metal frame. The coaxial focusing knobs' stacked design gives them a sophisticated, high-end appearance. Additionally, it maintains the model's user-friendly layout. The adjustment knobs are stackable to make them simpler for your child to use and locate. To push light through darker specimens or to dim it for clear cells, the shade lets you change the brightness of the light shining on the specimen.
To help your child avoid hurting their neck, the monocular head is angled at a 45-degree angle. It enables your child to use the microscope while sitting or standing upright, which makes sharing the model simple because no one needs to change the head's angle or height.
Three quantum achromatic objectives are provided, offering a magnification of up to 1000X, and can be used right away with the microscope on the prepared slides at 4X, 10X, and 40X.
Moysuwe LCD Digital Microscope
---
Specifications
This microscope displays the enlarged image on a screen rather than an eyepiece, in contrast to the conventional microscopes on our list. You can rotate the screen on this strong aluminum alloy microscope 90 degrees to reduce neck strain.
You can choose to attach the microscope to your laptop so you can view the image on a bigger screen. The image on your laptop can be viewed without any additional software. You can use Windows Camera and Photo Booth for iMac/Macbook as the default app if you have Windows.
You can take pictures and record videos with this USB microscope's built-in camera. To store your content, the microscope has an SD card and a 32GB SD card. The microscope has a 12-megapixel camera, LED lights, and a 7-inch rotatable FHD screen that together produces an incredibly accurate 1080P HD real-time image.
The most crucial thing to keep in mind about this microscope is that it deviates from tradition in terms of both its design and power of magnification. You can zoom in on a butterfly wing to see intricate details, including the skeleton of the wing, even though it is not intended for viewing microorganisms.
Microscopes are not only tools for scientific exploration but also gateways to a world of wonder for children. Investing in a microscope for kids can ignite their curiosity and provide educational opportunities. In this buyer's guide, we'll help you make an informed decision when choosing the perfect microscope for the young scientist in your life.
Consider Your Child's Age and Experience
The first and most crucial factor to consider when purchasing a microscope for kids is their age and experience level. Microscopes come in various designs and functionalities tailored to different age groups. Here's a breakdown:
Preschool (Ages 3-6)
For the youngest scientists, consider microscopes specifically designed for preschoolers. These microscopes are usually durable, simple to use, and come with large, colorful specimens to capture their attention.
Elementary (Ages 7-12)
Children in elementary school can handle more sophisticated microscopes with additional features like adjustable magnification. They are ready for microscopes that offer more in-depth exploration and learning opportunities.
Middle and High School (Ages 13-18)
Older kids can handle compound microscopes, which provide higher magnification and advanced features. These microscopes are ideal for students who are serious about science and may be using them for educational purposes.
Key Features to Look for
When choosing a microscope for kids, consider the following key features:
Durability
Kids can be rough with their possessions. Look for microscopes made with sturdy materials that can withstand everyday use and occasional drops or bumps.
Ease of Use
Ensure the microscope is user-friendly. Look for models with simple focus knobs, intuitive controls, and clear instructions to avoid frustration.
Magnification
The range of magnification is crucial. Different specimens require various levels of magnification. Look for microscopes that offer a variety of magnification options to explore a wide range of subjects.
Illumination
Proper lighting is essential for clear observations. Choose microscopes with built-in LED lights, as they provide consistent and adjustable illumination. Some models come with both transmitted and reflected lighting options for versatility.
Accessories
Consider what comes with the microscope. Some include prepared slides, blank slides, coverslips, and tools for collecting and preparing specimens. Accessories can enhance the learning experience.
Frequently Asked Questions (FAQs)
Conclusion
Choosing the right microscope for kids is an investment in their education and curiosity. Encouraging their exploration of the microscopic world can lead to a deeper appreciation of science and the natural world. The microscopes mentioned in this article cater to different age groups and preferences, so be sure to pick one that best suits your child's needs. With the right microscope in hand, your child will embark on an exciting journey of scientific discovery, one slide at a time.