Best Balance Bikes
Last updated: September, 2023
Balance bikes have become a popular choice among parents looking to introduce their children to the world of cycling. These pedal-free bikes, also known as run bikes or training bikes, are designed to teach young kids the essential skill of balancing before they transition to a traditional pedal bike. In this article, we'll explore the world of balance bikes and review some of the best options available, ensuring your child gets the best start on their cycling journey.
Why Choose Balance Bikes?
Balance bikes are a revolutionary approach to teaching kids how to ride a bike. Unlike the conventional training wheels method, where children rely on support wheels to keep them upright, balance bikes teach children balance and coordination right from the start. By allowing kids to focus solely on mastering balance without the added complexity of pedals, they gain the confidence needed to transition smoothly to pedal bikes later on.
Key Features to Consider
When shopping for the perfect balance bike for your child, several key features should be taken into account:
Adjustability: Look for bikes with adjustable seats and handlebars. This ensures that the bike can grow with your child and provide a comfortable fit as they grow taller.
Tires: Balance bikes come with two main types of tires: foam and air. Foam tires are puncture-proof but might offer less traction, while air tires provide a smoother ride and better grip.
Frame Material: Balance bike frames can be made from various materials like metal, wood, or even lightweight composite materials. Each has its pros and cons in terms of durability, weight, and aesthetics.
Weight: A lightweight balance bike is easier for kids to handle and maneuver, making it simpler for them to learn to balance.
Brakes: While most balance bikes don't come with brakes, some models do. Brakes can be beneficial as they introduce kids to the concept of slowing down and stopping.
The Best Balance Bikes: A Detailed Review
Strider – 12 Sport Balance Bike
---
Specifications
Recommended age:
1.5 – 3 years
The Strider is among the best balance bikes available, if not the best. It has every feature you would anticipate having in a balance bike for kids. First off, the Strider Sport Balance Bike has a very sturdy steel frame because, as we all know, kids are not the most gentle with the things they touch.
The bike won't simply fall apart even if your child drops it or crashes it in some other way. Despite having a steel frame, the model is hollow and lightweight for kids. With a balance bike for kids, you should always look for a combination of lightweight and durability. Speaking of toughness, the Strider Sport Balance Bike's cartridge bearings are as tough as they come.
The wheels of the Strider Sport Balance Bike are another component that is very light. They are sturdy while not adding a lot of weight to the overall design. Because the wheels are puncture-proof, they won't pop, and they don't require pumping. It is the ideal answer for a kid's first bike.
For children between the ages of 18 months and three years old, they created the Strider Sport Balance Bike. Because the handlebars and seat of this particular balance bike are fully adjustable, it can grow with your child. Simply adjust the handlebars and seat to fit your child as they grow.
The Strider Sport Balance Bike also includes special safety features to prevent your child from suffering an injury while learning to ride. For these things, it has padded handlebars, which are an absolute necessity. At least your kid won't hit their head or teeth on the incredibly hard handlebars if they fall forward.
They created the patented frame design to prevent your child from hurting himself if he falls on it. The seat is also padded, which raises the level of comfort even though it has little to do with safety. Additionally, the Strider Sport Balance Bike has footrests for your child's comfort, which will make life a little bit simpler for them.
You'll be relieved to learn that no special tools are needed to assemble the Strider Sport Balance Bike. This balance bike should be simple to assemble in a matter of minutes. Additionally, this bike can be adjusted without the use of any tools, which will make your life much simpler. This is a strong contender for the top spot among balance bikes, in our opinion.
Woom 1 Balance Bike
---
Specifications
Recommended age:
1.5 – 3 years
Although in many ways the Woom 1 Balance Bike is not quite as adaptable as our top choice, it does have some features that the Strider seems to have overlooked. Children between the ages of 18 months and 3.5 years are the best candidates for the Woom 1 Balance Bike, which is a fairly broad age range.
It's still a great choice to make, especially as your child gets older. The Woom 1 Balance Bike does have a height-adjustable seat that can accommodate kids up to 39 inches, which is the height that kids reach around 3 to 3.5 years old. However, the handlebars on the Woom 1 Balance Bike cannot be adjusted in height, unlike the top-selling Strider model.
On the other hand, this specific balance bike comes with rear brakes, which is a huge bonus. With this balance bike, your children are still using their feet to propel themselves, but it's always a good idea to have a set of brakes so you can stop if the going gets tough. Additionally, it will teach your kids how to stop using the breaks, which is useful once they start riding a real bicycle. It does a great job of lowering the possibility of an accident caused by a lack of brake knowledge.
The footrests on the Woom 1 Balance Bike are included. In other words, your child can raise their feet to get used to moving without their feet touching the ground. In other words, these footrests can help your child learn to balance, which they will need to do when riding a real bike. Your child will have no trouble balancing thanks to the model's long wheelbase.
The lightweight aluminum frame of the Woom 1 Balance Bike was designed to reduce the risk of your child crashing off the frame in the event of a fall. It is safe for use by both young boys and girls.
The Woom 1 Balance Bike is both relatively light and tough thanks to its aluminum construction. It weighs a little bit more than the Strider, our top contender. We like that the Woom 1 Balance Bike has grips that are padded and comfortable for toddlers, but we would prefer it if the handlebars were fully padded, which they are not.
The Woom 1 Balance Bike has excellent air-filled tires, which is something we like. Yes, some people prefer tires that don't need to be pumped up and are therefore impervious to punctures, but those don't accurately capture the sensation of biking in the wild. These air-filled tires may occasionally need to be pumped, but they significantly improve shock absorption compared to the alternative. To put it simply, they are a little cozier to use.
Cruzee UltraLite Balance Bike
---
Specifications
Recommended age:
1.5 – 5 years
The Cruzee UltraLite Balance Bike is our third choice. Its name may have given it away, but its top selling point is that it is incredibly light.
Its total weight of 4.8 pounds makes it one of the lightest balance bikes on the market right now, if not the lightest; this is beneficial for a few reasons. First of all, when there is less weight involved, it is simpler for your children to balance and use their legs to remain upright. Second, if your child does fall, at least a massive, heavy frame is not about to fall on them.
Because special anodized aluminum was used in its construction, the Cruzee UltraLite Balance Bike is incredibly lightweight. Although very light, this kind of aluminum is also very strong. While it might get a few scratches, even some significant spills won't damage it beyond repair.
The CruzeeUltraLite Balance Bike's aluminum construction is also rust-proof, which is advantageous if your child leaves the bike outside during a downpour. Here, lightweight durability is a major selling point. When your child grows tired, you can easily carry the Cruzee UltraLite Balance Bike, which is something that parents appreciate.
The Cruzee UltraLite Balance Bike was made to fit children from 18 months to five years old, so if you purchase one for your 18-month-old child, you won't need to purchase another until they are older than five.
This is accomplished by allowing your child to adjust the handlebars and seat as they grow. The handlebars are 5 inches high, and the seat is 8 inches high, so they can accommodate your child's rapid growth. These modifications can be made without the use of any tools, which is undoubtedly advantageous for parents everywhere.
There are no shots to the ankles because it has low-profile bolts. For comfort, they padded the seat and handlebar grips. Without a doubt, it is crucial that there are no sharp edges on the frame that could hurt your child.
Additionally, the Cruzee UltraLite Balance Bike comes with footrests to assist your child in becoming accustomed to biking without their feet touching the ground. We like that this model's wheels are impervious to punctures. They won't ever go flat and don't need to be pumped, but they are fairly hard and don't do a great job of absorbing shocks and bumps.
Chicco Red Bullet Balance Training Bike
---
Specifications
Recommended age:
3 + years
This specific balance bike is a good compromise between the fourth option and the first three alternatives we looked at. Depending on how quickly your child grows, the Chicco Red Bullet Balance Training Bike is suitable for kids between the ages of 3 and 7 or 8. It is therefore slightly larger than the first three options while also slightly smaller than option number 4.
This balance bike is a slightly larger option than most others because it protrudes from the ground by about 23 inches. The Chicco Red Bullet Balance Training Bike is perfect for some reasonably large children because the frame can support children weighing up to 55 pounds.
By the time your child is ready to ride a full-fledged bicycle, it will be more than big enough to assist in teaching them how to ride a bike. Surprisingly, the frame is not particularly heavy despite being able to support a fair amount of weight on its own. When your child is finished biking for the day, you as the parent can easily carry it around because it is lightweight, safe in case they fall, and convenient for your kids to use.
Despite its lightweight, the Chicco Red Bullet Balance Training Bike is still more than capable of withstanding any obstacles that your child may put in its path. For mischievous young boys who struggle with bike riding, the fact that falling will not break this bike is a big deal.
The Chicco Red Bullet Balance Training Bike's ability to grow with your child may be something you appreciate. This model's seat and handlebars can be adjusted for height, so you won't need to buy a new balance bike as soon as your child gains a few inches.
Kids develop quickly, so this is a useful feature. The integrated footrest that is located where the pedals would typically be is useful. For teaching your child to balance and ride a bike without having their feet on the ground, this footrest is perfect.
For small children, especially when riding inside, the Chicco Red Bullet Balance Training Bike tires are ideal. They are sturdy, hard, and impenetrable. Therefore, they don't need to be pumped and they won't pop, despite not having the best grip or shock absorption. The Chicco Red Bullet Balance Training Bike has soft handlebar grips and a well-padded seat for your child's comfort so they can ride all day without getting tired.
Teddy Shake Balance Bike
---
Specifications
Recommended age:
3 – 5 years
The fact that assembling this particular balance bike is as simple as it gets is one of its features that you might really enjoy. The Teddy Shake Balance Bike only has five separate parts, and all you need to put it together is an Allen wrench, which is supplied in the packaging. You should be able to assemble this balance bike in no more than five minutes.
The full 3-year manufacturer's warranty is another perk that you as a parent might enjoy. Kids are rough, and yes, they do break things frequently, but at least the Teddy Shake Balance Bike comes with an amazing warranty, so even if something does break, you won't have to pay any additional money.
The Teddy Shake Balance Bike is as light as a feather, or as close as you can get, which you and the kids will both appreciate. Any balance bike should be as light as possible because it will be easier for your child to hold and balance on it and won't hurt as much if they fall while the bike is on top of them. Naturally, being lightweight also means that you can easily transport it once your child has finished using it for the day.
The Teddy Shake Balance Bike is extremely lightweight, but it's also very sturdy. The bike won't be completely broken by collisions or bumps thanks to the hollow metal frame. Additionally, a special anti-rust layer was applied to this balance bike to prevent rusting even in cold and wet environments. We prefer to see balance bikes that are both portable and tough at the same time.
The Teddy Shake Balance Bike is also completely adjustable in terms of the handlebars and the seat to help you save money. Children as young as three years old can ride this bike, and children as old as five years old can still use it. You can save money and give your child the most enjoyment out of one bike by raising the seat and handlebars by a few inches so that they can grow with them.
On the Teddy Shake Balance Bike, your child can put his or her feet on the footrests with ease. This is beneficial for teaching people how to balance without their feet on the ground once more. Additionally, this balance bike has airless tires. Even though they don't have the best traction or shock absorption, they work perfectly for riding inside. Additionally, this eliminates the need for tire inflation and eliminates the worry of flat tires.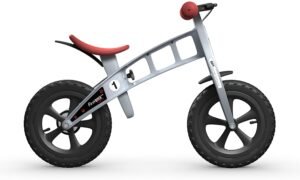 FirstBIKE Cross Balance Bike
---
Specifications
Recommended age:
2 – 5 years
The FirstBike Cross Balance Bike is an unusual choice for a balance bike, but being unusual does not automatically make something bad. It merely has a few features that we have not yet seen on other models. To start, they used sturdy materials to construct the frame. Its distinctive construction makes it remarkably light, flexible, and strong. Although it can bend, which is great for absorbing impacts and shocks, it will never bend too far and break. It is definitely a plus that this frame is lightweight, strong, and flexible all at once.
The FirstBike Cross Balance Bike also has limited steering, which, despite what it might sound like, is a good thing for kids and another feature you might enjoy. In other words, your children are limited in how far they can move the handlebars in any one direction. Sharp turns and collisions are avoided because they can't be moved too far to the left or right. It is a simple but useful safety improvement for this bike.
The FirstBike Cross Balance Bike also has a rear drum brake, which brings us back to safety. To succeed when riding a real bike, children must become accustomed to having a brake on the bike. They will be able to accomplish this and stop if there is a hill involved thanks to the brakes on this particular model.
The FirstBike Cross Balance Bike has a ton of comfort features as well. The handlebar grips have thick rubber padding that keeps your child's fingers comfortable at all times and also contributes to a great non-slip gripping surface.
More comfort is added by the unique seat, which is shaped like a horse saddle. Although the seat may not have much padding, its design makes sure that your children won't ever accidentally fall out of it. helping to improve the FirstBike Cross Balance Bike's comfort and safety. It makes a great long-term balance bike option because the seat can be raised a few inches.
The FirstBike Cross Balance Bike has inflatable pneumatic tires on its wheels. These offer excellent ground traction and shock absorption, so we do like them. They do occasionally need to be pumped up. Parents out there don't need to worry about assembly because it is finished in a flash. It only takes a few minutes to put together the few parts that are required.
Schwinn Balance Bike
---
Specifications
Recommended age:
2 – 4 years
There is no denying that Schwinn produces some incredibly high-quality bicycles and athletic equipment. This manufacturer, which has German roots, has been producing dependable, high-quality goods ever since it was founded.
With the Schwinn Balance Bike, they have succeeded in producing a high-quality item. The hollow metal frame is one of the elements that raise the quality of this bike. This balance bike's frame is identical to that of an adult bicycle. It is hollow and lightweight in addition to being strong and made of metal.
The Schwinn Balance Bike has all the features of a full-sized adult bike but is just a little bit smaller. You should always look for balance bikes for kids that are lightweight and durable, and this Schwinn model ticks both of those boxes. Your children won't have any trouble lifting it because of its lightweight, and if it happens to fall on them, it won't hurt them too badly. Additionally, when there are rowdy kids present, being durable has obvious advantages.
The Schwinn Balance Bike offers plenty of comfort options. It has an extra-large, thickly padded seat to prevent your child's behind from hurting. You can also adjust the seat for the position so that you won't need to buy a new bike the moment your child grows an inch or two.
Depending on the child's size, the seat should be sufficiently adjustable to make the Schwinn Balance Bike suitable for children up to age 5. Returning to the subject of comfort, the handlebars have soft rubber grips, which is a standard feature but unquestionably helpful.
The center of the handlebars is padded to a certain extent. The padding will stop your child's head from slamming off the handlebars in the event of a fall or trip. The Schwinn Balance Bike's inflatable tires are a nice touch.
These tires have some advantages despite not being puncture-proof and requiring regular inflation. The two main benefits are the ability to provide good tire-to-floor traction and a certain amount of impact absorption. Additionally, the Schwinn Balance Bike does have footrests so your child can get accustomed to balancing without using their feet.
For the parents, putting together the Schwinn Balance Bike is as simple as it gets. It only has a few separate parts that need to be put together, and that takes only a few minutes.
Strider – Youth 16 Sport No-Pedal Balance Bike
---
Specifications
Recommended age:
6 – 10 years
One of the more distinctive balance bikes available at the moment is the Strider. Children six years old and older are allowed to use the Strider Youth Balance Bike. Anyone up to the age of 16 can fit on this one due to its size.
The Strider Youth Balance Bike, which is a little unique, we must admit, can be used by anyone up to 187 pounds comfortably. The Strider Youth Balance Bike might be a good starter option if you have a child who is slow to learn and needs to pick up biking at a later age. Most balance bikes won't fit a 10-year-old kid, much less a 16-year-old, but this one most definitely does.
In the same way that a regular bike's seat can be adjusted. Simply raise the seat as your child grows to allow the bike to expand with them. Another benefit is that there are no tools needed to raise the seat. Thanks to the thick padding, the seat is sufficiently roomy to be comfortable. It resembles an adult bike seat in general but with slightly more padding for comfort.
The Strider Youth Balance Bike has some useful features that can help your child get used to riding an adult bike. First of all, it has brakes on both the front and back, just like an adult bicycle. The Strider Youth Balance Bike has both front and back brakes, unlike the majority of balance bikes, which only have rear brakes to help kids get used to adult bikes. This is not only helpful for acclimating children to adult bikes, but it is also simply safe. Pedals or not, children must be able to stop.
Of course, the Strider Youth Balance Bike lacks pedals when we talk about them. It does, however, have footrests shaped like pedals, allowing your child to get used to using the bike's pedals while also giving them the opportunity to practice their balance by lifting their feet off the ground. Inflatable pneumatic tires are included with the Strider Youth Balance bike. They are excellent at giving a firm grip on the ground and are also capable of absorbing some shock and impact. The drawback is that you occasionally need to pump them up, but that's not a big deal.
The Strider Youth Balance Bike requires more assembly than most other models because it resembles an adult bike so closely. Having said that, creating this model doesn't require a lot of effort or time.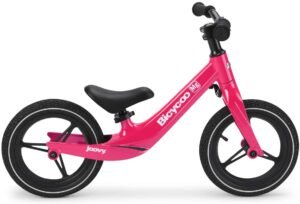 Joovy Bicycoo Mg Lightweight Eco-Friendly Training Balance Bike
---
Specifications
Recommended age:
18 Months and up
Despite being the last option on our list, it still offers a lot of advantages and interesting features. First of all, we think your child's boy or girl might like this bike just as much as we do. Simply put, it is an eye-catching bike that is both stylish and sleek.
The durable 100% recyclable one-piece magnesium frame is a benefit of the Joovy Bicycoo Mg Lightweight Eco-Friendly Training Balance Bike. Compared to the previous Bicycoo Balance Bike we had listed, the new aluminum frame absorbs shock and vibrations 16 times better. Kids who are learning to ride a bike need equipment that is both robust and durable enough to withstand significant abuse while also being light enough for your children to easily use.
In keeping with that, the tires are Whitewall 12″ rubber tires with excellent suspension, no-flat technology, and puncture resistance. The tire's purpose in a puncture is to support the bike and child until you can fix it.
The bike in question must develop along with the child because teaching kids to ride a bike takes time. The handlebar and seat height on the Joovy Bicycoo Mg Lightweight Eco-Friendly Training Balance Bike can be adjusted because of this. Depending on their size, children as young as 18 months can use this model because the minimum seat height is 12 inches off the ground.
The Joovy Bicycoo Mg Lightweight Eco-Friendly Training Balance Bike has an integrated footrest and an easy-grip rubber handlebar with bearings. The Joovy Bicycoo Balance Bike also doesn't require much assembly, which saves parents a ton of time. The Joovy Bicycoo Mg Lightweight Eco-Friendly Training Balance Bike can be put together in just 10 minutes.
Tips for Introducing and Using Balance Bikes Effectively
Introducing your child to a balance bike is an exciting step towards their cycling journey. To make the most of this experience and ensure a smooth transition to pedal bikes, consider the following tips:
Start with Safety
Before your child takes their first ride, ensure they are wearing appropriate safety gear, including a well-fitting helmet. This sets a safety-conscious tone and reinforces the importance of protective gear.
Choose the Right Size
Select a balance bike that is the right size for your child. Their feet should comfortably touch the ground when they're seated, allowing them to walk and glide without straining.
Teach Basic Skills
Initially, encourage your child to walk with the bike while straddling the seat, focusing on getting used to the feel of the bike between their legs. Gradually, they can start walking while lifting their feet and gliding.
Find an Open Area
Begin practicing in a safe, open space free of obstacles and traffic. This provides ample room for your child to explore and gain confidence without unnecessary distractions.
Demonstrate Balancing
Show your child how to balance on the bike by standing on one side and gently holding the handlebars. Help them get a feel for shifting their weight to maintain balance.
Offer Guidance, Not Holding
While it's tempting to hold onto the bike to prevent falls, it's better to guide your child by lightly touching their back or shoulders. This way, they learn to balance independently.
Encourage Gliding
As your child gains confidence, encourage longer periods of gliding with their feet lifted off the ground. This is where the true balancing skill comes into play.
Gradual Progression
Each child's learning pace differs, so allow them to progress at their own speed. Some may quickly grasp the concept, while others may take more time. Patience is key.
Practice Regularly
Consistent practice is essential for skill development. Regular short sessions are often more effective than occasional long ones, as they keep your child engaged and motivated.
Praise and Positive Reinforcement
Offer words of encouragement and praise for their efforts, even small achievements. Positive reinforcement boosts their confidence and enthusiasm.
Transition to Pedal Bikes
Once your child has mastered balance on the balance bike, they can transition to a pedal bike with greater ease. They'll already have the balancing skills required, and learning to pedal will be the next natural step.
Keep it Fun
The most important aspect of learning to ride a balance bike is to keep it enjoyable. Make it a fun activity by incorporating games, challenges, and family rides to foster a lifelong love for cycling.
By following these tips and offering consistent support, you'll create a positive experience for your child as they learn to ride a balance bike. Remember, the goal is not just to teach them to ride but to instill a sense of accomplishment and joy in the process.
Frequently Asked Questions (FAQs)
Conclusion
Balance bikes are a fantastic way to introduce your child to the world of cycling while instilling vital balance and coordination skills. The market offers a range of options to cater to different preferences, from classic wooden frames to modern lightweight designs. By choosing a high-quality balance bike like the ones reviewed above, you're giving your child the best possible start on their journey to becoming a confident and skilled cyclist.