Best Water Table for Kids
Last updated: September, 2023
As the sun begins to shine and temperatures rise, it's time to find outdoor activities that will keep your kids engaged and entertained. One such activity that's perfect for the warmer months is playing with a water table. A water table offers endless fun and sensory exploration for children while helping them stay cool. In this article, we'll explore some of the best water tables for kids that are available on the market today.
Why Choose a Water Table?
Water tables are a fantastic way to encourage imaginative play and sensory development in children. They provide a safe and contained environment for kids to explore the properties of water, experiment with pouring and mixing, and engage in interactive play with friends or siblings. Water play has been shown to enhance fine motor skills, hand-eye coordination, and cognitive development in young children. Additionally, it's a great opportunity for them to spend time outdoors and stay active.
Benefits of a Water Table for Kids
Introducing a water table into your child's playtime routine can offer a multitude of developmental and entertainment benefits. These interactive play stations are not just a source of fun; they also contribute to a child's growth and learning in various ways:
Sensory Exploration
Water tables provide an opportunity for kids to engage in sensory play. The sensation of water on their skin, the sound of splashing, and the different textures of the water and accessories can stimulate their senses and enhance sensory development.
Fine Motor Skill Development
Pouring water, manipulating floating objects, and using various water toys all require precise hand movements. These activities help develop fine motor skills and hand-eye coordination, which are essential for tasks like writing, drawing, and self-care.
Cognitive Development
Playing with a water table encourages children to experiment and problem-solve. They can observe how water behaves when poured into different containers, discover cause-and-effect relationships, and learn about concepts like volume, displacement, and motion.
Imagination and Creativity
Water tables provide an open-ended play environment where kids can use their imagination to create stories and scenarios. Whether they're pretending the water is a magical potion or reenacting scenes with floating toys, imaginative play is limitless.
Social Interaction
Water tables often become hubs of social interaction. Children can gather around the table, share toys, collaborate on water experiments, and engage in cooperative play. This promotes communication skills, sharing, and teamwork.
Outdoor Engagement
In today's digital age, it's crucial to encourage outdoor play. Water tables lure kids outside, away from screens, and into the fresh air and sunshine. This contributes to their physical health and overall well-being.
Emotional Regulation
Water play has a calming effect on many children. The gentle sound of water, the tactile sensation, and the focus required for pouring and splashing can help children manage their emotions and reduce stress.
Language Development
As children play together around a water table, they naturally engage in conversation. Describing what they're doing, explaining their ideas, and asking questions all contribute to language development and vocabulary expansion.
Basic Science Learning
Water tables introduce kids to fundamental scientific concepts in an approachable way. They can observe how water moves, changes form, and interacts with various objects—a simple yet effective introduction to science principles.
Parent-Child Bonding
Playing with your child at a water table provides an opportunity for quality bonding time. You can guide them in discovering new water activities, share stories, and create cherished memories together.
Incorporating a water table into your child's play area offers a wealth of benefits that extend beyond mere entertainment. Whether it's enhancing their motor skills, fostering imagination, or promoting social skills, a water table can be a valuable addition to any child's developmental journey.
The Best Water Tables: A Detailed Review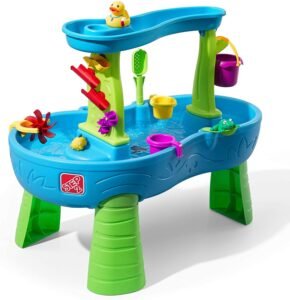 Step2 Rain Showers Splash Pond Water Table for Kids
---
Specifications
Dimensions:
39.02" x 24.02" x 32.01"
One of the best water tables for kids is the Step2 Rain Showers Splash Pond, which doesn't skimp on giving your kids the chance to use their imaginations during sensory play. This table's maker boasts that it will "create a mini water park right in your backyard," and there is at least some truth to that statement.
Kids can fill the large catchment trough at the top of this two-layer water table with water using the large bucket that is included in the kit. As the water drips and runs through the holes, it creates the appearance of rain in the water table below.
Spinners, buckets, and ramps that resemble mazes start to move as the water drips back into the water table pond. These can be rearranged to produce a variety of entertaining effects. A side-flipper is also available, which can be used to launch toys back into the pond. A duck, frog, fish, and strainer, as well as the maze and spinning pieces needed to construct their imaginary waterfalls, are among the 13 accessories included with the Rain Showers Splash Pond.
If you're looking for a water table with lots of components and creative play possibilities, this is probably one of the best options.
The water table is sturdy; according to one reviewer, her 2-year-old uses it as a makeshift splash pool, and despite this kind of use, it has never appeared unsteady. Although it comes without any pre-drilled holes, it is fairly simple to put together, so be prepared to drill a few holes in the plastic to get it set up.
Little Tikes Sandy Lagoon Sand & Water Table for Kids
---
Specifications
Dimensions:
26.5" x 26.5" x 34.5"
Toddlers can play with sand and water on the elevated Little Tikes Sandy Lagoon. Although nothing prevents you from filling both of the table's compartments with water or sand, they were designed to be separate. The sturdy table can support up to 50 pounds of sand and 4 gallons of water. When not in use, the sand area has a clever plastic cover to protect it and keep it clean. It's a clever method of protecting your sand table from dirt and the neighborhood cat.
A central tower houses two water slides, two diving boards, and a dump bucket on the Sandy Lagoon kids' water table. A sand spinner and showed rake combination for sand play and art is also included. The Little Tikes Sandy Lagoon has a built-in drain plug to simplify cleanup, as is common with water table designs. Depending on your level of toy assembly expertise, the table can be put together in 20–45 minutes.
The Sand Lagoon table's center tower doesn't seal watertight, so this table is probably not appropriate for indoor use. If you choose to use the table indoors, place a sheet or towel under it because you should expect water and possibly some sand to leak through the tower hole and onto the floor.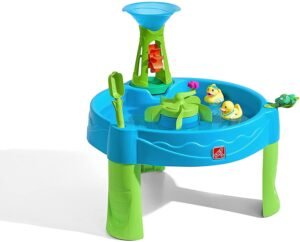 Step2 Duck Dive Water Table for Kids
---
Specifications
Dimensions:
24" x 24" x 30"
The Step2 Duck Dive water table has a great design and some fun features that kids will enjoy. All of your favorite bath toys can avoid a whirlpool created by a spinner in the water table's center. The table comes with two rubber ducks and a water-squirting frog if you don't want to share those.
With a water wheel and a sizable water feeder at the top, the whirlpool water tower on the table's edge makes an attempt to direct most of the water down the gully rather than onto the floor. Kids can launch any toys that escaped the table back into the fun with flair using a "catapult" mounted to the side.
The Duck Dive is a fantastic, straightforward water table. Although it is sturdy and rigid, some reviewers have reported that their toddlers were able to break off or remove the spinner or the catapult, as is typical of most toys with moving parts exposed to young children.
The table is simple to assemble and sturdy enough for a toddler to lean against, according to some reviews. Nothing requires screws; everything just clicks into place. Naturally, the table has a no-leak drain plug installed.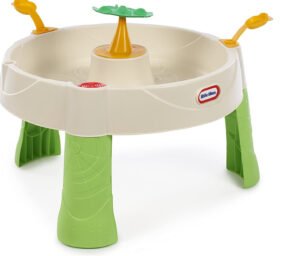 Little Tikes Frog Pond Water Table for Kids
---
Specifications
Dimensions:
30.83" x 32.67" x 22.3"
The Little Tykes Frog Pond water table is an excellent basic water table for kids looking for just a basic water table with fewer frills but not less fun. The water table features a central tower fashioned like a lily pad. Around the edges are two launchers where kids can launch their frogs into the water, or of course, onto the lily pad as a bonus. A spinner on the other side will circulate the water around the table for a slow lazy-river effect when turned.
Even though it weighs only 4 lbs, the table is sturdy and easy to assemble. It holds 7 gallons of water and has a drain plug for easy cleaning. Some reviewers mentioned that outdoor debris and leaves stained the plastic when left outside for prolonged periods, so consider covering it when not used.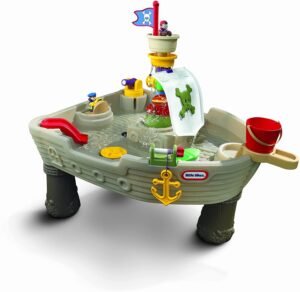 Little Tikes Anchors Away Pirate Ship Water Table for Kids
---
Specifications
Dimensions:
36" x 36" x 29"
The Little Tykes Anchors Away is without a doubt the best water table and, in the minds of the boys and girls gathered there, a pirate ship. We adore the theme of this kid-sized water table. The water can be pumped around a little bit or poured into the crows' nest at the top of the mast.
As with any proper pirate ship, this one is fully armed with a squirting water cannon and a skull and crossbones flag. By turning the winch handle, you can raise and lower the anchor. They outfitted the ship with a variety of spinners that continuously shuffle all the floating trash around. To help the unfortunate mutineer who must walk the plank, two pirate characters and a shark are also present.
The stability of the water table is unaffected by the fact that it only has three sturdy legs. They used top-notch materials to create the unit. According to one Amazon reviewer, the water cannon is still functional after two years of use with no plastic degradation and no leaks. The table has a drainage plug and is reasonably simple to put together, but the plastic does not have any pre-drilled holes, so you will need to drill a few holes to insert the screws that secure the legs to the table.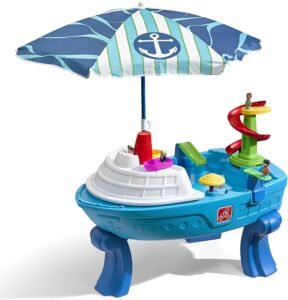 Step2 Fiesta Cruise Sand & Water Table with Umbrella
---
Specifications
Dimensions:
39.5" x 26.5" x 28"
Another dual-sided play table for toddlers to simultaneously explore sand and water is the Fiesta Cruise Sand & Water Table for Kids. They gave the table a cruise ship shape so that it would immediately spark their creativity. One of the best water tables we've examined that has an umbrella as a bonus feature is this one. You're sure to enjoy it whether you take it to the beach or just want to keep your kid entertained in the backyard on those warm days.
Nine accessories, including figures of the cruise ship crew, are included with the table. The crew members and other toys from the toy box can use the ship's stern slide to enter the water pond.
The sand area serves as the ship's bow and is protected by a sturdy plastic lid in the form of the ship's tower and cabins. Of course, the lid serves a more practical purpose by keeping the sand clean when the toy is not in use by keeping out debris like leaves and grime or the neighbor's cat. The well-made accessories have enough variety to keep your kids' interest for a while.
The table is strong, easy to assemble, and capable of holding up to 3 gallons of water and 40 pounds of sand. The water pond's bottom has grooves that allow grime to collect there and need to be periodically scrubbed clean.
Additionally, the drain plug is elevated due to the grooves for an unknown reason, making it challenging to completely drain the water pond by simply pulling the plug. To get all the water to run out, pick it up and tilt it. Even so, this is among the top kids' water tables on the market.
Little Tikes Spiralin' Seas Waterpark Water Table for Kids
---
Specifications
Dimensions:
29" x 29" x 31.5"
The Little Tykes Spiralin' Seas Waterpark will give your child countless hours of entertainment. It's a fairly straightforward water table without a lot of tricks or easily breakable components, but it has plenty of room for your child to use their imagination.
The water table includes 5 "squirting character balls" and a spiraling central tower. Atop the tower, there is a gullet through which balls and water can be thrown, spiraling to the bottom and into the water pond, where they can circle the tower in a lazy river. Your children's coordination and motor skills will be improved by the small Ferris wheel that can pick up the balls and drop them off again.
7 gallons of water are stored in the water table. The swirl tower can be put together quickly and easily; however, some people find it difficult to do so. The table's plastic is sturdy and will last for many years, just like all Little Tykes toys do, especially if it is taken care of. This one occasionally leaks water through the center, which is common even in the best water tables.
The funnel in the center of the tower is big enough to move the balls through, as well as water of course, but your kids will unavoidably throw all kinds of other things down the gullet, so be prepared to occasionally clear out some blockages!
How to Clean and Care for Your Sand and Water Table
Maintaining the cleanliness and condition of your child's sand and water table is essential to ensure safe and enjoyable playtime experiences. Regular cleaning and proper care not only extend the life of the table but also ensure that your child plays in a hygienic environment. Here's a guide on how to clean and care for your sand and water table:
Empty and Rinse Regularly: After each play session, empty the water and remove any wet sand or debris. Rinse the table thoroughly with clean water to remove any residue. This prevents mold, mildew, and bacterial growth.
Scrub and Disinfect: Periodically, use a mild soap or child-safe cleaning solution to scrub the table's surfaces. Pay special attention to corners, crevices, and any textured areas where dirt can accumulate. Rinse thoroughly to remove all cleaning agents.
Check for Damage: Inspect the table regularly for any signs of damage, such as cracks, chipping, or sharp edges. Any damaged parts should be repaired or replaced immediately to ensure your child's safety during play.
Cover When Not in Use: Consider using a fitted cover when the table is not in use. Covers prevent leaves, insects, and other debris from entering the table, keeping it clean and ready for play. Ensure the cover is securely fastened to prevent water accumulation.
Store Toys Properly: Water table toys and accessories should be cleaned and dried after each use before storage. Store them in a dry, well-ventilated area to prevent mold and mildew growth. Avoid leaving toys in the water table when not in use.
Rotate the Water and Sand: If your table has both sand and water compartments, periodically switch the contents to prevent any one material from becoming overly wet or contaminated. This helps maintain the quality of both sand and water play.
Use Safe Sand: If your table includes a sand compartment, use child-safe play sand that is free from contaminants and chemicals. Regular sandbox sand might not be suitable, as it can contain impurities that could be harmful if ingested.
Avoid Harsh Cleaning Agents: Use gentle, non-toxic cleaning agents to clean the table. Harsh chemicals can damage the table's finish and potentially be harmful to your child if any residue remains after cleaning.
Dry Thoroughly: After cleaning, allow the table to air-dry completely before refilling it with water or sand. Moist environments can promote mold growth, so ensuring the table is dry is essential.
Teach Hygiene Habits: Encourage your child to wash their hands before and after playing with the sand and water table. This helps prevent the spread of germs and maintains a clean play environment.
By following these cleaning and care guidelines, you can ensure that your child's sand and water table remains a safe, enjoyable, and hygienic space for them to explore, experiment, and have fun. Regular maintenance not only keeps the table in excellent condition but also instills good hygiene habits in your child from an early age.
Frequently Asked Questions (FAQs)
Conclusion
Incorporating a water table into your outdoor playtime routine can provide your kids with hours of entertainment and educational value. From enhancing fine motor skills to promoting imaginative play, these water tables offer a range of benefits. When selecting the best water table for your kids, consider factors such as age-appropriateness, design features, and available space. With any of the top picks mentioned in this article, you can look forward to a summer filled with laughter, creativity, and refreshing water play.