Best Binoculars for Kids
Last updated: December, 2023
When it comes to nurturing a child's curiosity and love for the great outdoors, a good pair of binoculars can be a game-changer. Binoculars for kids offer a unique way for them to explore nature, observe wildlife, and embark on exciting adventures. In this article, we'll guide you through the best binoculars for kids, ensuring they have an enjoyable and educational experience.
Why Binoculars for Kids?
Binoculars provide a window to the world, allowing kids to see things up close that might otherwise be too distant or elusive. They can observe birds in the trees, examine insects, study the night sky, and even watch sporting events from a distance. Binoculars not only fuel their curiosity but also encourage outdoor play and learning.
Key Features to Consider
Before we dive into our top picks, let's explore the essential features to consider when choosing binoculars for kids:
Durability
Children are known for their adventurous spirits and sometimes less-than-gentle handling of their belongings. Look for binoculars made of sturdy materials and with rubberized armor to withstand the bumps and drops that come with exploration.
Lightweight and Compact
Kids have smaller hands and weaker grip strength than adults. Opt for binoculars that are compact and lightweight to ensure they can comfortably hold and carry them for extended periods.
Magnification
Binoculars come with varying levels of magnification. For kids, a lower magnification (typically 6x or 8x) is ideal. High magnification can lead to shaky images and frustrate young users.
Focus Mechanism
A simple focus mechanism is crucial for children. Look for binoculars with a central focus knob that's easy for small hands to adjust.
Eye Relief
Ensure the binoculars have sufficient eye relief, allowing kids to use them while wearing glasses comfortably.
Field of View
A wider field of view makes it easier for kids to track moving objects. It's especially valuable for birdwatching and wildlife observation.
The Best Binoculars for Kids: A Detailed Review
Bespin Binoculars for Kids
---
Specifications
The BESPIN binoculars are very similar in appearance to other glasses-friendly models; they simply lack the non-slip grip on the sides. On the other hand, their body is covered in rubber, which makes them completely shockproof.
The BESPIN Binoculars for Kids have fully coated optics and a BAK4 prism to produce crisp, clear images. The 7.2-degree viewing angle and 8x magnification provide a broad and stable field of view. At only 7.5 ounces, the BESPIN Binoculars for Kids are easy to use and lightweight for young adventurers.
Kids' binoculars typically feature a soft rubber eyepiece, and the BESPIN can be adjusted in IPD from 1.9 inches to 2.6 inches to accommodate a range of face sizes. Children wearing glasses can also use binoculars to fold the rubber eyepiece.
A user manual, padded protective case, lens cleaning cloth, and a 2-foot neck strap are included with the binoculars. Additionally, BESPIN includes a poster for your young explorer to identify 583 different species of American birds. Both boys' and girls' versions of the BESPIN Binoculars for Kids are offered in Lime Green and Sky Blue.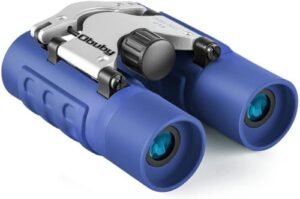 Obuby Binoculars for Kids
---
Specifications
Our #1 pick is the Obuby Binoculars for Kids, which are lightweight and compact! The Obuby Binoculars have a BAK 4 FMC prism with an 8x magnification and a 7.2° viewing angle, despite their toy-like appearance. Without getting too technical, BAK4 prisms are thought to exhibit a more accurately rounded pupil at the exit. In essence, they improve edge-to-edge sharpness and light transmission.
The sturdy rubber and polycarbonate plastic casing of the Obuby Binoculars for Kids ensures that they are shockproof and will withstand an unintentional drop. The binoculars are perfect for all outdoor activities because they are water and fog proof.
Children can see the fine detail of a tree's leaves in sharp, clear focus at 122 feet/1000 yards away. With the folding eyepiece on the Obuby Binoculars for Kids, children can fine-tune their IPD (the distance between their eyes) for a very comfortable fit. The binoculars are lightweight enough for a child to hold them up to their eyes for extended periods of time without experiencing arm soreness or fatigue because they weigh only 5.9 ounces.
The Obuby Binoculars are comfortable because they are made with an ergonomic grip that is easy for small hands to use. The entire exterior of the binoculars, including each eyepiece, is covered in soft rubber, which increases their durability and makes them comfortable to grip. In addition to protecting kids' eyes, the rubber eyepieces keep them from injuring themselves.
Along with the binoculars, there is a velvet drawstring bag for protection, a lens cloth, and a pouch to keep them in when not in use. The package also includes a lanyard so kids can wear binoculars around their necks. Boys and girls alike will find them appealing because they come in 13 different colors.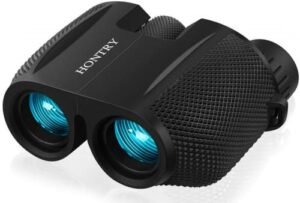 Hontry Binoculars for Kids
---
Specifications
For children up to the age of twelve and even adults for slightly older children, the Hontry Binoculars for Kids are a great option. Children who are slightly younger than 12 and have prior experience with handling and maintaining binoculars will also be able to use these binoculars with ease.
The Hontry Binoculars for Kids have a 25mm objective lens, BAK4 prism, and the highest magnification of 10x on our list. Additionally, the lenses have multiple coatings, which results in rich, vivid colors. With a light transmission of 96.48%, the Hontry Binoculars are suitable for low-light night vision applications.
The kid-friendly Hontry Binoculars are splash and shockproof, with a rubberized coating for added grip. They also have rubber eyepieces that work well with glasses. Dad's pocket in his jeans could easily accommodate the binoculars due to their small size. While they weigh 9.6 oz, which is a little bit more than every other item on our list, older children can easily handle this.
You will also get a neck strap, carrying case, lens cleaning cloth, and a 3-year warranty in addition to the Hontry Binoculars. The kids' Hontry Binoculars are appropriate for both boys and girls, and they are exclusively offered in black. They are perfect for a variety of outdoor applications and make a great birthday or Christmas present for your child. These include traveling, hunting, hiking, sports, concerts, and birdwatching.
Educational Insights GeoSafari Jr. Kidnoculars
---
Specifications
Objective Lens:
Not specified
The Pedagogical Perspectives The youngest adventurers will love the GeoSafari Jr. Kidnoculars. You need look no further than the GeoSafari Jr. Kidnoculars if you want to introduce binoculars to your toddler and encourage learning through exploration!
With their 2x magnification, these binoculars are ideal for young children with unsteady hands. Kids can use binoculars and quickly see a more precise image because of the lower magnification. Because the Educational Insights GeoSafari Jr. Kidnoculars are focus-free, children can focus objects without adjusting or rotating dials.
Despite having some of the most basic features among kids' binoculars, these are still ideal for the age group. To help center the binoculars over the child's eyes, the GeoSafari Jr. Kidnoculars have a large eyepiece with a molded rubber goggle. For added security, the Kidnoculars have a neck strap with a simple breakaway clasp.
There are two exciting color combinations for the GeoSafari Jr. Kidnoculars: pink/purple/white and green/purple/yellow. These are fantastic STEM learning toys that are also a great way to get young children outside to play instead of in front of the TV!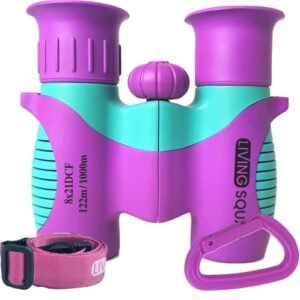 Living Squad Kids Binoculars
---
Specifications
The Living Squad Kids Binoculars are an excellent option if your child wears glasses! Not only do the large rubber eyepieces offer superior eye protection, but they can be folded up, making it easy for children to see during class. Additionally adjustable, the binoculars enable a personalized IPD fit.
The Living Squad Kids Binoculars are easy to focus and have a large, kid-friendly center dial. The Living Squad Kids Binoculars, like many other excellent children's binoculars, have an 8x magnification and a 7.2-degree angular field of view thanks to a BAK4 roof prism.
These binoculars are not only incredibly strong and shockproof, but Living Squad is so sure of their durability that they promise they won't break even after falls. A lifetime free replacement warranty and a 30-day money-back guarantee are included with every set of Living Squad Kids binoculars. In order to prevent unintentional drops, the binoculars come with a neck strap and a non-slip grip along the sides.
The binoculars also come with a 2 foot long breakaway neck strap, a user manual, a cleaning cloth, a carabiner clip, and a protective carrying case.
For both boys and girls, the Living Squad Kids Binoculars are available in six exciting color options. They are great as birthday or Christmas presents and go well with a variety of outdoor activities.
Little Experimenter Night Vision Binoculars
---
Specifications
Objective Lens:
Not specified
Another great set of kid-focused binoculars is the Little Experimenter Night Vision Binoculars, which are specifically designed for toddlers. Although their features are more simplistic, they offer all the necessities for this age group to guarantee endless exploration and enjoyment!
The kids' Little Experimenter binoculars have a 2x magnification, which makes it simple for shaky hands to see clearly. Additionally, they are focus-free, so children won't need to turn any dials to get a sharp focus image. The Little Experimenter has an LED light for "night vision," which sets it apart from other binoculars. giving children the chance to investigate spooky creatures that are hidden under rocks and leaves at night! Three LR44H batteries, which are included with the binoculars, are needed for the flashlight.
The Little Experimenter has a soft, flexible rubber goggle eyepiece to help kids position the binoculars comfortably, just like we saw with the GeoSafari Jr. Kidnoculars. A detachable neck strap is also included for convenient carrying while exploring. The only color combination available for the Little Experimenter Night Vision Binoculars that appeals to both boys and girls is blue/yellow. They are ideal for introducing toddlers to learning via exploration and also make wonderful gifts.
Thinkpeak Kids Binoculars
---
Specifications
For children aged three and older, the THINKPEAK 8×21 Kids Binoculars are a great choice as well, as they are easy for small hands to hold. The THINKPEAK Kids Binoculars have an even more user-friendly focus dial in addition to a BAK4 roof prism that produces a clear, vivid color image. An excellent visual field is guaranteed by the 7.2 viewing angle, and a nice, steady image is provided by the 8x magnification.
The THINKPEAK Kids Binoculars, like many other binoculars for children in this age range, are robust and safe because of their rubberized body, which makes them shockproof and protects the user's eyes. The THINKPEAK weighs only 7.2 oz, which makes them lightweight and comfortable to hold for extended periods of time—though not the lightest on the list.
The THINKPEAK Kids Binoculars are small and lightweight, with an adjustable diopter. The binoculars can expand to hold an IPD of up to 2.5 inches, starting at a range of 2 inches. The THINKPEAK Binoculars come with a neck strap that can be threaded through the eyelet loops on either side of the body. To guarantee a secure hold for small hands, the sides of the binoculars feature a non-slip grip.
Kidwinz Original Compact Set
---
Specifications
For good reason, the Kidwinz Original Compact 8×21 Kids Binoculars Set is a fashionable set! The Kidwinz is a different children's binocular with BAK4 prisms that provides crisp, high-quality images. The 8x magnification of the Kidwinz Original Kids Binoculars makes them ideal for a wide range of outdoor activities, such as stargazing, birdwatching, hunting, sports, hiking, boat rides, and even theater performances!
The Kidwinz Original Compact Kids Binoculars come with a lifetime warranty and are shockproof, so they won't break from falls or collisions. The Kidwinz Binoculars' body was covered in rubber, just like the Obuby Binoculars' was. This not only shields the binoculars from impact and wear and tear, but it also keeps your child's eyes safe while they watch. In addition, the Kidwinz eyepieces have an additional coating to shield the lens from drops and falls.
With a large, easily accessible focus dial, these kid-friendly binoculars are incredibly easy to focus on. Additionally, the Kidwinz Original Compact 8×21 Kids Binoculars have an adjustable IPD that lets kids fold the binoculars for a precise and cozy fit.
You will also get a user manual, a carry case, a 2 foot long lanyard, and a prism cleaning cloth in addition to the Kidwinz Original Compact Kids Binoculars. Because it is padded, the carry case offers superior protection for storing and traveling. The Kidwinz Kids Binoculars are only offered in one color—green with blue trim—as opposed to the Obuby Binoculars.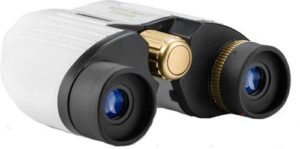 Bry&BVL Binoculars for Kids
---
Specifications
The Bry&BVL 8×22 Kids Binoculars look a little different from all the other kid-friendly binoculars we've reviewed, and they're shock- and splash-proof. Although the Bry&BVL Kids Binoculars have soft rubber eyepieces that protect the eyes, the body of the eyewear is not rubberized. They do, nevertheless, have an elevated, non-slip grip.
The focus length and width of the Bry&BVL 8×22 Binoculars for Kids are adjustable. It is among the lightest kid-friendly binoculars on our list, weighing only 5.4 ounces. The Bry&BVL Binoculars are ideal for outdoor pursuits like sports and bird watching, but they're also great for backyard and pretend play.
The package also contains an eBook titled "101 Amazing Wild Birds," a user manual, a padded carry pouch, a breakaway wrist strap, and a lens cleaning cloth in addition to the binoculars. It should be noted that although the strap is marketed as a neck strap, we discovered that it is far too short to be worn around a child's neck. Instead, we have designated it as a wrist strap.
There are five vibrant color options for the Bry&BVL Kids binoculars: green, pink, white, black, or red. Little children who wish to bring binoculars on family trips can use these, and the bright color options make them ideal for themed birthday celebrations.
Buyer's Guide
Binoculars for kids can be a fantastic tool for nurturing their curiosity, fostering a love for nature, and encouraging outdoor exploration. However, with a wide range of options available, it's essential to make an informed choice when selecting binoculars for your child. This buyer's guide will help you choose the perfect pair for your young adventurer.
Age and Skill Level
The first consideration when buying binoculars for kids is their age and skill level. Younger children may benefit from simpler, more durable options with lower magnification, while older kids may be ready for more advanced models. Consider the following age and skill level guidelines:
Ages 3-6: Look for lightweight, colorful binoculars with minimal magnification (4x-6x) and a simple focus mechanism.
Ages 7-12: Kids in this age range can handle slightly more complex binoculars with 6x-8x magnification, but durability remains essential.
Ages 13 and older: Older children can use binoculars with 8x magnification or more. These kids may appreciate models with more advanced features.
Durability
Kids are known for their active, sometimes rough-and-tumble adventures. To ensure the longevity of the binoculars, look for durable options that can withstand the inevitable bumps, drops, and exposure to the elements. Consider binoculars with rubberized armor for extra protection and a rugged design.
Weight and Size
Binoculars for kids should be lightweight and compact to ensure comfort and ease of use. Bulky or heavy models can be challenging for children to carry and hold steady for extended periods. Opt for binoculars that fit well in your child's hands and are lightweight enough for them to use comfortably.
Magnification
Selecting the right level of magnification is crucial. Higher magnification isn't necessarily better, especially for kids. It can lead to shaky images and make it challenging for young users to maintain a steady view. Opt for binoculars with a magnification of 6x or 8x, which strikes a balance between bringing objects closer and maintaining image stability.
Focus Mechanism
Ensure the binoculars have a simple and easy-to-use focus mechanism, preferably with a central focus knob. Complex focus systems can frustrate kids and make it difficult for them to adjust the binoculars to their preferences quickly.
Eye Relief
Eye relief is the distance between the eyepiece and the child's eye while still maintaining a full field of view. It's essential to choose binoculars with sufficient eye relief, especially if your child wears glasses. Check for adjustable eyecups or models designed for eyeglass wearers.
Field of View
A wide field of view is beneficial for kids, as it makes it easier for them to track moving objects like birds or wildlife. Binoculars with a broader field of view provide a more enjoyable viewing experience.
Additional Features
Some binoculars for kids come with extra features that can enhance the experience, such as built-in audio amplification or accessories like a carrying case, breakaway lanyard, or cleaning cloth. These extras can make the binoculars more user-friendly and convenient.
Budget
Lastly, consider your budget when choosing binoculars for kids. There are options available at various price points, so you can find a pair that suits both your child's needs and your budget.
Frequently Asked Questions (FAQs)
Conclusion
Binoculars for kids open up a world of adventure, discovery, and learning. The best binoculars for your child will depend on their age, interests, and level of experience. Whether they're birdwatching, stargazing, or just playing explorers in the backyard, the right pair of binoculars can be a valuable tool for fostering their curiosity about the world around them. Choose wisely, and watch your child's wonder and excitement grow as they explore their surroundings through the lenses of their very own binoculars.