Best Water Gun For Kids
Last updated: December, 2023
When the sun is shining and the temperature is on the rise, there's nothing quite like a good old-fashioned water fight to cool off and have some outdoor fun. Water guns have been a favorite pastime for kids of all ages, providing a thrilling way to engage in friendly water battles. If you're on the hunt for the best water gun for kids, look no further! In this guide, we'll take a closer look at the top water guns available on the market today.
Water Gun Maintenance and Safety Tips
Once you've chosen the perfect water gun for your kids, it's essential to ensure that it remains in good condition and that your children use it safely. Here are some maintenance and safety tips to keep in mind:
Regular Cleaning:
Water guns can accumulate dirt, sand, and grime, especially after outdoor play. To maintain their performance and hygiene, give them a thorough rinse and cleaning after each use. Some water guns can also be disassembled for easier cleaning.
Storage:
When not in use, store the water guns in a cool, dry place. Avoid direct sunlight, which can cause materials to deteriorate over time. Proper storage helps prolong the life of the water gun.
Check for Leaks:
Periodically inspect the water gun for any signs of leaks or cracks in the reservoir or nozzle. If you notice any leaks, repair or replace the water gun promptly to prevent water wastage and maintain optimal performance.
Safe Play Guidelines:
Establish safe play guidelines with your children. Teach them not to aim water guns at faces or eyes to prevent injury. Encourage responsible and respectful play, especially if they're participating in water fights with friends.
Water Source:
Use clean and fresh water sources to fill the water gun. Avoid using any liquids other than water to prevent damage to the internal components.
Monitor Younger Children:
Keep a close eye on younger kids while they're using water guns. Ensure they understand how to handle the water gun safely and remind them of the rules.
Respect Property and the Environment:
Teach your children to respect other people's property and the environment. Avoid using water guns near fragile or sensitive items, and pick up any litter or debris left behind after play.
Water Conservation:
Encourage your kids to be mindful of water usage, even during play. Remind them not to leave taps running unnecessarily or waste water. This helps instill an understanding of responsible water use.
Supervision:
For younger children, consider supervising their water gun play. This ensures they are using the water gun safely and responsibly, especially when playing with friends.
The Best Water Gun For Kids: A Detailed Review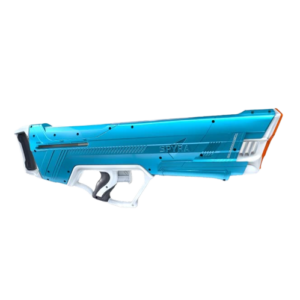 SPYRA LX WaterBlaster Premium Water Gun
---
Specifications
Firing Mechanism:
Pump action
Consider the SpyraLX WaterBlaster Premium Water Gun if you find that one stream of water is insufficient. You can fire off at least eighteen strong bursts of water before having to refill. With this feature, you can spray with previously unheard-of precision and effortlessly reach targets that are within a 30-foot firing range.
Batteries are not needed. Pull back the plunger after dipping the Spyra LX WaterBlaster's front into a water source to fill it up. It is important to note that some users have reported leaks when the gun's barrel is submerged beyond the maximum submersion level indicated on the barrel. It only takes a few seconds to refill and repressurize the gun, and each refill can provide you with eighteen to twenty-five excellent pump shots. Customers should be aware that this gun can be heavy when fully loaded, and that older children with stronger arms are the best fit for it because the pump feature requires two hands to operate.
XShot Warfare Fast-Fill Water Blaster
---
Specifications
Firing Mechanism:
Pump action
Water blaster with the fastest filling speed ever made! You don't want to stop during a heated battle to refill your water tank, and the XShot Water Warfare Epic Fast-Fill Water Blaster's Fast-Fill technology eliminates that need. Simply keep a big bucket or pool of water close at hand, and in just a few seconds, seal up the water tank by dunking, pulling the hammer back, filling, and then releasing the hammer. Before resuming the fight, the manufacturer advises pressing the seal to ensure it is completely closed.
The water stream's velocity can be altered by adjusting the nozzle located atop the water cannon when it's ready to shoot. This has a trigger, but it's only decorative because it has a pump action feature that shoots water blasts up to thirty feet. Overall, very good value for the action; it can be had for a very fair price.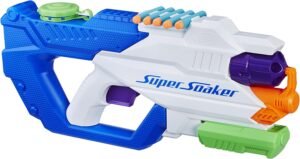 Nerf Super Soaker DartFire
---
Specifications
Firing Mechanism:
Trigger/Pump action
Two in one! For twice the blasting fun, there is a water gun and a dart gun in one Nerf Super Soaker DartFire. To exploit your opponent, choose the dart or water mode, or alternate between the two. When you pull the trigger, the dart gun shoots one dart at a time and has a pump-to-fire feature that allows it to shoot water up to 38 feet.
This gun's water tank can hold up to 40 ounces of liquid. Five soft-tipped Nerf darts are included with the blaster, but larger refill packs are readily available and reasonably priced.
Nerf Super Soakzooka
---
Specifications
Firing Mechanism:
Pump action
These are sturdy soakers that will hold up in some epic water fights! With a powerful 55-liter fluid capacity, the Nerf Super Soaker Soakzooka boasts one of the biggest capacities of any water cannon previously discussed, enabling it to shoot enormous bursts of water.
Instead of being held like a conventional water cannon, this device has a handle to activate the action on top of the tank and a handle to operate the pump. To drench anyone nearby, simply fill the tank with water and swing the pump handle back and forth. The Nerf Super Soaker Soakzooka has an amazing range as well; it can shoot a veritable geyser up to 39 feet. Hours of backyard skirmishes are sure to be sparked by this formidable water cannon.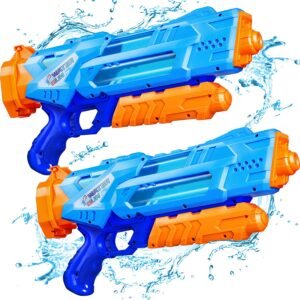 Quanquer Super Water Guns for Kids
---
Specifications
Firing Mechanism:
Pump action
It's not very fun to have a one-sided water gunfight, so why not get two for the price of one? The kids' Quanquer Super Water Guns two-pack is a great deal and makes a great present for siblings or as a way to always have one water gun on hand for a friend. Massive 40.5 oz water tanks with a broad 3-inch opening that can be filled in a matter of seconds are available with these water blasters. Put it in the water, top it off, shut the reservoir lid, and start shooting! You can get up to 50 shots from one refill.
The pump action firing mechanism and non-slip handle design of the Quanquer Super Water Guns for Kids make them easier to hold while they run around. You won't be caught without ammunition if you have a see-through water reservoir that lets you see when you're running low. For twice the fun, this combo pack is an excellent value purchase.
Team Magnus Incog Water Guns
---
Specifications
Firing Mechanism:
Pump action
Do you wish to carry a water gun covertly? The Team Magnus Incog Water Gun is really cool! This water gun has an unparalleled appearance thanks to its sleek and fashionable modern design, giving you the advantage of surprise as you approach your target covertly. It's constructed from premium contemporary plastic.
This water cannon is not only aesthetically pleasing but also very efficient. Its statistics compare favorably to those of its competitors, with a 40 oz water tank capacity and a 32 foot firing range. To start the water pumping, unscrew the cap and fill the tank with water using a faucet or hose. Then, replace the cap and turn on the pump action handle. The Team Magnus Incog Water Gun is what you need if you're looking for a sleek, contemporary water gun that can do the job and look good doing it.
Buyer's Guide
As you embark on your quest to find the perfect water gun for your kids, it's essential to consider various factors to ensure a satisfying and safe water-fighting experience. Here is a comprehensive buyer's guide to help you make an informed decision:
Age-Appropriateness:
Consider the age of the children who will be using the water gun. Some models are designed for younger kids, while others are better suited for older children. Ensure that the chosen water gun is age-appropriate and easy for your child to handle.
Size and Weight:
Check the dimensions and weight of the water gun. A lightweight and compact design is ideal for younger kids, while older children may appreciate larger, more powerful options. The right size ensures comfort during extended play.
Water Capacity:
Pay attention to the water capacity of the water gun's reservoir. A larger capacity means fewer refills during play, which can keep the action going for longer.
Range and Power:
The range of the water gun is a crucial consideration. Some water guns can shoot water over 50 feet, while others are designed for closer combat. Choose a range that fits the intended use, whether for backyard fun or wide-open spaces.
Pump Mechanism:
Different water guns use various pump mechanisms to shoot water. Some have a single-pump action, while others may require multiple pumps for maximum power. Make sure your child can comfortably operate the pump mechanism.
Durability and Materials:
Look for water guns made of durable materials that can withstand rough play. Opt for models that are built to last, even if dropped or bumped.
Design and Style:
Water guns come in various designs and styles, from traditional to futuristic. Choose one that your child finds visually appealing to make the experience even more enjoyable.
Ease of Refilling:
Check how easy it is to refill the water gun. Some models feature a quick-fill cap or a wide water reservoir for hassle-free refills, which can save time during play.
Special Features:
Some water guns come with special features, such as multiple nozzles, scatterblast capabilities, or the ability to connect to a water hose. Consider whether these extras align with your child's preferences.
Safety Considerations:
Prioritize safety by selecting water guns made from non-toxic materials. Teach your kids to avoid aiming at faces and to respect any rules or guidelines for safe water play.
Price and Budget:
Set a budget that aligns with your expectations and preferences. There are water guns available in a wide price range, so you can find a suitable option without breaking the bank.
Reviews and Recommendations:
Don't forget to read online reviews and seek recommendations from friends or family who have purchased water guns. Real-life experiences can provide valuable insights into the performance and durability of the product.
Frequently Asked Questions (FAQs)
Conclusion
Gather your troops, fill your water guns, and get ready for a splashing good time. These top water guns for kids are sure to provide hours of wet and wild fun, keeping children entertained and cool during those hot summer days. Don't forget to prioritize safety and follow any local water fight rules, and let the good times flow!