Best Bubble Gun
Last updated: December, 2023
Bubble guns have been a cherished childhood toy for generations. These whimsical devices create a never-ending stream of bubbles that can captivate kids and adults alike. But with so many options on the market, how do you choose the best bubble gun for your needs? In this guide, we'll walk you through the factors to consider and highlight some of the top bubble guns available.
What to Look for in a Bubble Gun
Before you make a purchase, it's essential to understand what sets a great bubble gun apart from the rest. Here are some factors to consider:
Bubble Output:
Look for a bubble gun that produces a consistent stream of bubbles. The more bubbles it can create in a short period, the better.
Durability:
Kids can be quite enthusiastic with their toys, so choose a bubble gun made of sturdy materials that can withstand accidental drops.
Ease of Use:
Opt for a bubble gun with a comfortable grip and simple operation to ensure a hassle-free experience.
Solution Compatibility:
Check if the bubble gun is compatible with a variety of bubble solutions, or if it requires a specific brand or type.
Battery Life:
Battery-powered bubble guns are convenient, but you'll want one that can last for hours of play without constant battery changes.
Design:
Bubble guns come in various shapes and colors. Select one that appeals to your child's preferences.
Additional Features:
Some bubble guns may have unique features like music, LED lights, or the ability to create giant bubbles. These can add to the fun.
The Best Bubble Gun: A Detailed Review
DesertHome Bazooka Bubble Machine Gun
---
Specifications
Battery Powered:
Rechargeable ion battery included
Number of Bubbles:
7000+ per minute
Kids who enjoy blowing bubbles have a lot of fun with the DesertHome Bubble Gun. A head with 69 holes on this bubble blaster can produce thousands of bubbles at once, making for an immersive and thrilling playing experience. Because of its lightweight design, you can take it with you wherever you go and enjoy it.
It is a fun toy to play with even after it is dark thanks to the vibrant lights that activate with a button press. The DesertHome Bubble Gun is powered by a rechargeable battery, and both the battery and charger are provided in the box. It's time to recharge when the bubble wand starts to spin more slowly and the bubbles stop. If you're giving the battery as a gift, keep in mind that it may not be ready to use right out of the box because it must be fully charged before use.
A special bubble gun with two bottles of bubble solution is the DesertHome Bubble Machine Gun. This bubble gun works differently than some of the others on our list. To start producing bubbles, you pour the bubble solution into a shallow tray (included), dunk the end with the holes in it, and pull the trigger. This setup may call for greater dexterity and coordination, making it more appropriate for older children.
The fact that this bubble gun produces so many bubbles with just one trigger press is what I like most about it. Lots of bubbles are produced by the 69 holes in the gun's head. The bubble gun's head being submerged in the mixture has advantages and disadvantages. The enormous amount of bubbles it produces is a plus, but if the tray spills, there could be a mess. Because toddlers and younger children are more likely to tip the tray over or be unable to resist sticking their hands in, the DesertHome Bubble Machine Gun is best suited for older children. Try one of the JOYIN two-packs listed below for toddlers.
JOYIN Bubble Machine Gun
---
Specifications
Battery Powered:
Yes, 3 AA batteries (included)
The Joyin Bubble Machine Gun is a great choice if you're looking for an affordable and fun toy for your kids. These bubble guns have soft triggers that require little force to engage, making them lightweight and simple for toddlers and young kids to hold and use. They don't have any eye-catching features, like lights or music, but they more than make up for that with their simplicity and affordability; a pack of two can be purchased for under $20.
Kids who enjoy blowing bubbles will enjoy the popular and entertaining Joyin Bubble Machine Gun two-pack. It's a great option for siblings or kids who like to play rough with their toys because of the double-pack feature. The various blue, green, and orange color combinations offer children a fun and vibrant experience.
Batteries and two 5 oz bottles of non-toxic bubble solution are also included in the two-pack, allowing you to play right out of the box. Just keep in mind that you need to keep track of the bubble solution bottles because you can only get replacements from the manufacturer. But if you run out, you can easily refill an empty bottle with any other bubble solution of your preference.
Playing with these bubble guns and my kids was so much fun. They provide a visually stunning experience and a lot of lovely bubbles that look like rainbows. I was initially hesitant to buy these bubble makers due to their high price, but I can now say with confidence that I am very happy with my decision. It was a worthwhile investment due to the high quality of the item and the enjoyment we are getting from using it.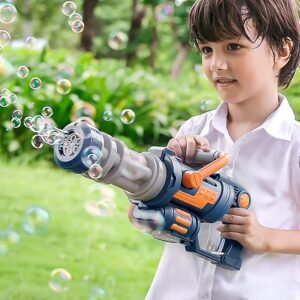 Homily Bubble Machine Gun
---
Specifications
Battery Powered:
Yes, 3 AA batteries (included)
Number of Bubbles:
7000 per minute
The Homily Bubble Machine Gun might be exactly what you need if you're looking for a bubble machine gun that can create robust bubbles. Since this bubble gun is bigger than most, using it requires two hands. Children can control which way they want to point the gun by using the rotating handle mounted on top of the weapon and the handle in the back of the weapon where the trigger is located.
Please be aware that the 3 AA batteries needed to operate this bubble machine gun are not provided in the package. Buy the batteries separately if you intend to give this as a gift. A small screwdriver is included in the package to aid in opening and closing the battery compartment.
The Homily Bubble Machine Gun is a feature-rich bubble gun that provides children with hours of entertainment. It has a multiple-operation trigger that enables either constant or sporadic bubble streams. The fan also produces over 7000 bubbles per minute for a captivating effect. The gun's independently controlled switches can play music or fire sound effects, and the muzzle lights up to add to the excitement.
You can play for hours with the bubble gun because it comes with two small refillable bottles of bubble solution that fit in the bottom. The Homily Bubble Machine Gun comes with a small screwdriver to help open and close the battery compartment, which needs three AA batteries (not included).
This was my additional birthday party gift, but it ended up being the best part of the celebration! Even a 1-year-old could operate the bubble machine with ease. It made a huge number of bubbles that lasted for a very long time. I will be buying more after being so pleased with its performance.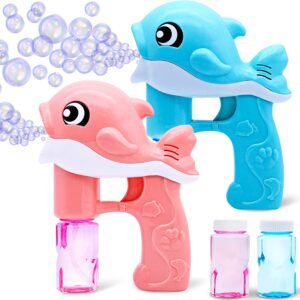 JOYIN Dolphin Bubble Machine Gun
---
Specifications
Battery Powered:
Yes, 2 AA batteries (included)
The Joyin Dolphin Bubble Machine Gun, which comes in two different packages, is a great toy for kids with smaller hands. The bubble blaster gun is fashioned to resemble adorable marine life. It has an attractive and appealing appearance thanks to the various pink, blue, and yellow color combinations that are available.
Four tiny 1.7oz bottles of bubble solution and two bubble guns are included in each package. It's simple to use the bubble gun: just take off the bottle cap, screw it onto the device, and squeeze the trigger. The included bottles can be kept after the bubble solution inside them runs out because they are simple to refill with bubble solution from a bigger bottle. This implies that kids can enjoy many more entertaining hours playing with the Joyin Dolphin Bubble Machine Gun. Overall, this bubble machine gun is a great option for parents looking for a kid-friendly, user-friendly toy.
Even young toddlers with weak hand muscles can easily use the Joyin Dolphin Bubble Machine Gun. The hand-operated trigger is delicate and soft, making use simple and effective. In addition, the bubble gun has a trigger "lock" feature that enables a continuous stream of bubbles without requiring the user to keep their finger on the trigger, making it ideal for young children who may have trouble with coordination. This lock feature makes the bubble gun an excellent toy for kids of all ages because it makes it easier for young children to play with it.
The Joyin Dolphin Bubble Machine Gun also uses a non-toxic bubble solution and satisfies all US Toy Standard safety tests. Parents who are concerned about safety can rest easy knowing that their kids are secure while using this toy. Overall, if you're looking for a fun and secure toy for your kids to play with during outdoor summertime activities, this bubble machine gun is a great option. It is also a wonderful gift suggestion for parents who want to give their kids hours of fun and excitement.
The bubble cannons were amazing, for sure! They make a bit of noise, and my youngest might have been startled by the light, but they shoot out bubbles quite impressively. I strongly advise you to purchase these bubble guns if you are thinking about it. They'll improve your life as a parent of a toddler.
Buyer's Guide
Bubble guns are a delightful source of entertainment, perfect for kids and the young at heart. Whether you're buying one for your child or adding to your collection of outdoor toys, finding the right bubble gun is essential. To help you make an informed purchase, this buyer's guide outlines the key factors to consider when choosing the perfect bubble gun.
Bubble Output and Quality:
When selecting a bubble gun, the primary consideration is how many bubbles it can produce. Look for models that offer a consistent and plentiful stream of bubbles. High-quality bubble guns create bubbles that are larger, more colorful, and longer-lasting.
Durability:
Kids can be tough on their toys, so it's crucial to choose a bubble gun built to last. Look for sturdy materials and quality construction to ensure it can withstand playtime accidents.
Ease of Use:
A user-friendly bubble gun is essential for children. Opt for models with comfortable grips and simple operation. This will ensure your child can enjoy the toy independently without frustration.
Solution Compatibility:
Pay attention to the bubble solution compatibility. Some bubble guns work with a variety of solutions, while others may require a specific brand or type. Ensure you have the right solution for your chosen bubble gun.
Battery Life:
If you prefer battery-operated bubble guns, consider the battery life. Longer-lasting batteries mean more extended playtime before needing replacements. Rechargeable options are also available and can be cost-effective in the long run.
Design and Aesthetics:
Bubble guns come in various shapes, sizes, and colors. Choose one that appeals to your child's preferences. Fun designs, such as animals or cartoon characters, can make the toy even more exciting.
Additional Features:
Some bubble guns come with extra features like music, LED lights, or the ability to create giant bubbles. While not essential, these features can add to the enjoyment and excitement of using the bubble gun.
Age Appropriateness:
Ensure that the bubble gun you choose is appropriate for your child's age. Some models are designed specifically for younger children, while others may be more suitable for older kids and adults.
Brand and Reviews:
Research the brand reputation and read reviews from other customers. A well-established brand with positive reviews is a good indicator of a quality product.
Price:
Set a budget and stick to it. While there are bubble guns available at various price points, it's essential to find the right balance between quality and affordability.
Frequently Asked Questions (FAQs)
Conclusion
When searching for the best bubble gun, consider the factors that matter most to you and your child. Whether you prefer a high-output machine like the Gazillion Bubbles Hurricane or a budget-friendly option like the Haktoys Transparent Bubble Gun, there's a bubble gun out there for everyone. So, get ready to enjoy hours of bubble-blasting fun with the perfect bubble gun that suits your needs and preferences.