Best Remote Control Car for Kids
Last updated: December, 2023
In the world of toys, few things capture the imagination of kids quite like remote control cars. These miniature vehicles offer an exciting and interactive play experience that can keep children entertained for hours on end. Whether it's racing against friends, navigating obstacle courses, or simply zooming around the backyard, remote-controlled cars are a timeless favorite. In this article, we'll explore the best remote control cars for kids and help you make an informed choice that will provide hours of joy.
Why Choose a Remote Control Car for Your Child?
Remote control cars are not just toys; they offer numerous benefits for children's development and entertainment. Here are a few compelling reasons why you should consider getting one for your child:
Enhances Hand-Eye Coordination
Operating a remote control car requires precise control, helping to improve a child's hand-eye coordination. They'll learn to navigate obstacles, steer around corners, and accelerate or decelerate with finesse.
Promotes Outdoor Play
In an age where screen time is prevalent, remote control cars encourage kids to get outside and enjoy the fresh air. These cars are perfect for backyard adventures, park outings, or races with friends.
Sparks Creativity
Remote control cars can be customized with paint, decals, and other modifications, allowing kids to express their creativity and develop a sense of ownership over their toys.
Teaches Patience
Operating a remote control car can be a bit tricky, especially for younger children. It requires patience and practice, helping kids develop perseverance and problem-solving skills.
The Best Remote Control Car for Kids: A Detailed Review
Force1 Tornado Remote Control Car for Kids
---
Specifications
The Force1 Tornado LED Remote Control Car for Kids combines value and performance. This vehicle is capable of almost anything, including driving upside down and backwards, falling from great heights and landing on its wheels, spinning and flipping 360 degrees, and drifting. It can move at up to 5 mph and has tough, grippy rubber tires that can handle offroad racing on a variety of surfaces. An anti-interference feature on the remote control even enables simultaneous operation of multiple remote-control cars.
The included remote control requires two AA batteries (included), but the rechargeable battery provides up to 25 minutes of playtime per charge and takes between 3 and 4 hours to reach full charge. The Force1 Tornado LED Remote Control Car for Kids is an excellent entry-level remote control car for kids because it costs less than $30 and the company offers full refunds if you're not satisfied.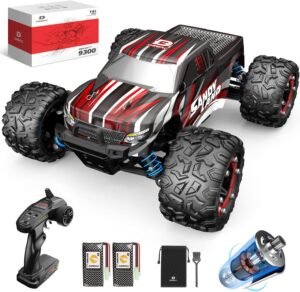 DEERC 9300 Remote Control Car
---
Specifications
Experience the rush of fast racing with the DEERC 9300 Remote Control Car! This improved model has tires with newly created treads to increase its traction on a variety of surfaces. It can drive and has front and rear suspension. This children's remote control car has a metal body that will protect it from damage in collisions and a PVC plastic shell that can be easily removed for maintenance. With a motor that can perform 21,500 revs per minute and reach speeds of up to 25 mph, it is lightweight enough for the car to accelerate quickly.
The motor can heat up quickly, so the manufacturer advises taking a break to let it cool down after every 15 minutes of driving. Parents should be aware that this performance comes at a price. And it might continue for a while! The DEERC 9300 Remote Control Car comes with two rechargeable batteries to increase your driving time. Each battery has more than 20 minutes of driving time, so you can swap one out for the other to get twice as much time. Although the batteries take two hours to fully charge, the remote control requires three AA batteries, which must be purchased separately.
Bezgar TB201 RC Remote Control Car
---
Specifications
Material:
Nylon and plastic
The Bezgar TB201 RC Remote Control Car might be ideal if you're searching for a kid-friendly remote control car on a tight budget. It is incredibly lightweight, with a nylon main body and a plastic chassis. These materials also make it collision-resistant and will aid in extending its lifespan, even if it is involved in numerous collisions with inexperienced young drivers.
There is a simple remote control that operates up to 32 yards away. The remote requires three AA batteries, which are not included, despite the fact that the car itself has a rechargeable battery that provides up to 20 minutes of driving time. The Bezgar TB201 RC Remote Control Car has plenty of power despite being intended for beginners. Up to 12.4 miles per hour is possible, and there is a row of bright lights to make driving at night enjoyable as well. This is an excellent kid-friendly entry-level remote control car.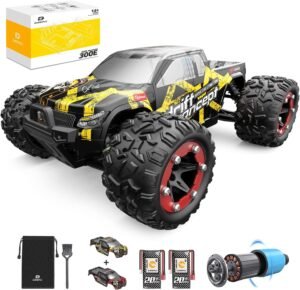 DEERC High-Speed Remote Control Car
---
Specifications
The DEERC High-Speed Remote Control Car might be what you're looking for if you're a driver who has mastered a beginner remote control car for kids and wants something more high-performance. With the powerful engine's top speed of 35 mph and the vehicle's 4-wheel drive and independent suspensions, you can navigate a variety of terrain. This car has a brushless motor, which offers up to three times the power and lifespan of a brushed motor.
Although the manufacturer does advise letting the motor cool down after 20 minutes of driving, the DEERC High-Speed Remote Control Car only requires one rechargeable battery that provides up to 20 minutes of driving time. However, two batteries are included with the car so you can switch batteries if you run out of power in the middle of a driving session. Additionally, it includes two red and yellow plastic covers that you can swap out based on your preferences. You can really let your car loose to explore since the remote control has a 109-yard control range!
Redcat Racing EPX Drift Car
---
Specifications
The Redcat Racing EPX Drift Car excels as a vehicle designed for drifting at high speeds. This remote control car can slide around corners while retaining forward momentum thanks to a brushed motor and specialized drift tires. The car can back out of tricky situations to keep the drifting fun going thanks to features for forward and reverse and a lightweight plastic chassis. The driver can adjust the tuning of their vehicle thanks to adjustable suspension and aluminum-capped oil-filled shocks.
Rechargeable batteries are included with the Redcat Racing EPX Drift Car, and one full charge provides approximately 20 minutes of driving time. The remote control radio system needs eight AA batteries, which are not included, so parents should be aware of that. This vehicle costs more than some of the other options on our list, but it has high-quality parts and is best suited for drivers who have experience operating more straightforward vehicles.
Traxxas Rustler Remote Control Car for Kids
---
Specifications
Rechargeable Battery:
Not included
You've found it—the high-performance remote control car! The four-wheel drive Traxxas Rustler Remote Control Car for Kids can travel at top speeds of up to 65 mph. The heavy-duty tires can grip any surface, including mud, snow, and puddles, thanks to the 3500kV brushless motor's ample power and the motor's waterproof design.
Customers should be aware that the Traxxas Rustler Remote Control Car for Kids does not include a battery and will need to buy a rechargeable battery separately. Some fans of remote control cars appreciate features like these because they can buy batteries with the specifications they desire. However, if you don't know much about what kind of battery you ought to buy, it might be best to look for a car that already has a battery. These types of remote control cars are best suited for experienced drivers rather than novices.
Buyer's Guide
Age Appropriateness
One of the first things to consider when purchasing a remote control car is the age of your child. Different cars are designed with specific age ranges in mind to ensure safety and ease of use. It's crucial to choose a car that matches your child's age and skill level. Here's a general guideline:
Ages 4-6: Look for basic, easy-to-use cars with simple controls and durable construction.
Ages 6-8: Consider cars with slightly more advanced features, such as speed control and responsive steering.
Ages 8 and up: Older kids can handle more sophisticated cars with high-speed capabilities and advanced controls.
Terrain Compatibility
Remote control cars are designed for different terrains, so it's essential to think about where your child will primarily play with the car. Common terrain types include:
On-Road Cars: Ideal for smooth surfaces like driveways and streets.
Off-Road Cars: Designed for rough terrains like grass, dirt, gravel, and rocky areas.
Rock Crawlers: Suited for climbing over obstacles and rocky terrain.
Select a car that matches the terrain where your child intends to play to ensure optimal performance and longevity.
Power Source
Remote control cars are typically powered by two primary sources: electric and nitro/gas. Here's what you need to know:
Electric Cars: These cars are easy to use and maintain. They are quieter, environmentally friendly, and suitable for beginners. Battery-powered cars are the most common electric option.
Nitro/Gas Cars: These cars offer higher speeds and longer run times but require more maintenance and can be noisier. They are better suited for older kids and experienced hobbyists.
Speed and Performance
The speed and performance of remote control cars vary significantly. If your child is a thrill-seeker and enjoys high-speed action, consider cars with faster motors and top speeds. Keep in mind that faster cars may be more challenging to control, so they are best suited for older kids. If your child is new to remote-controlled cars, starting with a model that offers adjustable speed settings can be beneficial for learning and safety.
Durability and Build Quality
Kids can be rough on their toys, and remote control cars are no exception. Look for cars with durable construction and quality materials that can withstand rough play and occasional collisions. Additionally, cars designed with waterproof or all-weather features are more resilient to the elements, ensuring they last longer and provide year-round entertainment.
Scale and Realism
The scale of a remote control car refers to its size relative to a real vehicle. Larger scale models, such as 1:10, offer more realistic appearances and handling. Smaller scale models, like 1:18 or 1:24, are more compact and easier to manage for younger kids. Consider what scale will best suit your child's preferences and the available space for play.
Accessories and Customization
Some remote control cars come with accessories like spare parts, decals, or tools for customizing the vehicle. If your child enjoys personalizing their toys, consider cars that offer customization options.
Budget
Lastly, consider your budget. Remote control cars come in a wide price range. It's essential to strike a balance between what you're willing to spend and the features and quality you want. Higher-priced models often offer more advanced features and better durability.
Frequently Asked Questions (FAQs)
Conclusion
Remote control cars are an ideal choice for kids who love adventure, speed, and outdoor play. They offer a wide range of benefits, from improving hand-eye coordination to sparking creativity and promoting patience. With our top picks, you can find the perfect remote-controlled car for your child's age and preferences, ensuring hours of fun and excitement. Whether it's off-road racing, rock crawling, high-speed thrills, or gravity-defying stunts, there's a remote-controlled car that's just right for your young explorer. So, gear up, hit the throttle, and let the adventures begin!