Best Bubble Machine for Kids
Last updated: December, 2023
Kids and bubbles – a match made in heaven! The sheer joy and fascination that bubbles bring to children are unparalleled. Bubble machines take this delight to the next level, providing hours of entertainment and laughter. In this article, we'll explore the world of bubble machines designed specifically for kids, ensuring they have endless fun with these mesmerizing, iridescent spheres.
Why a Bubble Machine for Kids?
Before diving into our top picks, let's understand why a bubble machine tailored for kids is an excellent addition to their playtime.
Safety First: Kid-friendly bubble machines are designed with safety in mind. They typically have non-toxic bubble solutions, making them harmless for kids if ingested or if the solution comes into contact with their skin or eyes.
Ease of Use: These machines are designed to be simple and straightforward, allowing children to operate them with minimal assistance, fostering independence and boosting their self-esteem.
Endless Entertainment: While manual bubble blowing can be a fun activity, bubble machines take the effort out of creating bubbles, ensuring that the kids can enjoy endless bubbles without getting tired.
Social Interaction: Bubble machines encourage kids to engage with their peers, promoting social interaction, sharing, and cooperative play.
Develops Motor Skills: Activating a bubble machine requires fine motor skills and coordination, which is great for their development.
The Best Bubble Machine for Kids: A Detailed Review
Zerhunt Bubble Machine
---
Specifications
Dimensions:
10"x 6.4"x 6.2"
Bubble Solution Included:
No
Bubble Reservoir Capacity:
13.5 oz
Power Source:
Plug-In and Battery-Powered
The Zerhunt Bubble Machine is a surefire hit whether you're looking for a bubble blower for backyard playtime, a wedding, or a party event. It is lightweight enough to carry around for bubbles on the go and weighs slightly over 2 pounds. It is made of high-quality, long-lasting ABS plastic.
With the ability to operate at two different speeds, the six spinning wands and built-in motor can produce over 4000 bubbles per minute! Safety features on the Zerhunt Bubble Machine cause the wands to stop automatically if they are touched, in case inquisitive kids or pets try to investigate.
With a 13.5 oz tank, this bubble machine can produce solid bubbles for up to 30 minutes before the bubble solution needs to be changed. You can take the Zerhunt Bubble Machine anywhere you want by using either the AC adapter or six C batteries (not included). This bubble machine, which comes in black and white, will keep you and your family entertained for hours on end.
1-By-One Auto Bubble Blower Machine
---
Specifications
Dimensions:
8.49"x6.88"x6.29"
Bubble Solution Included:
No
Bubble Reservoir Capacity:
12.8 oz
Power Source:
Plug-In and Battery-Powered
If quantity is important to you, the 1byone Auto Bubble Blower Machine is the best option because it boasts one of the highest bubble output rates on our list! This bubble machine has two speed modes, six spinning wands, and an hour-long battery life. While speed level two will give you a higher quantity of bubbles at 4500 bubbles per minute and last a slightly shorter 40 minutes, speed level one will give you about 3000 bubbles per minute and last up to an hour.
With a capacity of 12.8 oz, the reservoir of the 1byone Auto Bubble Blower Machine is marginally smaller than that of other models on our list. Even so, it is more durable and extremely efficient than other machines with bigger capacities.
This bubble maker has a handy handle for carrying and is lightweight and durable due to its high-quality ABS construction. It is multipurpose and can be used at home or on the go. You can power it with six C batteries or by plugging in the AC adapter. The 1byone Auto Bubble Blower Machine, which costs less than $30, is an affordable and adaptable option that will provide you with excellent value.
ADJ Products Bubbletron
---
Specifications
Dimensions:
14.25"x7.5"x8.25"
Bubble Solution Included:
No
Bubble Reservoir Capacity:
2 L
For the longest lifespan in bubble-blowing, the ADJ Products Bubbletron is the undisputed winner. This is a professional-grade bubble machine with a large capacity and high output, similar to those used by DJs and entertainers. This is the machine you should be pursuing if you require significant bubble power! With a massive 67 oz capacity, it is twice as big as the next largest bubble blower on our list.
You can fill the tank, take a step back, and enjoy up to four hours of nonstop bubbles as the machine consumes 33 ounces of bubble solution every two hours. This makes it ideal for events like weddings, parties, or other gatherings where you don't want to constantly check the level of the bubble solution in the tank.
The ADJ Products Bubbletron weighs a very manageable 4 pounds, despite being significantly larger than other machines on our list. It is constructed of lightweight, durable plastic. It's easy to carry thanks to the handle. Be aware that this device requires a plug to operate. Using the wired remote control or the on/off switch, it can be manually operated. Because the cord is 25 feet long, there may be a risk of tripping.
Although it costs more, this machine is of the highest caliber available. Comparing the ADJ Products Bubbletron to other options on our list, the price difference is substantial. However, if you are planning a significant event, it might be exactly what you need.
Kidzlane Bubble Machine
---
Specifications
Dimensions:
9.02"x9.02"x7.01"
Bubble Solution Included:
No
Bubble Reservoir Capacity:
180 ml
Power Source:
Battery-powered
Delight kids of all ages with the fun design of the Kidzlane Bubble Machine! The bright and friendly dolphin shape has ten spinning wands inside its mouth and a quiet yet powerful motor that will produce more than five hundred bubbles per minute for tons of bubbly fun. It's designed with a flat base that allows it to sit stably on most surfaces, and because it runs on six AA batteries (not included), you can easily bring it along with you on outings to add some fun.
The straightforward design of the Kidzlane Bubble Machine makes it easy for even children to operate, with a simple on/off switch on the back. The internal reservoir can hold up to 6 oz, and it even comes with an 8 oz bottle of bubble solution, so you can start playing with it immediately.
The amount of bubble solution this machine holds will give you about 30 minutes of steady bubbles before refilling it. Remember to have a refilled bottle of bubble solution nearby if you plan to run it continuously during a birthday party or barbeque event.
Easycel Bubble Machine
---
Specifications
Dimensions:
9.65"x6.3"x5.83"
Bubble Solution Included:
No
Bubble Reservoir Capacity:
400 ml
Power Source:
Plug-In and Battery Operated
Check out the Easycel Bubble Machine if you're looking for a neutral bubble machine that can be used for a variety of events for both kids and adults. Both formal occasions like weddings and children's birthday parties will look great with the understated, straightforward design. It has two speed settings to accommodate various situations and comes with six rotating wands that can produce thousands of bubbles per minute. If you intend to run the machine continuously, make sure you have refills on hand because the tank can hold up to 13.5 oz of bubble solution for up to 30 minutes of bubble-blowing time!
The Easycel Bubble Machine requires six "C" batteries, which are not included, but it can be powered by batteries or an outlet while on the go. It has an easy-to-carry integrated handle and is lightweight. In addition to being simple to use and refill, it has an integrated safety feature that causes it to automatically stop when something comes into contact with the spinning wands, protecting small fingers from harm. Bubble solution is not included with this bubble maker; it needs to be bought separately.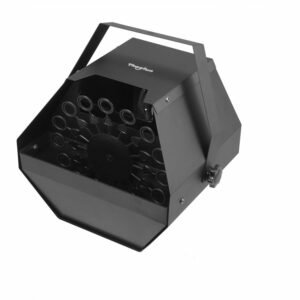 Theefun Bubble Machine
---
Specifications
Dimensions:
9.25″x8.26″x6.69″
Bubble Solution Included:
No
Bubble Reservoir Capacity:
750ml
Theefun Bubble Machine is the only machine you need if you need a lot of bubble power! With 16 bubble wands and a high-velocity fan, this high-output bubble machine can produce 800 bubbles per minute.
Professional-grade and built of metal to withstand frequent heavy use is this bubble machine. At just over 4 pounds, it is still sufficiently light to be carried by the handle that can be removed. It will last twice as long as several others on our list thanks to its large 25 oz bubble reservoir.
Although this bubble maker requires a plug, so make sure you have an outlet close by. Other than that, it's very simple to use. Theefun Bubble Machine can be turned on via the convenient wireless remote control or the easy-to-use on/off switch. Although the machine doesn't require batteries, the wireless remote can be operated up to ten feet away with a single 12V battery.
The bubble machine has a simple switch. Flip it to the "II" side to operate it with a wireless remote; flip it to the "I" side to have it operate automatically. To turn the machine off, flip the switch to the 'O' position. You can use this sturdy and well-built bubble machine for a variety of purposes.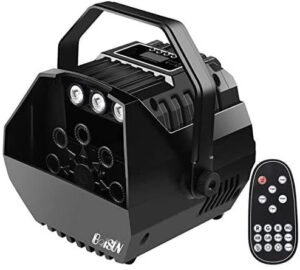 Baisun Bubble Machine
---
Specifications
Bubble Solution Included:
No
Bubble Reservoir Capacity:
12.5oz
Power Source:
Plug-In and Battery Operated
Try the Baisun Bubble Machine if you're looking for a versatile bubble maker! This machine's design incorporates a number of options to create the ideal atmosphere for your wedding, birthday party, barbecue, or other fun-filled gatherings in your backyard.
With its half-liter capacity tank and two speed settings, this bubble machine can create thousands of bubbles. Additionally, it features an LED light function with seven different lighting effects, so you can add some fun to an outdoor party after dark or transform an indoor dance party into a toddler discotheque.
Depending on where you use it, the Baisun Bubble Machine can run on batteries or a plug-in adapter. Three rechargeable batteries are needed. In addition to turning the machine on and off, the remote control (which requires two AAA batteries) lets you change its speed, turn on the LED light effects, turn on the strobe lights, and activate the "voice mode," which turns on the LED light effects in response to music.
Please take note that batteries are not included, and some parents have reported difficulty finding the rechargeable batteries needed for this bubble blower. The Baisun Bubble Machine, however, can still be used while plugged in, so if you're searching for a multipurpose bubble machine and don't need to be able to move it outside of your home or yard, this could be a great option.
EduCuties Bubble Machine
---
Specifications
Dimensions:
9.2"x5.9"x5.3"
Bubble Solution Included:
Yes
Bubble Reservoir Capacity:
Not Specified
Power Source:
Battery Operated
This cute little dinosaur is a bubble machine, and that's his secret. For the most fun for kids, the EduCuties Bubble Machine has a powerful motor that can produce over 2000 bubbles per minute despite its small size and weight of only 1.6 pounds. Additionally, you can turn on its colorful flashing LED lights for entertainment after dark. Simply turn on the device, let the man open his mouth, and watch the bubbles fly! When the time comes to switch off the machine, shut the dinosaur's jaws.
Because it was created by and for kids, the EduCuties includes a few security features. It has a separate sealed bubble solution device that prevents overflowing and spilling of the bubble solution. It's not necessary to worry about the solution spilling if boisterous toddlers try to grab hold of the amiable, bubbly dinosaur. The included 3.7V rechargeable battery powers this bubble machine.
The bubble machine usually lasts about an hour on a single charge. Four bottles of bubble refills are included with this machine so you can start using it as soon as the battery charges. The battery should fully charge in about an hour. In general, the EduCuties Bubble Machine is an excellent option for a bubble machine that is suitable for toddlers.
ATDAWN Metal Portable Bubbles Machine
---
Specifications
Dimensions:
9.65"x9.61"x7.32"
Bubble Solution Included:
No
Bubble Reservoir Capacity:
1 L
For large power and capacity, look no further than the Atdawn Metal Portable Bubble Machine. With a reservoir size of 33 oz, this bubble machine has one of the largest capacities on our list. This machine weighs slightly less than 4 pounds, making it quite portable even though it is made of metal and somewhat larger than other models on the market. It also has a handy handle for easy transportation.
This machine is a great option for large gatherings or occasions where you want to fill a dance floor or other large area because of its 30V motor's high volume of bubbles per minute. After adding bubble solution to the reservoir, plug it in, and enjoy!
Because the Atdawn requires an outlet to function, you cannot take it to the park, beach, or other outdoor location. You can use the 45-foot-range wireless remote control that comes with it to control it from anywhere in an average-sized house or backyard. It can be manually operated as well.
To stop using the on/off switch manually, move it to the "I" or "O" position. Turn the on/off switch to the "II" position to activate the wireless remote whenever you want to use it. For a high-output bubble maker that performs well at big parties, the Atdawn is a great value.
Buyer's Guide
Bubbles have an almost magical appeal for children, and bubble machines take this fascination to a whole new level. Whether you're planning to buy a bubble machine for your own child or as a gift, here's a comprehensive buyer's guide to help you select the perfect bubble machine for kids.
Age Appropriateness
One of the first factors to consider when buying a bubble machine for kids is the age of the child. Bubble machines come in various designs and with different features, some of which may be more suitable for specific age groups. For younger children, look for machines with simple, one-button operation and bright, attractive designs. Older kids might enjoy machines that offer more control and interactive features.
Durability
Children can be quite enthusiastic with their toys, and bubble machines are no exception. Look for machines that are built to withstand the bumps, drops, and rough handling that can be expected in a kid's play environment. Sturdy, well-constructed models are more likely to last longer and provide a better overall experience.
Bubble Output
The number of bubbles a machine produces per minute can significantly impact the fun factor. Higher bubble output tends to be more captivating for kids, creating a more enchanting atmosphere. Be sure to check the specifications to see how many bubbles a machine can generate and choose one that matches your child's expectations.
Bubble Solution Quality
The bubble solution that comes with the machine is a crucial factor to consider. Ensure that the solution is non-toxic and safe for kids. Check if it's easy to find replacement bubble solutions, so you won't run out of bubbles on a whim. You can also choose to make your own bubble solution if you have concerns about the solution provided.
Portability
Consider where you plan to use the bubble machine. If you want the flexibility to use it both indoors and outdoors, look for a machine that is easy to move around. Some bubble machines come with built-in handles or are compact enough to transport easily, making them suitable for various play settings.
Power Source
Bubble machines typically come in two power source options: battery-operated and plug-in models. Battery-operated machines offer more mobility but may require frequent battery replacements. Plug-in models are more convenient if you have a nearby power source, but they may limit the machine's placement. Consider your preferences and how you plan to use the machine when deciding on the power source.
Brand Reputation
Selecting a reputable brand can offer peace of mind in terms of product quality, customer support, and safety. Well-known brands often provide clear instructions, safety guidelines, and access to replacement parts or solutions if needed.
Price Range
Bubble machines for kids come in a range of prices. Set a budget that you're comfortable with, but keep in mind that investing in a high-quality machine can provide a better long-term experience. Check for sales and deals to find the best value for your money.
Customer Reviews
Reading customer reviews and feedback can provide valuable insights into a bubble machine's performance, durability, and ease of use. Reviews often highlight both the pros and cons of a product, helping you make an informed decision.
Frequently Asked Questions (FAQs)
Conclusion
A bubble machine for kids is not just a toy; it's a source of enchantment and amusement that can keep your child entertained for hours on end. From fostering social interaction to enhancing motor skills, these machines offer a wealth of benefits. When selecting the right one, keep your child's age, interests, and safety in mind to ensure a magical and safe playtime.