Best Kiddie Pool With a Slide
Last updated: December, 2023
When the summer heat hits, there's no better way to keep your kids entertained and cool than with a kiddie pool. But why settle for a basic pool when you can add an element of fun and excitement? A kiddie pool with a slide is the perfect solution! In this article, we'll explore the best kiddie pools with slides to turn your backyard into a water wonderland for your little ones.
Why Choose a Kiddie Pool with a Slide?
Kiddie pools are a fantastic way to introduce young children to water play. They are shallow, safe, and specifically designed for little ones. However, adding a slide takes the excitement to a whole new level. Here's why you should consider a kiddie pool with a slide:
Enhanced Entertainment: A slide adds an element of adventure to the pool, keeping kids engaged for hours.
Physical Activity: Climbing and sliding promote physical activity, helping children stay active while having fun.
Cooling Off: The pool provides a perfect spot for kids to beat the heat on hot summer days.
Water Confidence: Water play can help build your child's water confidence and improve swimming skills.
Choosing the Right Kiddie Pool with a Slide
When selecting the best kiddie pool with a slide for your family, consider the following factors:
Age-appropriate: Ensure the pool is suitable for your child's age and size.
Safety: Look for non-slip surfaces, secure inflation, and sturdy construction.
Size: Make sure the pool fits in your available space and can accommodate your child comfortably.
Features: Check for added features like water sprayers, sunshades, and interactive elements that can make the playtime more enjoyable.
Durability: Opt for a pool made from high-quality materials to ensure it lasts for multiple summers.
The Best Kiddie Pool With a Slide: A Detailed Review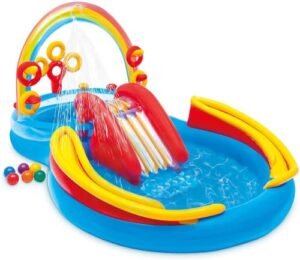 Intex Rainbow Ring
---
Specifications
Dimensions:
118.8″ x 192″ x 66.12″
Recommended Age:
2 – 7 years
There will be enough space in the Intex Rainbow Ring inflatable pool to keep several kids occupied all day! There are two pools instead of just one, a deeper splash pool (about 8 inches deep) and a shallow wading pool accessible through an inflatable slide. The smaller wading pool can hold up to 46 gallons, while the larger pool can hold up to 54 gallons.
Other entertaining features of this inflatable kiddie pool with a slide are as follows. Kids can play a ball toss game with six plastic balls provided, and there's a blow-up rainbow arch that spans the main pool with an attached ring toss game (the four rings are inflatable, so it won't hurt if someone gets hit in the head by accident). You can even race the balls as you roll them down the two ramps that run along the edge of the pool and watch them drop into the water!
There's also a water spray feature in the inflatable rainbow of the kids' Intex Rainbow Ring pool. This feature requires a hose to be connected to the pool; however, filling the pool with water does not require a hose. To make emptying the two pools easier, each has a drain plug. There is a patch kit in case there are any holes, but an air pump for inflation is not.
Intex Dinoland
---
Specifications
Dimensions:
131″ x 90″ x 44″
Recommended Age:
2 – 7 years
The Intex Dinoland Inflatable Kiddie Pool With a Slide is a cousin of the Intex Rainbow Ring, with many of the same features plus some entertaining inflatable dinosaurs! You can try to make the four inflatable rings land on the various protrusions from the inflatable arch in a fun ring toss game. There are six balls in the pool to toss through, and one of the dinosaurs is holding another inflatable hoop. Toss the balls down the entertaining ramp and watch them splatter into the water!
The 6-inch-deep Intex Dinoland kiddie pool is designed for wading. The wading pool is divided into two sections by an inflatable slide. When the pool is filled to the safety line, it can accommodate 74 gallons. For ease of emptying the water, the pool has a drain plug at the bottom, and a repair patch kit is included in case there are any unintentional leaks. When connected to a hose, the inflatable arch, which is shaped like a dinosaur's tail, can be moved and adds another entertaining feature by shooting water.
There are enough activities and a sizable pool here to accommodate multiple kids at once. It is ideal for younger kids because of its smaller slide and comparatively shallow depth.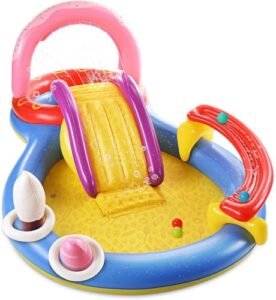 Hesung Play Center
---
Specifications
Dimensions:
115″ x 70″ x 44″
Recommended Age:
3 + years
Weight Capacity:
Not Specified
Savor the excitement of having a backyard water park all summer long! The inflated kiddie pool with slide at Hesung Play Centre is constructed from durable, high-quality anti-UV materials. This pool, which features the newest PVC technologies, is constructed from 0.42 mm thick naphthalene, which is 80% thicker than the materials used in most pools made by competitors. The material provides protection to stop the plastic from deteriorating in the sun, so you can leave your inflatable pool set up all summer long. Your pool will last longer because the material is thicker and less likely to puncture.
With its two pools, this inflatable kids' pool with a slide can accommodate up to four kids. For an added whimsical touch, the larger pool has a donut-shaped arch that shoots water when attached to a garden hose. Two inflatable rings, four playable plastic balls, and a ball roller are all included in the smaller pool. The shallower wading pool below is connected to the deeper pool via an inflatable slide.
In the unlikely event that your pool gets punctured, the Hesung Multifunction Inflatable Play Center comes with four patch repair kits. Setup is simple with this large pool, which can be inflated in under a minute using an electric air pump. For a durable pool that can keep a group of people entertained for hours during the summer, this kids' pool with slides is a great choice.
Bestway Lava Inflatable
---
Specifications
Dimensions:
104.33″ x 40.94″ x 104.33″
Recommended Age:
18 months – 5 years
Weight Capacity:
Not Specified
Toddlers will love the Bestway Lava Inflatable Kiddie Pool With a Slide because of its entertaining volcano theme! This pool is perfect for younger toddlers to splash around in because it's not as deep as some of the other play options on our list. This pool's slide is even detachable, so it's simple to take it out and use a larger pool area for a toddler play area. A drain in the pool's bottom will easily empty it after you've spent the entire day splashing around.
There are several different ways to play in the Bestway Lava Kiddie Pool. In addition to the detachable slide, there is another detachable piece at the pool's entrance that gives kids another area to play or relax. Through the volcano arch, you can access the pool. When you attach it to a garden hose, it will shoot water out of the top like a lava volcano exploding! Kids can enjoy a ball roller with four balls and a ring toss game with an inflatable ring. The volcanic scene is completed with inflatable palm trees.
With its detachable components, the Bestway Lava Inflatable Kiddie Pool with a Slide provides young toddlers with a variety of play options and flexibility. Have fun!
Intex Jungle Adventure
---
Specifications
Dimensions:
96″ x 79.2″ x 28.8″
Recommended Age:
2 – 5 years
Although it is smaller than other inflatable kiddie pools in the Intex family, the Intex Jungle Adventure is still a great option. There is a smaller pool with an integrated water spray feature and a larger, shallow wading pool in the rectangular pool. An inflatable slide with lots of play features connects the shallow pool to the deeper one.
The kids will love the inflatable arch with a hanging monkey, the flamingo wall with ball spaces, the inflatable hippo and alligator mouths on the bottom of the pool, and the quirky blowup flamingo that makes the ideal target for the ring toss game.
A landing mat is included at the bottom of the Intex Jungle Adventure Inflatable Kiddie Pool with a Slide to provide additional padding. To make changing the water in the pool easier, there is a drain at the bottom. The manufacturer cautions against filling this pool above the maximum water level line, even though it has a maximum capacity of 130 gallons. All things considered, this pool is excellent for young children.
Posch Sports Flamingo Inflatable
---
Specifications
Dimensions:
96.5″ x 62″ x 37″
Recommended Age:
18 months – 5 years
Weight Capacity:
Not Specified
While the Posch Sports Flamingo Inflatable Kiddie Pool With a Slide may not have as many bells and whistles as some of its rivals, it still has a few unique features that set it apart from the competition. Because of its 85% thicker plastic construction than most comparable pools on the market, there is a lower chance of punctures.
You can customize the setup to suit your needs with the help of the detachable, inflatable slide that fits anywhere on the pool and a large, shallow pool with a quirky flamingo head at one end. To prevent small feet covered in mud or grass clippings from tracking dirt into the main pool, this pool features a clever little pool for foot washing that you can attach to the base of the slide. When coupled with a garden hose, the pool also has a water spray feature.
The Posch Sports Flamingo Inflatable Kiddie Pool With a Slide is ideal for young toddlers because it is smaller than some other pools. With its air pump and ease of storage, this is a great choice for families that may be space-constrained. It also sets up quickly.
Action Air Waterslide
---
Specifications
Dimensions:
180″ x 126″ x 96″
Recommended Age:
3 – 5 years
You need a HUGE inflatable kiddie pool with a slide in the backyard to keep a large group of people entertained! The Action Air Inflatable Waterslide Park, one of the largest items on our list, can accommodate a maximum of 200 pounds in total user weight, so you can certainly fit a small group of four kids between the ages of three and ten together! Ideal for backyard barbecues, birthday celebrations, playdates, or just a few siblings enjoying a fun afternoon in the yard together.
This inflatable slide, which is about 10.5 feet wide, 15 feet long, and more than 8 feet tall, has a number of features that will keep kids occupied for hours of muddy, wild outdoor fun. Reaching the top of the slide, which is nearly eight feet above the ground, is a climbing wall with handles and footholds. To activate the cannon and water sprayer, connect the pool to a hose! Splash into the pool at the bottom after sliding down! Beneath the slide is a crawl-through tunnel.
This inflatable waterslide is made of high-quality, durable nylon with reinforced stitching, so it can easily withstand heavy use without ripping or puncturing. It inflates in a matter of minutes despite its enormous size. Convenient and quick setup is achieved with the included electric air pump. After using it for a while, deflate, allow it to dry, fold it up, and put the Action Air Inflatable Kiddie Pool with a Slide away in the accompanying storage bag.
When you need to use the pump again, you can easily locate everything in the bag. In addition, this product includes lawn stakes to prevent the inflatable waterslide from slipping and a repair kit with patches in case there are any unintentional tears or punctures.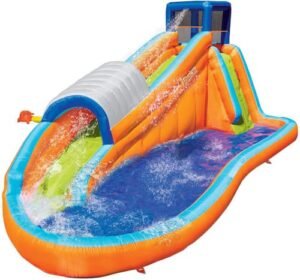 Banzai Surfer Rider
---
Specifications
Dimensions:
211″ x 114″ x 95″
Recommended Age:
3 – 10 years
With the Banzai Surfer Rider Inflatable Kiddie Pool with a Slide in your backyard, who needs to go to the waterpark? Children between the ages of three and ten will undoubtedly enjoy this, one of the largest entries on our list. This inflatable slide can support up to 120 pounds in weight per person, and the total weight of all users at once should not be more than 150 pounds.
Younger toddlers may find this slide challenging to use, but older kids will be occupied for hours on end. To get the Banzai Surfer Rider wet, first attach the garden hose to it using the overhead sprinkler. Use the footholds and handles to climb the wall, then slide down the 7-foot-tall slide to land in the pool below with a splash! On a hot day, the additional water sprayer located at the bottom of the slide will provide an extra cooling experience.
This inflatable slide and pool is the most expensive option on our list, but it will pay for itself if you have lots of kids to keep busy in the backyard throughout the summer. Considering its size, setup is extremely quick: just unfold the kiddie pool with slide, use the included air pump to inflate it in less than two minutes, and you're good to go!
This inflatable slide features four repair patches in case of punctures and ground stakes to keep things secure due to its size. If you plan to use this kiddie pool with a slide for an extended period of time, make sure to drain the water after each use. This product includes a bag for easy storage as a convenience.
Buyer's Guide
Summer is the season of sun, fun, and water play, and there's no better way to keep your kids entertained and cool than with a kiddie pool. To take the excitement up a notch, consider a kiddie pool with a slide. In this buyer's guide, we'll help you navigate the features and factors to consider when selecting the perfect kiddie pool with a slide for your family.
Age-Appropriate Design
When searching for the right kiddie pool with a slide, it's essential to consider the age and size of your child. Look for pools that are specifically designed for your child's age group, as this ensures the water depth and features are suitable for safe play. Some pools are designed for infants, while others are better suited for toddlers and older kids.
Safety Features
Safety is a top priority when it comes to kiddie pools. Here are some features to look for:
Non-Slip Surfaces: Ensure the pool has non-slip surfaces on the slide and pool bottom to prevent accidents.
Secure Inflation: Inflatable pools should have airtight valves to prevent air leaks.
Sturdy Construction: Pools with a slide should be well-constructed and stable to avoid tipping over.
Size and Space Considerations
Before making a purchase, measure your available space to ensure the pool fits comfortably. Consider how many children will be using the pool at once, as well as the space required for any additional features like water sprayers or canopies.
Features and Interactive Elements
The best kiddie pools with slides offer more than just a slide. Look for features that enhance playtime, such as:
Water Sprayers: Many pools come with water sprayers that provide additional fun and cooling.
Interactive Toys: Some pools have built-in games or interactive elements to keep kids engaged.
Shade or Canopy: Pools with built-in shade or canopy options help protect children from the sun's harmful rays.
Soft Landing Mats: Pools with a slide should have a soft landing mat at the end of the slide for added safety.
Durability and Quality
Invest in a kiddie pool made from high-quality materials. Look for thick and puncture-resistant PVC or vinyl materials that can withstand active play and resist wear and tear over multiple summers.
Ease of Setup and Storage
Consider the ease of setting up and storing the kiddie pool. Some pools are inflatable and can be quickly deflated and stored when not in use. Others may require more time and effort to assemble and disassemble.
Brand Reputation
Research the manufacturer and read product reviews. Reputable brands often provide better customer support and higher-quality products. Reading reviews from other buyers can give you insights into the pool's performance and durability.
Budget and Cost
Kiddie pools with slides come in a range of price points. Determine your budget and find a pool that offers the best balance of features and quality within your price range.
Maintenance
Consider the maintenance requirements of the pool. Some pools have built-in filtration systems, making water maintenance easier. Ensure you understand how to clean and maintain the pool to ensure it remains safe and enjoyable.
Additional Accessories
Think about any additional accessories you might need, such as a pump for inflatable pools, pool covers, and water treatment chemicals. These can help extend the life of your kiddie pool.
Frequently Asked Questions (FAQs)
Conclusion
A kiddie pool with a slide is a fantastic addition to your summer entertainment arsenal. It combines the joy of swimming with the excitement of sliding, making it a perfect activity for kids during hot summer days. Whether you choose a simple inflatable pool with a slide or a more elaborate play center, your children are sure to have a splashing good time in the sun. So, get ready to create lasting summer memories with a kiddie pool that includes a slide – the ultimate recipe for outdoor fun and excitement!