Best Drum Set for Kids
Last updated: December, 2023
Music has the incredible power to inspire creativity and foster a lifelong passion in children. Introducing them to musical instruments at an early age can be a fantastic way to ignite their interest in the world of sound. Among the various instruments available, a drum set can be an exciting choice for kids. It not only allows them to explore rhythm and coordination but also provides hours of fun. In this guide, we will help you find the best drum set for kids to kickstart their musical journey.
Why Choose a Drum Set for Kids?
Before delving into our top picks, let's understand why a kids drum set is a great choice for budding musicians:
Develops Rhythmic Skills
Playing the drums helps children develop a keen sense of rhythm and timing, skills that are valuable in various aspects of life, from sports to academics.
Boosts Motor Skills
Hitting the drums requires coordination between hands and feet, improving a child's motor skills and dexterity.
Encourages Creativity
Drumming allows children to express themselves creatively, experimenting with different beats and rhythms.
Enhances Focus and Discipline
Learning to play the drums requires concentration and discipline, which can translate into improved focus in other areas of life.
Promotes Social Interaction
Playing in a band or with friends fosters teamwork and social skills, helping children build friendships and confidence.
The Best Drum Set for Kids: A Detailed Review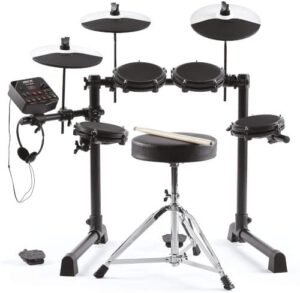 Alesis Debut Kit Drum Set
---
Specifications
Recommended age:
5 – 10 Years
Number of Pieces:
4 Drum Pads, 3 Cymbals
Dimensions:
23.6″ x 35.4″ x 37.4″
If you live in a small space, an apartment, or you just don't want to hear drumming all the time, think about getting a kid's electronic drum set like the Alesis Debut Kit Drum Set! You can choose from ten different kits, 120 different sounds, and 30 tracks your child can play along to when you use an electronic drum kit.
It includes three ten-inch cymbals, a metal rack to mount them all on, four six-inch drum heads, a padded and adjustable drum stool, headphones, drumsticks, and all the necessary cables. This drum set can fold for storage, making it even better for small spaces!
The Alesis Debut Kit also includes access to free lessons, which is a great feature! Access 60 free drum lessons by connecting to your computer or tablet. The daily classes last only five minutes, so your child can learn a quick lesson and then immediately start applying what they learned!
Your young drummer's music can be kept silent with the included headphones or they can use the output cables to connect to a drum amplifier (separately purchased) and demonstrate their abilities.
Best Choice Products Kids Drum Set
---
Specifications
Recommended age:
3 – 8 Years
Number of Pieces:
3 Drums, 1 Cymbal
Dimensions:
18.5″ x 17.5″ x 12″
Are you looking for a small kid's drum set that packs a powerful punch and crashes? The Best Selection of Goods The Kids Beginner Drum Set is a well-built, durable set that can withstand some serious abuse from kids while still producing a great sound. The drums come with all the necessary hardware and have shaped and sealed wood shells that produce a dynamic tone.
You receive three drums—a 10.5-inch-diameter bass drum, two toms that are 8.5 inches and 10.5 inches in diameter, and an 8-inch crash cymbal—along with a crash cymbal for lots of noisy fun. A bass pedal, two drumsticks, and a cushioned stool that stands 12 inches tall are additional accessories. The drums come in shiny blue, black, or red and have a high gloss finish.
This kids' drum set is best suited for young kids who love to make noise and are learning the basics of drumming because of its small size. Although the sound quality is excellent for a reasonable price, rest assured that this is not a toy. For kids ages 3 to 8, it's the ideal drumming instruction.
Mendini by Cecilio Drum Set
---
Specifications
Recommended age:
3 – 8 Years
Number of Pieces:
3 Drums, 1 Cymbal
Dimensions:
16″ x 15.5″ x 15.25″
The 13-inch 3-piece drum set for kids and toddlers by Mendini by Cecilio has a lot going for it. It won't take up a lot of space in your home thanks to its small footprint, and it might even fit in a smaller area like a child's bedroom. The quality is exceptional for the cost.
The drums have hardwood shells, triple-flanged hoops, and replaceable drum heads in the event of excessive wear. It looks good and has a very sturdy set with excellent sound quality. It comes in black, royal blue, light blue, green, and red, all of which have a sparkly finish.
This drum set comes with a bass drum that is 8″ x 13″ and has two drums mounted on it. You can think of it as adult quality scaled down in size for children. The tom drum measures 6″ x 8″, the snare drum is 4″ x 10″, and the crash cymbal is 8″.
The kids' Mendini by Cecilio drum set includes all the necessary hardware, such as a set of wooden drum sticks and an adjustable padded drum throne. This set will make an excellent starter drum set for kids due to its small size, high quality, and affordable price.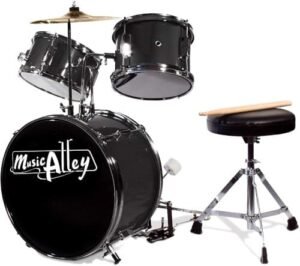 Music Alley 3 Piece Kids Drum Set
---
Specifications
Recommended age:
3 – 8 Years
Number of Pieces:
3 Drums, 1 Cymbal
Dimensions:
25.59″ x 29.5″ x 25.59″
The Music Alley 3-Piece Kids Drum Set, another inexpensive drum set for toddlers and young children, is perfect for young beginners between the ages of 3 and 8. It has three drums: an 8-inch snare drum, a 14-inch tom, and an 8-inch bass drum.
A 10-inch cymbal is also included for plenty of noisy fun! This toddler drum kit also includes a bass pedal, an adjustable padded drum stool, and a set of kid-sized drumsticks, giving your little one everything they'll need to get started.
Red, blue, and metallic black are the three great colors available for the Music Alley 3-Piece Kids Drum Set, which also features chic black drum heads. The drums have metal hardware, tuneable skins, and wooden shells similar to an adult drum set. To assist you in tuning your drums, this set also comes with a drum key. This set might be just what you need if you have a young child who wants to rock out.
Ludwig Questlove Pocket Kit
---
Specifications
Recommended age:
4 – 10 Years
Number of Pieces:
3 Drums, 2 Cymbal
Dimensions:
20.2″ x 21.2″ x 21.2″
Perhaps the most stylish drum set on our list is the Ludwig Questlove Pocket Kit for Kids. It is available in black sparkle, white sparkle, and deep red wine, three fashionable colors. The manufacturer recommends children between the ages of 4 and 10. Nevertheless, this drum set is so excellent that many grown-up drum enthusiasts have reported playing it with joy themselves, including videos of Questlove playing!
The floor tom is 13 inches, the snare drum is 12 inches, and the bass drum is 16 inches; however, despite being designed for kids, the drums are made of excellent birch and have a great sound. Although this drum set costs more than the others on our list, a corresponding improvement in quality makes it appealing to drummers outside of the recommended age range as well.
A 12-inch hi-hat cymbal, a 14-inch crash cymbal, a foot pedal, drum sticks, a drum throne, and a drum key for tuning are also included in this set. With Questlove, you can also give your child access to a simple six-part lesson plan that can be completed online. This set weighs 62 lbs, making it significantly heavier than many other items on our list. If you don't intend to move it around much, it needn't be a big deal.
Ashtrophe 5-Piece Drum Set
---
Specifications
Recommended age:
5 – 12 Years
Number of Pieces:
5 Drums, 2 Cymbal
The Ashthorpe 5-Piece Drum Set For Kids is a complete five-piece drum set for your budding young drummer. Everything on a larger, more expensive intermediate drum set is included; it's just scaled down for kids.
Aside from the bass drum (16″ x 11″), other instruments you receive include a floor tom (12″ x 10″), a snare (10″ x 5″), two mounted toms (10″ x 6″ and 8″ x 6″), an 8″ hi-hat cymbal, and a 10″ crash cymbal. Brass cymbals and poplar hardwood drum shells were used to create the drums, which produced a rich, dynamic sound.
It has a gorgeous shiny finish and comes in red, blue, green, purple, and silver colors to suit the tastes of any child. It has two pedals for the bass drum and hi-hat cymbal, a padded drum throne with adjustable height, two drumsticks, and a drum adjustment key, in addition to all the necessary hardware. Although assembly is necessary, Ashthorpe provides clear instructions to make it simple. This complete drum set for kids is an excellent deal at less than $200.
QoQoba Electronic Drum Set
---
Specifications
Number of Pieces:
1 Piece Drum Pad
The last item on our list, the QoQoba Electronic Drum Set For Kids, differs slightly from the others. This portable silicone pad, which can be rolled up for simple transportation and storage, is not a full-sized drum set. This portable drum pad might be the ideal solution if you have a young drummer who likes to have something to do with their hands while they're on the move or if you're limited by space.
The foldable pad has seven drum pads, including a bass pedal, a snare, three toms, a crash cymbal, a ride cymbal, and a hi-hat cymbal. It has five different tone settings, including pop, rock, Latin, electro, and percussion, and eight demo songs to give you a variety of sounds. You can use your phone to play your favorite songs on the drum set or to record music on your computer.
With the integrated speakers and headphones that come with the QoQoba Electronic Drum Set, you can choose whether or not to broadcast your child's drumming to the entire neighborhood. A rechargeable battery that powers this set offers up to 10 hours of playtime per charge. This little drum set can do a lot despite its small size!
What to Look for When Purchasing a Drum Set for Kids
Choosing the right drum set for your child is crucial to ensure an enjoyable and rewarding musical experience. Here are some key factors to consider when purchasing a drum set for kids:
Age and Size Appropriateness
First and foremost, consider your child's age and size. Drum sets come in various sizes, and it's essential to choose one that your child can comfortably reach and play. Many manufacturers offer junior drum sets designed specifically for young drummers, so be sure to check the recommended age range for the set you're considering.
Quality of Construction
The durability of the drum set is crucial, especially for kids who may be enthusiastic but less gentle with their instruments. Look for sets made from sturdy materials like hardwood for the drums and robust hardware. A well-constructed drum set will withstand the wear and tear of practice and play.
Number of Drums and Cymbals
The number of drums and cymbals in a drum set can vary significantly. Consider your child's skill level and interest when choosing. A basic set with fewer drums and cymbals may be suitable for beginners, while more advanced young drummers may prefer a kit with a full range of components. Ensure that the set you choose includes all the necessary pieces, such as a bass drum, snare drum, toms, hi-hats, and a crash/ride cymbal.
Hardware and Accessories
Check if the drum set includes essential hardware and accessories. These can include drumsticks, a drum throne (seat), a bass drum pedal, and cymbal stands. Having these items included in the package can save you money and the hassle of purchasing them separately.
Sound Quality
The sound quality of a drum set is vital to your child's enjoyment and development as a drummer. While it may be challenging to assess the sound quality in a store, reading reviews and considering reputable brands can help you make an informed decision. Well-tuned drums will encourage your child to practice and improve their skills.
Assembly and Setup
Consider whether the drum set is easy to assemble and set up. Some sets may come partially assembled, while others require more extensive assembly. If you're not familiar with drum kits, look for sets with clear instructions or consider seeking professional assembly assistance.
Budget
Set a budget for your child's drum set. While it's tempting to invest in a high-end kit, especially if your child is serious about drumming, there are excellent options available at various price points. Determine how much you're willing to spend and find a drum set that offers the best value within your budget.
Warranty and Customer Support
Check the warranty and customer support offered by the manufacturer. A warranty can provide peace of mind in case of any defects or issues with the drum set. Additionally, good customer support can be valuable if you have questions or encounter problems during setup or use.
By carefully considering these factors, you can make an informed decision when purchasing a drum set for your child. Remember that the right drum set can inspire a lifelong passion for music and provide your child with valuable skills and experiences.
Frequently Asked Questions (FAQs)
Conclusion
Introducing your child to the world of music through a drum set can be a rewarding experience. It fosters creativity, discipline, and social interaction while providing endless hours of entertainment. When selecting the best drum set for kids, consider factors such as size, durability, sound quality, and your budget. The options listed above offer great choices to get your child started on their musical journey, allowing them to discover the joy of making music one beat at a time.