Best Kids Easel
Last updated: December, 2023
Every parent knows that fostering creativity in their children is essential for their overall development. One of the best ways to do this is by providing them with the right tools to express themselves. A kids' easel is a fantastic choice, as it not only encourages artistic expression but also helps improve fine motor skills and cognitive development. In this article, we'll explore the world of kids easels and help you find the best one for your child.
What is a Kids Easel?
A kids easel is a versatile piece of art equipment designed specifically for children. It typically consists of a sturdy frame with a board that can hold paper, canvas, or other art surfaces. The board is adjustable, allowing children to work at a comfortable height, whether they prefer to sit or stand. Easels may have a chalkboard on one side and a whiteboard or paper roll on the other, offering a variety of creative options.
Why Choose a Kids Easel?
Kids easels offer a multitude of benefits for children's development:
Creativity
Easels provide a dedicated space for your child to explore their artistic abilities. Whether it's drawing, painting, or even practicing letters and numbers, an easel encourages creative thinking.
Fine Motor Skills
Holding and controlling brushes, markers, or chalk helps develop fine motor skills in young children. This is crucial for tasks like writing and tying shoelaces.
Problem-Solving
Through trial and error, children learn problem-solving skills as they experiment with different colors, techniques, and artistic concepts.
Expression
Easels offer a platform for children to express their thoughts, feelings, and ideas in a visual way, promoting emotional development.
Independence
Using an easel gives children a sense of independence as they create and display their artwork without constant supervision.
The Best Kids Easel: A Detailed Review
Melissa & Doug Deluxe Standing Kids Easel
---
Specifications
Recommended age:
3 + years
Dimensions:
27″ x 26″ x 47.5″
The Melissa & Doug Deluxe Standing Kids Easel, a perennially popular children's brand, comes in second on our list of the top kids' art easels. This standing easel features a chalkboard and a whiteboard in addition to two play surfaces. Parents should be aware that this easel does not have any magnetic play areas.
A paper roll holder is available for more creative painting and drawing. The Melissa & Doug easel suspends the paper roll holder from two horizontal supports that run between the easel's two sides, as opposed to the majority of the easels on our list, which have the paper roll holder mounted at the top of the easel.
You can pull the paper down to use it on either side as it feeds straight up. To make it simple to cut off a piece of paper for each painting session and secure it in place, the easel also includes a child-safe paper cutter and practical clips that attach to the top of the easel. Parents should be aware that this easel does not come with a paper roll.
Unsealed wood makes up the Melissa & Doug Deluxe Standing Kids Easel, which has a footprint that is 27 by 26 inches. Its three levels of height adjustment extend to a tallest height of 47.5 inches. Although some people have found the assembly instructions to be a little challenging to follow, assembly is necessary. If necessary, you can fold this easel for storage, but you must first take the paper roll holder out. Many parents have complained that regular chalk doesn't always adhere well to the surface of the chalkboard. On this surface, the manufacturers advised using chalk markers without dust.
The easel comes with two plastic trays, one red with an open tray for storing art supplies and the other blue with compartments for four paint pots plus two more. See the list of recommended accessories at the end of this article for the paint pots, which are not included with this easel but can be purchased separately. The screws are topped with vibrant plastic knobs, and the wood has a light pine color with many primary-colored accents.
This easel has a lot going for it and carries the high quality Melissa & Doug name. Although it can be difficult to assemble and two people are recommended, once it is, it is very sturdy and will last for a very long time. Parents need to be aware that the whiteboard and chalkboard are not magnetic. Although it won't be a deal-breaker for everyone, you should probably avoid this model if you're looking for a magnetic board.
Dripex Kids Art Easel
---
Specifications
Recommended age:
3 months – 12 years
Dimensions:
21″ x 25″ x 55″
With its two-sided design and solid wood construction, the Dripex Kids Art Easel lets your child experiment with four different mediums: paper, chalkboard, whiteboard, and magnets. The only easel on our list that comes with art supplies like chalk, markers, a ton of magnets, and even the screwdriver needed to put it all together, not to mention that you get many accessories included.
This wooden easel has a footprint that measures 21.5 inches by 25 inches and is offered in two colors: a dark reddish-brown or a light oak. Additionally, it has three different height settings. A young toddler could use the tabletop easel at the lowest setting, which is 33.5 inches tall. The middle setting is 46.5 inches tall, making it appropriate for young children in preschool.
This easel can grow with your child for many years and is made of solid wood so it won't fall apart before your child outgrows it. The tallest setting is 55 inches, which is high enough for even adults to use. It is difficult to fold this easel for storage. Although assembly is necessary, Dripex makes it simple for you by providing a screwdriver.
The magnetized sides of the Dripex Kids Art Easel's chalkboard and whiteboard sides give you more play options. It is simple to replace the paper roll because it is an 18-inch standard size. One word of caution: Before letting your kids loose, remove the transparent plastic film that covers both writing surfaces to protect the boards during shipping.
Four built-in paint pots are located on one side of the tray that extends under both sides of the easel. There is sufficient room on the remaining tray to store the easel's accessories, though I advise purchasing a few small baskets to keep small items, like the magnets, organized.
When it comes to including art supplies, Dripex doesn't cut corners. Along with the paper roll and paint cups, this easel also includes a magnetic whiteboard eraser, a magnetic chalkboard eraser, four dry erase markers, a magnetic ruler, six pieces of dustless chalk, six magnetic paper clips, fifty-six assorted number and letter magnets, a screwdriver to put it all together, and a roll of paper. Just a heads-up: many parents discovered they had to use a damp cloth to remove the dustless chalk from the board.
The Dripex Kids Art Easel is the best value on our list thanks to its ample room for growth, two magnetized boards, and an abundance of art supplies.
Hape All-In-One Wooden Kid's Art Easel
---
Specifications
Recommended age:
3 + years
Dimensions:
21.6″ x 17.7″ x 43.3″
This All-In-One Wooden Kids Art Easel is one of the premium wooden toys produced by the German company Hape. Two art surfaces, a chalkboard, and a magnetic whiteboard are included. On top is a paper roll that you can pull down to use for painting or drawing.
One of the smallest options on our list, the Hape All-In-One easel has a maximum height of 43.5 inches and measures 21.85 inches wide, making it perfect for young children or small spaces. The height is also adjustable, ranging from 37.5 to 43.5 inches. For storage, this easel does not fold.
The special screw-down clamps on Hape's All-In-One easel can hold the paper in place at the top and bottom so it doesn't move while your child is hard at work. These thoughtful design features elevate the easel above a basic easel. The paper can feed straight down on the board and be held in place without being torn off thanks to the clever design of this feature, allowing you to continuously pull the paper down after you've finished drawing your first picture.
Three plastic paint pots and a paper roll are among the easel's basic accessories. You will need to buy Hape's refill paper roll because the smaller size of this easel means that it can only hold a roll of paper that is 15 inches wide. This is three inches smaller than the standard-sized paper rolls that are offered at most craft stores. The Hape easel does not have trays fastened to its sides, but it does have a wide shelf with built-in spaces for the three paint pots on one side and a tray for chalk on the other. There is space between the two sides to keep a few little bins of markers or extra crafting materials.
The Hape All-In-One Wooden Kids Art Easel is a high-quality, well-made product overall. It is also attractive due to the natural wood and vibrantly painted accents. It is, however, a bit on the small side, necessitating the purchase of Hape's special-sized paper roll. However, if you have a small room or a toddler, this easel is fantastic.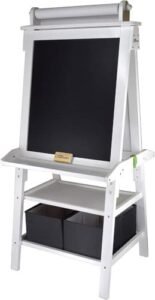 Little Partners 2-Sided Kids Easel
---
Specifications
Recommended age:
5 – 10 years
Dimensions:
24″ x 19″ x 47″
The 2-sided A-Frame Kids Easel from Little Partners is fashionable enough to go with your decor. Six colors are offered: apple green, soft white, natural wood, espresso, Earl Grey, and turquoise. It is made of durable pine and has two writing surfaces: a chalkboard and a magnetic dry-erase board, both of which can be used for drawing.
Several clips are provided on a paper roll at the top of the easel to attach a piece of paper to it. Although the easel's legs cannot be adjusted, you can turn it into a tabletop easel for young children by removing the lower part of the legs. Its full height is 47 inches tall, and its footprint is 24 inches long and 19 inches wide.
Little Partners' art easel for kids has more built-in storage than the majority of other easels on our list, but it does not fold for storage. Each side has a tray that can hold four paint pots; the pots are included in the price of the item. Sadly, the paint is not provided. It features not one but two shelves beneath the easel. You must take the shelves out in order to lower the easel to tabletop mode. Two of them can fold up and fit perfectly on the lower shelf.
Many of the basic accessories we've seen included with other easels are included with this one, including a roll of paper, four plastic paint pots with lids, an eraser, and two storage bins.
It has the Forest Stewardship Council's seal of approval for sustainable wood and is strong enough to last for a very long time because it is made of solid wood. The Little Partners Two-Sided A-Frame Kids Easel appears to have it all: excellent building for a long-lasting product, a ton of storage, and many attractive features. Even if it doesn't fold for storage, you can still find a color that will look great in your home thanks to the wide variety of colors available.
KidKraft Wooden Kids Easel
---
Specifications
Recommended age:
3 + years
Dimensions:
25.2″ x 23.3″ x 47.65″
KidKraft Wooden Kids Easel is ranked fourth on our list. The design clearly reflects the company's consideration of both function and aesthetics. The easel has three storage bins underneath it and is a dark espresso color with colorful plastic trays on both sides. One side of the A-Frame design is a chalkboard, and the other is a whiteboard.
If having a magnetic surface is a must for you, you should pass on the KidKraft kids easel. Although not everyone needs a magnetic board, this kids' art easel is still interesting to look at. There are still three possible mediums to investigate here because a paper roll mounted at the top of the easel can be pulled down on either side.
The footprint of the easel is 25.2 by 23.2 and 47.65 inches high. The board's surface area is 19.75 inches by 19.75 inches. It requires assembly, is not height-adjustable, and is not foldable for storage. Three paint pots with snap-on lids to keep the paint fresh for tomorrow's painting session and a standard-size roll of art paper are among the KidKraft Wooden Kids Easel's basic extras.
The plastic trays attached to each side of this easel are a small detail that I really like. The majority of children's art easels have large, open trays, but this one has compartments. A trough for paintbrushes to rest in and two additional small cubbies where you could place a cup of water, another paint pot, storage for markers, etc. are located on the side with the built-in paint pots.
You can sort different colors or sizes of chalk using the two compartments on the tray's opposite side. I prefer this layout to leaving everything unorganized because, when given a lot of space, art supplies have a tendency to move around and become disorganized. Anything that helps my kids, even a little bit, keep things organized is acceptable in my book because they are naturally disorganized.
Overall, the KidKraft Wooden Kids Easel is a beautifully made and eye-catching children's easel. This easel's surfaces are not magnetic, though.
US Art Supply Children's 3-Sided Art Easel
---
Specifications
Recommended age:
3 + years
The US Art Supply Children's 3-Sided Art Activity Easel is the next children's easel on our list. Even though many of our easels have three functions, only this one enables three kids to use three different surfaces at once. This makes it perfect for settings like daycares, preschools, in-home babysitting, or even if you have several young children who are close in age.
A green chalkboard, a blackboard, and a dry-erase whiteboard are among the three surfaces. The easel has three magnetic surfaces and a top attachment for a standard 18″ paper roll. Each side of the easel has a painted wooden shelf tray with two solid shelves for chalk or markers and two solid shelves with holes for the included paint pots. Additionally, there is a sturdy triangular shelf at the base of the easel where you can keep containers with additional art supplies.
The largest of our options, measuring 46 inches tall and 24 inches wide, is this three-sided easel. For storage, it does not fold. The size of each writing surface is 21 by 21 inches. They constructed the US Art Supply 3-Sided Easel from attractive pine wood, but some customers have complained that some of the smaller wooden components, like the trays, are prone to breaking. It takes some assembly to use this easel.
Along with other items, this easel comes with four paint pots that slide into one of the wooden trays. There is also a roll of paper and a set of vibrant magnetic math symbols and numbers. It is necessary to purchase additional accessories, such as chalk or dry-erase markers.
This kids' easel won't work well for you if your home is small. The US Art Supply 3-Sided Art Easel, however, is ideal for a variety of activities, especially if you have a large family.
What to Look for in a Kids Easel
Choosing the best kids easel can be overwhelming, as there are numerous options available. To help you make an informed decision, consider the following factors:
Sturdiness
Look for a well-built easel that can withstand a child's enthusiastic creativity. It should have a stable base and durable materials.
Adjustability
Opt for an easel with an adjustable height and angle, allowing your child to use it comfortably as they grow.
Versatility
Some easels come with multiple surfaces, such as a chalkboard, whiteboard, and paper roll holder. This versatility offers more creative options.
Storage
Consider an easel with storage compartments for art supplies like markers, chalk, and brushes. This keeps everything organized and within reach.
Safety
Ensure that the easel is designed with child safety in mind, with rounded edges and non-toxic materials.
Frequently Asked Questions (FAQs)
Conclusion
A kids easel is a fantastic tool for nurturing your child's creativity and fostering important skills. By providing them with a dedicated space to explore their artistic side, you'll be setting the stage for their overall development. Consider the factors mentioned above and explore the recommended options to find the best kids easel that suits your child's needs and your budget. Watching your child's imagination come to life on their easel is a rewarding experience that will undoubtedly contribute to their growth and happiness.