Best Kids Metal Detector
Last updated: December, 2023
Metal detecting can be an exciting and educational hobby for kids, fostering their curiosity about history, science, and the world around them. Whether they dream of finding hidden treasures or simply enjoy exploring the great outdoors, a kids' metal detector can provide endless hours of entertainment and learning. In this article, we'll guide you through the top choices for the best kids' metal detectors to help you make an informed decision.
Why Choose a Kids' Metal Detector?
Before we dive into our recommendations, let's explore why a dedicated kids' metal detector is an excellent choice for young enthusiasts.
Age-Appropriate Features
Kids' metal detectors are designed with smaller hands and shorter attention spans in mind. They are lightweight, easy to handle, and come with simplified controls to make the experience enjoyable and frustration-free for young detectors.
Educational Value
Metal detecting offers an opportunity for kids to learn about history, geology, and the environment. It encourages them to explore and discover the world around them while developing problem-solving skills.
Family Bonding
Metal detecting is a fantastic outdoor activity for the whole family. It allows parents and kids to bond while enjoying the thrill of the hunt and the joy of discovering hidden treasures together.
The Best Kids Metal Detectors: A Detailed Review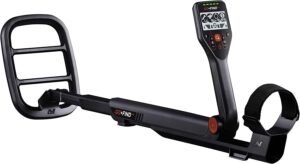 Minelab Go-Find 44
---
Specifications
Power Source:
4 AA batteries (not included)
Dimensions:
51.4 x 7.25 x 4 inches (extended)
The Minelab Go-Find 44 may be the ideal kids metal detector for you if you're still looking for something beginner-friendly. This kids' metal detector is powered by four AA batteries (not included), but it also works well for adults. Using the 10-inch waterproof search coil and cutting-edge technology, such as four sensitivity settings, three find modes, and pinpoint locating, you can locate metal objects buried several feet underground.
Because it only weighs a little bit over two pounds, this metal detector is ideal for children. The detector can be collapsed to a length of 21.9 inches from a fully extended length of 51.4 inches. It is therefore appropriate for a wide range of heights, from children to adults, and it is also portable. With the purchase of the Minelab Go-Find 44, a smartphone app is additionally available for no additional cost. Among other features, it enables you to make the search process interactive by immediately sharing your discoveries with friends online. Overall, the Minelab Go-Find 44 is one of the top kid-friendly metal detectors available.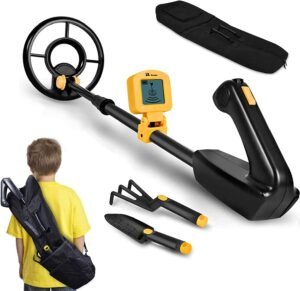 RM RICOMAX Metal Detector
---
Specifications
Power Source:
1 9V battery (not included)
Dimensions:
35 in x 7.4 in (fully extended)
The RM Ricomax Kids Metal Detector is perfect for young explorers and is sure to be popular! With a 2.74-pound weight, it is light enough for children to carry, and the telescoping stem can be adjusted from 24 to 35 inches long to fit both young children and older teens or adults. You can begin your search for underwater treasure with the waterproof, 7.4-inch-diameter foldable search coil.
Kids should be able to operate the LCD screen's simple 1 press operation, and the coil can find objects that are up to 4 inches underground. Even a plastic shovel and rake are included with this kids' metal detector to aid in digging up any objects you uncover. The RM Ricomax Metal Detector even includes a convenient bag for storage and transportation, and the handle folds up neatly for storage. With a cost of less than $80, this metal detector for kids offers excellent value.
Kentokool Metal Detector
---
Specifications
Power Source:
x2 9 volt batteries (included)
Dimensions:
40 in (fully extended)
Everything you need to get started is included with this kid's metal detector! On land and in the water, the Kentokool Metal Detector can find metals buried up to 10 inches underground. You can target various types of finds using one of three different detection modes. All metal mode will identify every type of metal, disc mode lets you remove specific unwanted metals, and pinpointer mode aids in more quickly, easily, and precisely locating the desired metal. Additionally, there are 5 levels of sensitivity, allowing you to more precisely target different metals.
The Kentokool Metal Detector can be used by both children and adults thanks to its adjustable stem that extends from 29 inches to 40 inches. Even children can easily use it thanks to its lightweight construction. Everything you need to get going is included in this kit. Along with the metal detector, you also receive a foldable shovel, headphones that you can plug into the detector, and a carrying bag to keep everything organized for storage or transportation. Additionally, it comes with two 9V batteries so you can start searching for treasure right away.
Avid Power Metal Detector
---
Specifications
Power Source:
x1 9V battery (included)
Dimensions:
35.4 in (fully extended)
The stem of the Avid Power Metal Detector adjusts from 28 inches to 35 inches when fully extended, making it ideal for children. Children as young as 6 can easily operate this metal detector thanks to its simple design. Simply turn it on by pushing the power button, keep the search coil close to the ground, and sweep side to side until the green light turns red and the beeping starts. The 7.4-inch search coil can find metals buried up to 4 inches deep and is waterproof.
Even young children should be able to carry this kids metal detector with ease because it is extremely lightweight (1.27 pounds), folds up very small for storage, and has a small profile. One 9-volt battery, which is also included in the package, is required. A plastic shovel for digging up treasures and a convenient carrying case with backpack straps are also included. The Avid Power Metal Detector, which costs under $70, is an excellent entry-level metal detector for kids.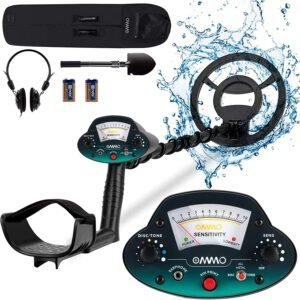 OMMO Metal Detector
---
Specifications
Power Source:
x2 9 volt batteries (included)
Dimensions:
43 in (fully extended)
The OMMO Kids Metal Detector is a cost-effective model with a ton of fantastic features that is ideal for treasure hunters of all ages. It has four detecting modes and requires two 9-volt batteries (included). You can disable the types of metal you don't want to search for with Discrimination mode, distinguish between different metal types with Tone mode, lower the sensitivity and precisely pinpoint the location of an object you've found with Pinpoint mode, and search for all types of metal objects with All Metal mode. You can find smaller targets up to 8 inches deep with a 10-inch search coil or larger targets up to 4 feet deep.
Everything you need to get started is included with the OMMO Kids Metal Detector, including two 9V batteries, a shovel, headphones to plug into your detector, and a carrying bag for convenient storage and transportation. The stem increases in height from a minimum of 30 inches to a maximum of 43 inches. The OMMO is the best choice for children and adults ages 8 and up because it is slightly heavier than some of the other models on our list (6.2 lbs).
Metal Detector Safety Tips
Metal detecting is a thrilling and educational hobby for kids, but safety should always be a top priority. Whether your child is a beginner or an experienced detectorist, it's essential to follow safety guidelines to ensure a safe and enjoyable experience. Here are some metal detector safety tips to keep in mind:
Supervise Younger Children
For kids under 12, close supervision is crucial. Ensure that an adult or responsible guardian is present during metal-detecting outings. Younger children may not always be aware of potential hazards, so adult supervision can help prevent accidents.
Choose Suitable Locations
Select appropriate locations for metal-detecting adventures. Public parks, beaches, and open fields are generally safe and suitable places to start. Avoid private property without obtaining proper permissions, and be aware of any local regulations regarding metal detecting.
Respect the Environment
Teach your child to respect the environment while metal detecting. Encourage them to fill in any holes they dig and leave the area in the same condition they found it. Avoid disturbing wildlife or damaging plants and vegetation.
Use Protective Gear
Depending on the location and weather conditions, it's essential to use appropriate protective gear. This may include sunscreen, sunglasses, a hat, and insect repellent for outdoor excursions. In areas with dense vegetation or rough terrain, consider sturdy footwear for added protection.
Stay Hydrated
Metal detecting can be physically demanding, especially in warm weather. Make sure your child stays hydrated by bringing water along for the adventure. Dehydration can lead to fatigue and decreased awareness, which can impact safety.
Handle Tools Safely
If your child uses a digging tool or trowel, emphasize safe handling. Teach them to use the tool responsibly, avoiding any sudden or careless movements that could result in injury. Store digging tools securely when not in use.
Check for Hazards
Before starting a metal detecting session, take a moment to scan the area for potential hazards. Look out for sharp objects, glass, or other debris that could pose a risk. Always exercise caution when reaching into holes or digging.
Beware of Wildlife
While exploring natural settings, be aware of wildlife. Snakes, insects, and other creatures may be present. Teach your child to observe animals from a safe distance and to avoid disturbing them.
Carry First Aid Supplies
It's wise to carry a basic first aid kit when metal detecting. Accidents can happen, and having supplies like bandages, antiseptic wipes, and adhesive tape on hand can be invaluable for treating minor injuries.
Stay Informed About Local Regulations
Different areas may have specific rules and regulations regarding metal detecting. Some locations may require permits or prohibit metal detecting entirely. Check with local authorities or property owners to ensure you are following any relevant regulations.
Be Mindful of Sun Safety
If you're metal detecting on sunny days, protect your child from the sun's harmful rays. Apply sunscreen with a high SPF, and reapply it regularly. Use wide-brimmed hats and consider lightweight, long-sleeved clothing to minimize sun exposure.
Frequently Asked Questions (FAQs)
Conclusion
When choosing a kids' metal detector, consider your child's age, experience level, and preferences. Remember that safety and supervision are essential during metal-detecting adventures. So, pick the best kids' metal detector and embark on exciting journeys of discovery with your young treasure hunter today!