Best Roller Skates for Kids
Last updated: December, 2023
Roller skating is a timeless activity that combines fun, fitness, and a sense of freedom. It's no wonder that kids of all ages love gliding around on wheels. Whether your child is a beginner or an experienced skater, choosing the right pair of roller skates is essential for their safety and enjoyment. In this article, we'll explore the best roller skates for kids, ensuring they have the best possible experience on wheels.
Why Roller Skating for Kids?
Before delving into the world of roller skates, let's highlight the numerous benefits of roller skating for kids:
Physical Activity
Roller skating provides an excellent cardiovascular workout that helps keep your child active and healthy. It engages various muscle groups, improving balance, coordination, and strength.
Social Interaction
Skating is often a social activity. Kids can bond with friends and family while sharing the joy of skating together, making it a great way to promote social development.
Boosts Confidence
Mastering new skills on roller skates can boost your child's self-esteem and confidence. The sense of accomplishment as they progress in skating can be truly empowering.
Screen Time Alternative
In an age of increasing screen time, roller skating offers a fantastic outdoor activity that gets kids away from their devices and into the fresh air.
Now that we've established why roller skating is an excellent choice for kids, let's explore the best roller skates available for them.
Types of Roller Skates for Kids
When it comes to roller skates for kids, there are several types available, each designed to cater to different preferences and skill levels. Understanding the various types of roller skates will help you make the best choice for your child. Here are the primary types of roller skates for kids:
Quad Roller Skates
Quad roller skates are the most common and traditional type of roller skate. They feature four wheels, two in the front and two in the back, arranged in a square configuration. Quad skates provide excellent stability, making them ideal for beginners and younger children who are just starting to skate. They are suitable for both indoor and outdoor use and are available in a wide range of styles, from retro to contemporary.
Inline Skates (Rollerblades)
Inline skates, often referred to as rollerblades, have a single line of wheels arranged in a straight line. These skates offer a different skating experience compared to quad skates. Inline skates are known for their speed and agility, making them a popular choice for older kids and those looking for a more challenging skating experience. They are great for fitness and sports like roller hockey, but they can have a steeper learning curve for beginners.
The Best Roller Skates for Kids: A Detailed Review
Quad Roller Skates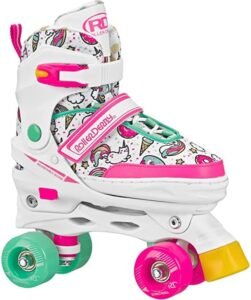 Roller Derby Trac Star
---
Specifications
Chassis:
Trucks with Cushions
Skill Level:
Beginner to Intermediate
Versions Available:
Girls or Boys
Roller skaters who are new to the sport should consider the Roller Derby Trac Star. The lightweight chassis has toe brakes on each skate and a reinforced polymer frame. A push-button on it allows the boot to be adjusted up to four shoe sizes. The padding inside the boot itself makes for a cozy fit. Kids can easily put on and take off the Trac Star without assistance by using the cam-lever buckles instead of shoelaces.
Moving on to the Roller Derby Trac Star's wheels and bearings, they are 54mm urethane wheels that can be used both inside and outside. A smooth glide is guaranteed by the G-Force 608ZB carbon bearings. The Trac Star is offered in blue with pink and white trim or pink with mint trim in both colors. Boys' options come in black with red trim or blue with orange trim as an alternative.
Roller Derby Fun Roll
---
Specifications
Chassis:
Plastic Tractor-Style
Versions Available:
Girls or Boys
The Fun Roll, a variation of Roller Derby, is a colorful and entertaining-looking roller skate for new skaters. The Fun Roll was created with junior beginners in mind, and it supports a wide stance and low center of gravity.
Similar to the Roller Derby Trac Star, which was the previous option, this model is size adjustable and expands by five shoe sizes. In order to prevent novice skaters from falling backward, the Fun Roll's chassis is made of a polymer plastic frame with brakes placed at the heel rather than the toe of the boot.
The padding inside the Roller Derby Fun Roll boot ensures a secure, supportive fit. This model has cam-lever buckles that are simple to put on and take off, just like the Trac Star.
The Roller Derby Fun Roll has necessary urethane wheels that can be used both inside and outside. It also has bearings. The same G-Force 608ZB carbon bearings are used in the Fun Roll to ensure a smooth glide.
Both a fun emoji print and a vibrant pink with yellow and white trim are available in the Roller Derby Fun Roll. Alternatives include a black color with yellow and blue trim and an action comic print. There are two sizes available: a small that fits shoe sizes 7 to 11 and a medium that fits sizes 1 to 2.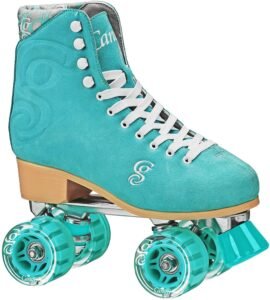 Roller Derby Candi Girl Carlin Quad
---
Specifications
Skill Level:
Intermediate to Advanced
The Carlin from Candi Girl is a high-end, premium roller skate. On an aluminum chassis with metal trucks, it has a stunning brushed suede boot, a padded interior, and traditional laces for a perfect fit. These roller skates are more appropriate for advanced or older skaters who have mastered the fundamentals.
The Carlin from Candi Girl is ideal for outdoor use and offers traction on paved surfaces thanks to its large 66mm x 38mm Candi Girl Outdoor Wheels. While the Bevo Silver-5 race-rated chrome bearings are made for speed, the design gives the skater excellent control when turning and maneuvering.
There are four color combinations for the Roller Derby Candi Girl Carlin: Seafoam, Raspberry, Periwinkle, and Royal Blue. Although the lace-up design allows for a snug fit if you choose to size up, these skates are not size-adjustable.
Roller Derby Firestar
---
Specifications
Skill Level:
Beginner to Intermediate
Versions Available:
Girls or Boys
The Roller Derby Firestar departs from the conventional boot design and leans more toward a sneaker appearance. Nevertheless, it is still cozy to wear and has a padded ankle collar. A single power strap allows for quick adjusting on this lace-up skate.
The patent-pending Torsion Beam chassis is lightweight. When turning, moving, and navigating on the ice and the sidewalk, it offers excellent control. On the front of each skate, they placed the non-marking toe brake.
The Firestar from Roller Derby has 54mm urethane wheels and quiet G-Force 608ZB carbon bearings. Both indoor and outdoor use are appropriate for it.
Sizes J12 to size 4 of the Firestar are offered in a black monochrome print or a range of vibrantly colored options, such as Pink Camo, Purple/Black/Mint, White/Mint, and White/Pink.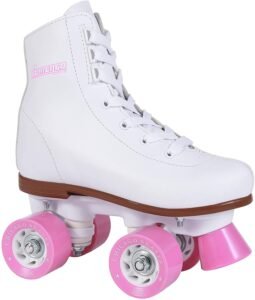 Chicago Rink Roller Skates
---
Specifications
Chassis:
Adjustable Trucks
Versions Available:
Girls or Boys
The traditional quad skate is known as the Chicago Rink Roller Skate. It has a vinyl lace-up boot with padding at the ankle and Velcro power straps to quickly adjust the fit while wearing it. These skates were created for indoor use only, despite their name suggesting otherwise. They are excellent for beginning to advanced skaters.
Lightweight with a nylon chassis, a double-action adjustable truck, and a toe-brake, the Rink Roller Skate is designed for rinks. The 60mm-diameter high impact oversized wheels feature 608Z semi-precision bearings.
Chicago Rink Roller Skates are offered in plain black boots with cherry red wheels and white vinyl boots with baby pink wheels, with sizes ranging from J10 to 4.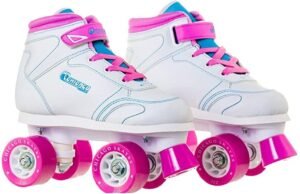 Chicago Sidewalk Roller Skates
---
Specifications
Chassis:
Adjustable Trucks
Versions Available:
Girls or Boys
The Chicago Sidewalk Roller Skate is another skate that deviates from conventional design; it still has a high-top boot but appears more like a sneaker. It is well-liked for both rink and outdoor skating and is comfortable to wear.
High-impact and double-adjustable chassis. It has premium oversized urethane wheels with semi-precision bearings and is lightweight. The Sidewalk was built with gliding in mind.
The Chicago Sidewalk Roller Skate has three lace-up loops for laces and an additional Velcro strap for security. The front of the boot has a toe stop, and the ankle cuff has been padded for comfort.
From size J12 to size 5, the Chicago Sidewalk Roller Skate is accessible. It comes in black, red, and blue, white, or pink with teal trimmings as an option.
C SEVEN Roller Skates
---
Specifications
Chassis:
Wide-Suspension Trucks
Skill Level:
Beginner to Intermediate
Versions Available:
Unisex
The C SEVEN Roller Skates for kids are a great option for those seeking that vintage skate look because they feature a retro-style boot. Wide-suspension trucks with 54x32mm 95A urethane wheels make up the chassis. The lace-up style of the flexible and cozy faux leather high-top boot provides additional support for the ankle.
The ABEC 6 carbon bearings in the C SEVEN skates, which were made specifically for indoor use, ensure a smooth glide. Two steel shields are also present on the wheels to prevent the accumulation of dust.
The C SEVEN Roller Skates for Kids have a simple, enjoyable design. Choose a pair of white boots with colorful laces and wheels or a sophisticated black theme.
Inline Roller Skates
PAPAISON Adjustable Inline Skates
---
Specifications
Skill Level:
Beginner to Intermediate
Versions Available:
Unisex
These PAPAISON inline skates are great all-rounders with adjustable sizing. Durable reinforced aluminum alloy makes up the frame, and the wheels are 82A polyurethane, which resists wear. You never have to worry about changing the batteries because all eight wheels illuminate and are powered by movement.
The wheels also have ABEC-7 bearings, which are made of premium carbon steel and offer a smooth ride. The PAPAISON skates come in either a purple and black or a white and black pattern. Skate socks are included with the skates to add additional comfort and protection while skating. The socks provide arch support and anti-friction cushioning. The socks are cozy to wear and ventilate well.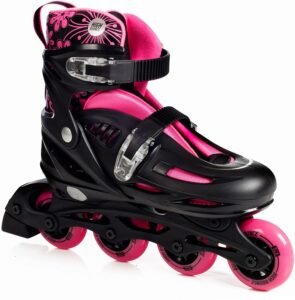 High Bounce Adjustable Inline Skates
---
Specifications
Skill Level:
Beginner to Intermediate
Versions Available:
Boys or Girls
For beginners or intermediate skaters, the small J12 to 12-sized High Bounce skates are a great pair. To increase the lifespan of the skate, they included durable nylon in their design. These shoes were created by High Bounce with children in mind. The boots have clip-in buckles rather than laces that let you change the width of the shoe.
The carry loop on the back of these shoes makes it easy for your child to carry both skates in one hand. The skate with the loop has ABEC 5 and 7 bearings and smooth gel wheels for a comfortable ride.
Please be aware that these skates run small; if you're buying a pair for your child, order one or two sizes up.
How Roller Skates Should Fit
Selecting the perfect roller skates for your child is not just about the design and style; it's crucial to ensure they fit properly. A well-fitting pair of roller skates not only enhances the skating experience but also plays a significant role in your child's safety and comfort. Here's how roller skates should fit:
Snug but Not Tight
Roller skates should fit snugly around your child's feet, providing support without causing discomfort. A snug fit prevents the feet from moving too much inside the skate, which can lead to blisters and a lack of control. However, make sure they are not too tight, as this can cause circulation problems and discomfort.
Toe Room
Your child's toes should lightly touch the front of the skate when they are standing up straight in them. There should be about a finger's width of space between the longest toe (usually the big toe) and the front of the skate. This ensures proper balance and control while preventing the toes from getting cramped or injured.
Secure Heel Fit
The heel of your child's foot should be snugly cradled in the back of the skate. A well-fitting skate should prevent the heel from lifting when the child leans forward. A secure heel fit is essential for stability and control while skating.
Ankle Support
Roller skates should offer adequate ankle support without being too restrictive. Look for skates with padding around the ankle area or high-top designs that provide extra stability. Proper ankle support helps prevent sprains and injuries while ensuring a comfortable skating experience.
Check for Sizing Options
Many roller skates for kids come with adjustable sizing features. These skates are an excellent choice because they can adapt to your child's growing feet, extending the life of the skates. Ensure that the adjustable mechanism is easy to use and securely locks in place.
Try Them On
Before making a purchase, it's essential to have your child try on the roller skates. Visit a local store or order from a retailer with a good return policy to make sure the fit is just right. Encourage your child to walk around in the skates to test comfort and fit before making a final decision.
Socks Matter
Advise your child to wear the type of socks they plan to use while skating when trying on the roller skates. This ensures an accurate fit, as the thickness of socks can affect the comfort and size requirements.
Growing Room
If you're buying roller skates for a child who is still growing, it's wise to choose a pair with a bit of extra room to accommodate growth. However, avoid buying skates that are excessively large, as this can lead to instability and reduced control.
In summary, the right fit is essential for your child's roller skates. A well-fitting pair provides comfort, support, and safety, making the skating experience enjoyable and injury-free. Take the time to properly measure and try on roller skates, ensuring that they meet the criteria for snugness, toe room, heel fit, ankle support, and adjustability. With the right fit, your child can confidently glide and roll their way to countless adventures on wheels.
Frequently Asked Questions (FAQs)
Conclusion
In conclusion, roller skating is a fantastic activity for kids that promotes physical fitness, social interaction, confidence, and outdoor play. Choosing the right roller skates for your child can make all the difference in their skating experience. Consider their skill level, comfort, and style preferences when selecting the best roller skates for them, and don't forget to prioritize safety with the right protective gear. With the right equipment and guidance, your child can enjoy countless hours of fun and adventure on wheels.