Best Kids Piano
Last updated: December, 2023
When it comes to nurturing a child's creativity and cognitive development, introducing them to the world of music can be an incredibly rewarding experience. One of the best ways to do this is by getting your child a kids' piano. These pint-sized pianos are specially designed for young musicians and can provide a solid foundation for their musical journey. In this article, we will explore the world of kids' pianos and help you choose the best one for your little maestro.
Why Choose a Kids Piano?
Before we delve into the specifics of selecting the best kids' piano, it's essential to understand why these instruments are a fantastic choice for children:
Developmental Benefits
Kids' pianos offer a range of developmental benefits for your child. Playing the piano helps enhance fine motor skills, hand-eye coordination, and finger dexterity. It also stimulates cognitive development, improving memory and problem-solving abilities.
Introduction to Music
Starting with a kids' piano is an excellent way to introduce your child to the world of music. It's an accessible instrument that allows them to explore different sounds and melodies at their own pace.
Creativity and Self-Expression
Playing the piano encourages creativity and self-expression. Your child can experiment with creating their tunes and expressing their emotions through music.
Types of Kids Pianos
When it comes to choosing the perfect kids' piano for your budding musician, you'll encounter various options, each tailored to specific needs and preferences. Two primary categories of kids' pianos include electric and classical pianos.
Electric Kids Pianos
Electric kids pianos, also known as digital pianos, offer a modern and versatile approach to learning and playing music. They are an excellent choice for children who are drawn to technology and enjoy exploring different sounds and features. Here's a closer look at electric kids pianos:
Digital Keyboards
Digital keyboards are a popular choice among parents and children alike. These pianos often feature a wide range of instrument sounds, including piano, organ, guitar, and more. They come with various interactive features and learning tools that make the learning process engaging and fun.
Interactive Learning Apps
Many electric kids pianos are compatible with educational apps and software that can be used on tablets or computers. These apps offer guided lessons, games, and tutorials, helping children develop their piano skills while having a great time.
Headphone Jacks
Electric pianos often come equipped with headphone jacks. This feature is particularly useful for parents who want their child to practice without disturbing the household. It allows kids to play and practice in private, building their confidence and skills.
Portability
Most electric kids pianos are lightweight and portable, making them convenient for families on the go. Whether you're taking it to music lessons, a friend's house, or a family gathering, these pianos are easy to transport.
Classical Kids Pianos
Classical kids pianos are scaled-down versions of traditional acoustic pianos. They offer a more authentic playing experience and are ideal for children who are serious about learning the piano or who have a deep appreciation for classical music. Here's a closer look at classical kids pianos:
Authentic Sound and Feel
Classical kids pianos typically feature 88 keys, just like their full-sized counterparts. They provide a more authentic touch and feel, which can be essential for developing proper piano technique and hand strength.
Solid Construction
These pianos are built with durability in mind. They often have sturdy wooden frames and high-quality components, ensuring that they can withstand the rigors of frequent practice and play.
No Need for Power
Unlike electric pianos, classical kids pianos do not require electricity or batteries. This means they can be placed anywhere in the house without worrying about power outlets or batteries running out.
Timeless Aesthetics
Classical kids pianos often have a timeless and elegant design, making them a beautiful addition to any home. They can also serve as a decorative piece of furniture when not in use.
Choosing the Right Type
When selecting the type of kids' piano that's best for your child, consider their age, musical interests, and personal preferences. Electric pianos are excellent for tech-savvy kids who enjoy a variety of sounds and interactive features, while classical pianos provide a more traditional and authentic experience for those with a strong passion for piano playing. Ultimately, the choice between electric and classical kids pianos should align with your child's musical journey and aspirations.
The Best Kids Piano: A Detailed Review
Electric Pianos
Alesis Melody 61 MKII
---
Specifications
There are 61 keys on the Alesis Melody 61 MKII, which also includes a sizable sound library for experimentation. There are 40 demo songs, 300 built-in rhythms, and 300 voices in accompaniment mode, including acoustic piano, electric piano, strings, organ, synth, drums, and many more.
You get everything you need to get started with the kids' Alesis Melody 61 MKII keyboard. It comes with a stand, a bench with adjustable height, headphones, a singing-along microphone, a music rest, and an electrical adapter to plug it in. In order to use this keyboard anywhere without access to a power outlet, parents should be aware that it does not use batteries.
You receive a 3-month premium subscription to Skoove with this keyboard, which provides interactive online lessons that make learning piano for kids simple. When you're just starting out, Skoove's one-on-one support from seasoned musicians who can offer feedback or address your questions is a great resource. TakeLessons offers you two months of free, unlimited live video lessons.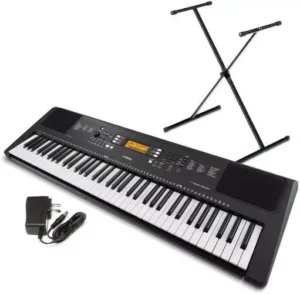 YAMAHA PSR-EW300 SA
---
Specifications
Size:
50.3" x 17.3" x 6.9"
Another electronic keyboard is shown here, only this one is a little bigger and has 76 full-sized keys. Despite not being weighted, the keys are spring-loaded and touch-sensitive for an excellent playing experience. Press the keys more firmly for a louder sound or more lightly for a quieter one.
The Yamaha comes preloaded with 154 songs that you can play along with, 165 different auto-accompaniment styles, and a collection of 574 instrument voices. It has a USB MIDI connector that enables you to connect your device to the keyboard so you can record and mix your own music or use music apps.
Yamaha Education Suite (YES), which aids in teaching dynamics, as well as a free songbook that can be downloaded let you play along with the built-in songs. Other features include a touch tutor lesson mode. For use at home, the Yamaha comes with a stand and power supply. If you want to take it on the road, it can also run on six AA batteries, and at 17 pounds, it's light enough to store and transport with ease.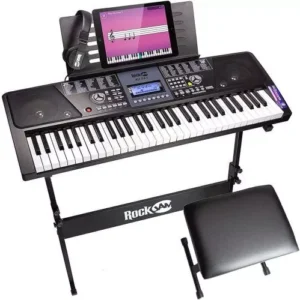 RockJam RJ561
---
Specifications
There are 61 full-sized keys on this electronic keyboard for beginners and young children. The keys are not weighted, so keep that in mind. The LCD display on the RockJam RJ561 Keyboard Piano with 61 Keys displays all of the rhythms and tones that are pre-installed, including the 100 rhythms, 50 tones, and 30 demo songs that are included. Its record and playback capabilities let musicians experiment with creating music with multiple layers. This child's keyboard can be used at home with an electrical outlet or while traveling with six 1.5V D batteries.
The keyboard, a sheet music stand, a reliable and adjustable keyboard stand, a padded stool, over-ear headphones, and keynote stickers are all included with the RockJam RJ561 Keyboard Piano. Additionally, a complimentary subscription to the Simply Piano app, available for Apple and Android devices, is included with this children's piano keyboard. This app makes it simple to start playing by providing lessons and advice for beginners.
Casio CT-X700
---
Specifications
The Casio CT-X700 Portable Keyboard, which is slightly more expensive than the item before it on our list, has 61 full-size touch-responsive keys, but they are not weighted. You can experiment with the more than 600 tones and 195 rhythms in the music library. Your keyboard will sound like an instrument that is much more expensive than it is thanks to the Casio's potent AiX SoundSoure technology. A 9-foot grand piano, an electric piano, a flute, a trumpet, a bass, a saxophone, a synthesizer, and many other instruments are among the sounds that can be used.
The Casio offers excellent value for the money and comes with a ton of accessories. Along with the keyboard, you also receive a pedal, an instructional DVD, a double-braced keyboard stand, an adjustable bench, and a cloth for cleaning your keyboard. A USB-MIDI port allows you to connect your keyboard to any type of device, and it has a jack for headphones that are not included.
The built-in music stand is intended to hold tablets or smartphones while you type using your favorite music apps on your keyboard. For use at home or while traveling, it can either be plugged in or run on batteries (not included). For beginners, the Casio is the complete package.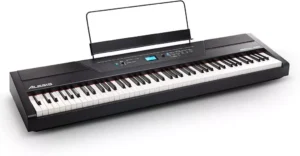 Alesis Recital Electric Piano
---
Specifications
Size:
5.52" x 51.6" x 13.8"
As close to the real thing as you can get is this full-sized digital piano, which is still reasonably priced. The Alesis Recital Keyboard has 88 premium full-sized weighted hammer action keys with an adjustable touch response to suit your playing style, and it is small enough to store in a closet when not in use.
It features a variety of sounds, including an electric and an acoustic piano, an organ, a synth, a bass, and two 20W speakers to fill the room. You can use Record Mode to capture your playing and play it back later. There are output jacks to connect the keyboard to speakers or amplifiers, a headphone jack for private practice, and a 14 sustain pedal input jack (the sustain pedal is not included). Either a power adapter or six D batteries can power this keyboard.
There are interactive piano lessons available with the Alesis Recital Keyboard. It includes a 3-month premium Skoove subscription as well as 60 free online lessons from Melodics. Skoove offers comprehensive online piano lessons with feedback and musicians on hand to answer queries. Overall, this keyboard is of excellent quality, has all the advantages of a children's piano, is reasonably priced, and has a much smaller size than a traditional piano.
Plixio Electric Piano
---
Specifications
One of the most affordable keyboards for kids is the Plixio Electric Keyboard, which has 61 keys. At just 7 pounds, it is incredibly light and simple to store when not in use. Because the keys are smaller than full size, it's a fantastic kid's keyboard piano for beginners. This keyboard includes 60 demo songs, 40 tones, 100 rhythms, 8 percussions, volume and tempo control, and other features.
Use six AA batteries (not included) for use outside the home or the power adapter to connect it at home. Additionally, this child's keyboard has a jack for a microphone, which is not included, making it a karaoke machine! The sheet music stand and outlet adapter for this keyboard are included. Parents should be aware that this simple keyboard lacks a USB port, making it incompatible with all electronic devices. However, at a reasonable price, it's still a fantastic practice keyboard for beginners and children.
Donner DEK-610 Electric Piano
---
Specifications
Size:
32.8" x 11.6" x 3.9"
The Donner DEK-610 Keyboard Piano is a fantastic entry-level keyboard for beginners and is very affordable. It has two four-inch 20W speakers that deliver warm tones, deep bass, and three-dimensional surround sound. It can be connected to either the included microphone or headphones that you buy separately.
With its extensive music library, which includes 500 tones, 300 rhythms, and 40 demo songs, young musicians will be able to construct complex musical performances. The LCD display panel provides a variety of features, such as auto chord, recording, keyboard drum, and playing MP3 tracks, to enhance your playing experience.
To assist beginners in getting better at playing, this keyboard has three different teaching modes: music teaching mode, follow mode, and single finger chord mode. The Donner has a dual power mode, allowing you to play it both while plugged in at home and while traveling with six D batteries (which are not included). It can also be connected to a computer or tablet running educational software or a music editor using a MIDI cable. This budget-friendly keyboard is a fantastic first instrument for aspiring musicians.
Classical Pianos
Schoenhut Fancy Baby Grand Piano
---
Specifications
Recommended Age:
1-6 Years
Size:
19.5" x 21.50" x 19"
If you're after a beginner piano for your young musicians, check out the Schoenhut Fancy Baby Grand Piano. This toy instrument is sized for the pint-sized pianists out there, standing only 19 inches. Although it includes a bench, this piano is also the perfect height for very young toddlers to stand at as they practice making music. The 30 keys, which span two and a half octaves, will make a great introduction for little ones to basic keyboard skills, all the while promoting hand-eye coordination and fostering creativity and a love of music.
This toddler-sized baby grand piano is attractively designed, with curved legs and well built with white painted wood. It looks good enough that it could fit in with the décor of your living room. It would make a beautiful birthday or holiday gift for a young toddler in a music-loving family, sure to encourage the family's youngest members to grow up with a love of making music.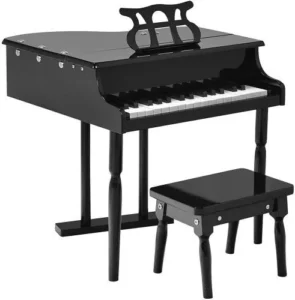 Goplus Classical Kids Piano
---
Specifications
Recommended Age:
1-6 Years
Size:
19.2" x 19.2" x 19.4"
It is designed for the family's youngest musicians and is appropriate for kids ages 1 to 6. The Goplus Classical Kids Piano has a small scale that makes it simple to fit in tight spaces. It also has a beautiful design with a hinged lid that lifts and is secured in place by a brace, just like a real grand piano. The piano comes in either a black or a pink finish that is glossy and non-toxic. It has a matching bench and music holder and is made entirely of solid birchwood.
There are 30 keys on the Goplus Classical Kids Piano, but parents should be aware that this piano for young children does require tuning. However, once it is tuned, it produces a lovely sound that will make your child's enthusiastic playing sound like music to you! Young children can gain a lot from playing the piano because it helps them improve their hand-eye coordination, sharpen their cognitive skills, and foster their love of music and creativity.
Schoenhut My First Piano
---
Specifications
Recommended Age:
1-5 Years
The Schoenhut My First Piano is another toddler piano that is worthwhile looking into. With only 25 keys, this children's piano is the smallest on our list. The Schoenhut My First Piano is designed to fit very young kids; it sits low to the ground so that infants or toddlers can easily reach the keys while laying on the floor.
You could position the piano on a low table for preschoolers or older toddlers. The width of the keys encourages proper finger placement for when they are ready to graduate from a toddler piano to a full-sized piano. The keyboard is scaled down to be suitable for small hands.
But the Schoenhut My First Piano is more than a plaything. Even though older toddlers and preschoolers can start learning to play with the patented Schoenhut tri-play learning system, babies and toddlers will still enjoy exploring their musical creativity by hitting whatever keys they want. This child's piano features a detachable color strip that fits behind the keys to serve as a play-by-color teaching aid for young learners as they create their first melodies.
Factors to Consider When Choosing a Kids Piano
Now that you know the different types of kids' pianos, let's explore the essential factors to consider when making your selection:
Age and Size
Consider your child's age and size when choosing a kids' piano. Younger children may prefer smaller toy pianos, while older kids may benefit from a digital or acoustic piano.
Quality and Durability
Invest in a high-quality piano that can withstand the wear and tear of enthusiastic playing. Look for sturdy materials and well-constructed keys.
Educational Features
Digital pianos often come with educational features such as built-in lessons, metronomes, and interactive apps that can make learning more engaging for kids.
Safety
Ensure that the piano you choose is safe for your child to use. Check for rounded edges, non-toxic materials, and secure construction.
Budget
Set a budget for your purchase, as kids' pianos come in a wide price range. Balance your child's needs with your budgetary constraints.
Frequently Asked Questions (FAQs)
Conclusion
Introducing your child to the world of music through a kids' piano is a gift that can last a lifetime. Whether your child is simply curious about music or is showing a strong interest in learning to play, there's a kids' piano that's just right for them. By considering their age, size, educational needs, and budget, you can make an informed choice and set them on a path to musical greatness with the best kids' piano for them.