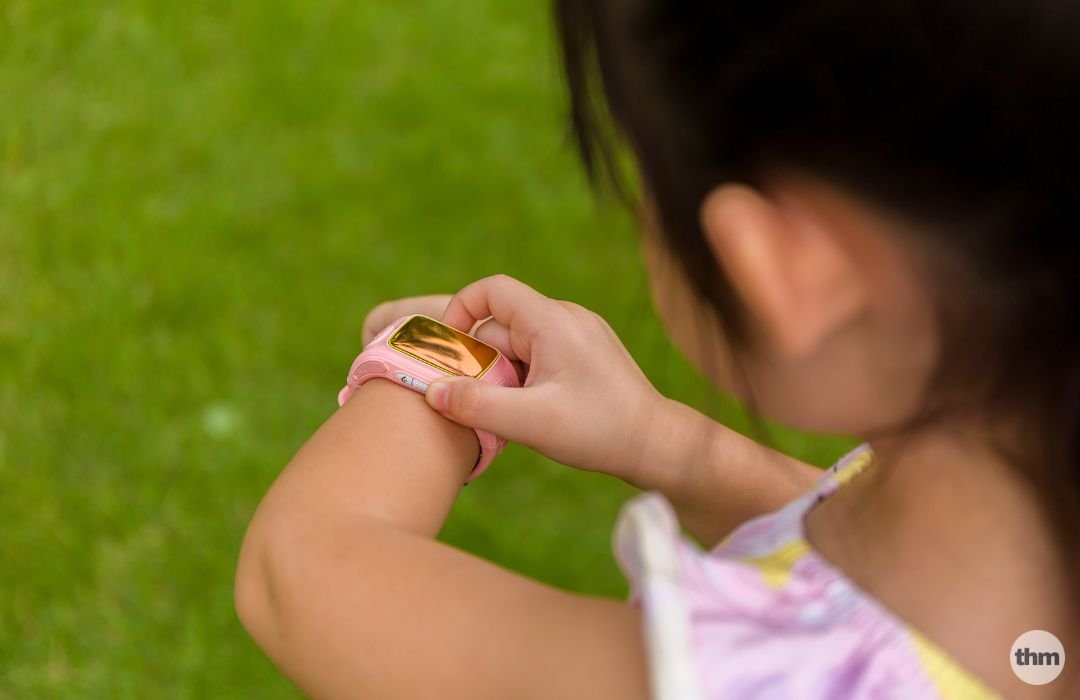 Best Smartwatch for Kids
Last updated: September, 2023
In today's tech-savvy world, it's becoming increasingly common for children to use smart devices from a young age. Smartwatches for kids have emerged as a popular choice for parents looking to balance their children's curiosity for technology with their safety and well-being. These kid-friendly gadgets offer a range of features designed to keep children connected, entertained, and safe. In this article, we'll explore the best smartwatches for kids on the market, helping you make an informed decision for your little ones.
Why Choose a Smartwatch for Kids?
Before we dive into our top picks, let's discuss why smartwatches for kids have become a must-have accessory for parents:
Communication
Smartwatches allow children to send and receive calls, messages, and voice notes to a select list of contacts approved by their parents. This feature ensures that kids can stay in touch with family members and close friends in a controlled and secure environment.
GPS Tracking
Many smartwatches come equipped with GPS tracking, allowing parents to monitor their child's location in real time. This feature offers peace of mind, especially when kids are out and about.
Safety Features
Smartwatches often include safety features like SOS buttons, which, when pressed, send an alert to predefined contacts, signaling that the child needs assistance. Some models also have a geofencing feature that notifies parents if their child leaves a designated safe zone.
Educational Content
Several smartwatches for kids offer educational apps and games, providing a fun and interactive learning experience. These devices can help children develop cognitive skills while staying engaged and entertained.
Fun and Entertainment
Kids' smartwatches often include features like a camera, voice recorder, music player, and customizable watch faces, making them a versatile and enjoyable gadgets for children.
The Best Smartwatch for Kids: A Detailed Review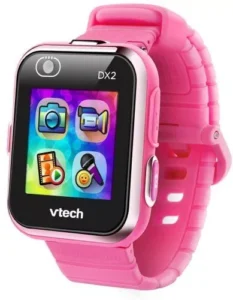 VTech KidiZoom Smartwatch DX2
---
Specifications
Time Format:
digital, analog, audio
Waterproof:
splash and sweatproof
The incredibly well-liked children's smartwatch from VTech, the KidiZoom Smartwatch DX2, is now in its third generation. The DX2 has a 1.44-inch color touchscreen display, 256Mb of onboard memory, and many other features geared toward children between the ages of 4 and 12. The KidiZoom Smartwatch DX2's dual cameras may be its most important feature.
A camera for both still images and moving pictures can be found on the side of the watch. On the watch's crown is a selfie camera as well. Numerous games and educational activities are among the additional features.
There are more than 55 different clock face designs available, and a TimeMaster tool is included to aid children in learning the time. The gadget reads the time aloud and displays it in both digital and analog formats. Kids can track their steps using the built-in pedometer on the KidiZoom DX2 Smartwatch. A stopwatch, calendar, timer, and alarm are among the additional features.
Although the watch is sweat- and splash-proof, it should not be worn in the shower or while submerged in water. While the KidiZoom DX2 lacks GPS tracking and calling features, parental control settings let you set a time limit for how long the watch can be worn. The watch can be charged using a micro-USB cable, and a full charge takes about 3 hours. If the battery is off when not in use, it will last for roughly two to three days.
Kids can keep up to 1,500 photos on the watch and transfer them whenever necessary to a computer using the micro-USB cable.
PROGRACE Kids Smartwatch
---
Specifications
Time Format:
digital or analog
Waterproof:
sweat-resistant
With entertaining games and a camera that can be rotated 90 degrees, they created the Prograce Kids Smartwatch for children between the ages of 4 and 12. The Prograce Kids Smartwatch is a fantastic first watch for kids. It comes with a 24-hour digital time format out of the box, but it can be changed to a 12-hour format for young children who are still learning how to read a digital clock.
The Prograce Smartwatch for Kids came with a selection of four enjoyable games. These games include "Brave Money," "Welcome the God of Wealth," "Ninja Run Online," and "Whac-A-Mole." The watch also features an MP3 player and FM radio built-in. A separate SD storage card must be purchased for this. An earphone jack is located on the side of the watch so that children can play their music quietly.
As the smartwatch supports Bluetooth V3.0, you also have the option of using wireless Bluetooth headphones.
Additionally, the Prograce Kids Smartwatch features a pedometer and calorie counter in addition to some basic fitness tracking features. The watch has a built-in flashlight but no alarm clock functionality. Kids can take selfies or scenic photos of their surroundings thanks to a 90° rotating camera.
The Prograce kids' smartwatch, which comes in pink or blue, is ideal for both boys and girls. When your child is playing, the silicone wrist strap won't come off because it is fastened securely.
L.O.L. Surprise! Touch-Screen Smartwatch
---
Specifications
Time Format:
digital or analog
A well-liked smartwatch for children, the L.O.L Surprise! For children aged six and older, the branded watch has just the right number of entertaining features. Selfie camera, voice recorder, games, pedometer, stopwatch, calculator, and alarm clock are some of these features. With the option to connect the watch via USB to transfer files, the selfie camera offers users the ability to take both photos and videos.
L.O.L. Surprise Kids' smartwatches don't have GPS or call capabilities, so they can use them without a phone's connectivity.
Tic-tac-toe, a memory game, and a pilot game are among the three different games available on the touch-screen smartwatch. There are ten additional L.O.L Surprise! themed designs available for the clock face's customization.
The L.O.L Surprise! smartwatch has a long-lasting built-in battery that can last all day. The watch also comes with a USB charging cable. The watch is not water-resistant, despite the silicone strap's ability to withstand moisture, so use caution.
The L.O.L Surprise! is an affordable entry-level smartwatch for children. It is ideal for children who are learning to tell time. The watch only has a small amount of storage, about 40 photos can be stored on it. You can add a micro-SD storage card to a smartwatch for children who will use it frequently to add more storage.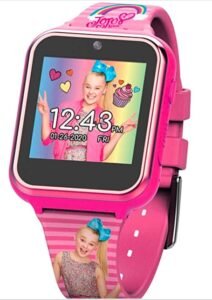 JoJo Siwa Smartwatch for Kids
---
Specifications
Time Format:
digital or analog
Fans of Jojo Siwa who have an abundance of the wildly popular JoJo Bows in their closet will be overjoyed to add a smartwatch to their collection. The JoJo Siwa Smartwatch is another kid-friendly smartwatch that is affordable and teaches kids to tell the time through an engaging and appealing design.
The JoJo Siwa Smartwatch has many of the same features as other entry-level smartwatches for kids, including a front-facing selfie camera, three simple games, a voice recorder, a pedometer, an alarm clock, a stopwatch, and a calculator.
The watch does not have GPS tracking or call functionality because it is an entry-level smartwatch. You will, however, be able to benefit from a longer battery life as a result of this. Using a USB cable that is provided in the box, you can charge the battery directly.
You can take up to 40 pictures with a front-facing camera, and you can expand the storage by using a micro-SD card. The provided USB cable can also be used to transfer the pictures to a computer or tablet.
You can access the three included simple games (tic-tac-toe, memory, and fighter pilot) via the touch-screen display. The clock face can also be altered using one of ten different JoJo Siwa designs. It would be best to leave the watch at home if your child is attending a birthday party with a water slide because it is regrettably not waterproof.
Sonic the Hedgehog Touch-Screen Smartwatch for Kids
---
Specifications
Time Format:
digital or analog
Any child who adores Sonic the Hedgehog will love receiving this as a gift. Their day will be made by this smartwatch! The brand watch comes with Sonic decals on the wrist straps and is available in blue. Additionally, you can select from ten different Sonic clock face designs.
This smartwatch has a selfie camera just like every other one on the list. For charging and transferring pictures and videos to a tablet or computer, a micro-USB cable is provided. Unfortunately, none of the three core games on the Sonic the Hedgehog Smartwatch for kids are Sonic-related.
A voice recorder, alarm clock, stopwatch, calculator, and a pedometer to track your steps are among the additional features. The wrist strap was made of silicone, which makes it resistant to sweat and mud. While avoiding contact with moisture, the watch housing is not waterproof.
The Sonic Hedgehog Smartwatch is a simple smartwatch for kids; it lacks GPS and calling capabilities. But it's a great first watch for teaching kids about the responsibilities of owning a smartwatch and using technology.
The Sonic the Hedgehog Smartwatch for kids, despite being marketed as a "boy watch," is appropriate for both boys and girls who adore Sonic and all things blue.
Fitbit Ace 2 Activity Tracker for Kids
---
Specifications
Waterproof:
water-resistant
Fitbit, a well-known brand in the fitness tracker market, created the Fitbit Ace 2 for junior users. The Ace 2 has a straightforward, sturdy, and entertaining design. It is swim-proof and has a water resistance of up to 50m.
Many features found in a fitness tracker, such as a pedometer and sleep monitor, are present in the Fitbit Ace 2. Children who own smartphones can pair them with their watches so they can chat with their friends, receive call alerts, and compete in step challenges. By earning virtual badges on the app for achieving their fitness objectives, kids can also celebrate fitness accomplishments.
Parents can view all activity and records on a family account, and they can also approve any connections, while children can only see a portion of their data.
The Fitbit Ace 2's impressive 5-day battery life means you'll only need to charge it on the weekends, allowing your kids to maintain a routine during the week thanks to features like sleep tracking, bedtime reminders, and silent alarms.
The Fitbit Ace 2 is comfortable to wear while exercising thanks to its slim design and silicone band. The Fitbit Ace 2 comes with a number of colorful, interchangeable wristband design choices.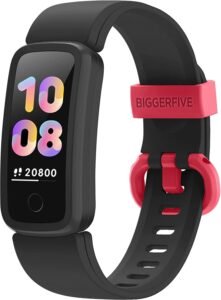 BIGGERFIVE Vigor Fitness Tracker Watch for Kids
---
Specifications
BIGGERFIVE has unquestionably made a name for itself when it comes to outstanding fitness trackers for kids! With a size range of 5 inches to 7.3 inches and an adjustable strap, this fitness-tracking watch is suitable for both girls and boys who are five years old and older.
With the BIGGERFIVE fitness watch for kids, you can monitor your daily calorie burn as well as your steps, distance traveled, and mileage using the pedometer. Your activity and sleep patterns are tracked by a heart rate monitor, and the data is synced to a phone app on your (or your child's) device.
For kids who wake up at various times and don't want to wake up their siblings, you can set a silent vibration alarm clock for school mornings. The BIGGERFIVE fitness tracker has an IP68 waterproof rating, making it not only sweat- and splash-proof but also suitable for use in the shower or while swimming. The wristband, which is made of TPU plastic, dries quickly and is comfortable to wear even when wet.
The fact that the BIGGERFIVE kids' fitness tracker can be charged wirelessly is one of its special features. For kids who are prone to losing things, just unplug the watch face from the strap and plug it straight into a USB outlet. The battery can last up to 7 days and charging only takes two hours.
Garmin Vívofit Jr 2 Kids Fitness/Activity Tracker
---
Specifications
Waterproof:
Water-resistant (50m)
The Garmin Vivofit Jr 2, an improved model of the wildly popular Vivofit Jr, has most of the features you'd anticipate to find in a fitness tracker for kids in addition to some entertaining, user-friendly features that will appeal to both kids and parents.
A parent-controlled app, along with a pedometer, activity, sleep, and calorie tracker, are additional features of the Garmin Vivofit Jr 2. Children stay focused on their homework and other chores like brushing their teeth thanks to reminder alerts and a task timer. Your kids can access entertaining games and stories on the app by using the reward coins they receive after finishing the tasks.
The watch comes with a stopwatch, timer, and alarm clock feature. The Garmin Vivofit Jr. 2 stands out because it doesn't need any charging at all. The battery will last a full year because of the straightforward display, and parents can easily replace the battery so that kids can use it for an additional full year.
There are 14 different design options for the Garmin Vivofit Jr 2 to appeal to both boys and girls. Many Disney Princess, Marvel Superhero, and Star Wars designs can be found among these. There is a choice between a stretchy wristband and an adjustable band.
The adjustable band fits children aged 4 and up (130-175mm), while the stretchy bands fit children aged 4 and up (up to 147mm). The watch is also compatible with Vivofit 3 wristbands for larger wrists.
How to Set Up a GPS Smartwatch for Kids
Setting up a GPS smartwatch for kids can seem like a complex task, but with the right guidance, it can be a straightforward process. Whether you've just purchased a kid's smartwatch or are looking to make the most of its GPS tracking capabilities, here's a step-by-step guide to help you get started:
Step 1: Charge the Smartwatch
Before you begin the setup process, ensure that the smartwatch is fully charged. This will prevent any interruptions during the setup and initial use.
Step 2: Download the Companion App
Most GPS smartwatches for kids require a companion app to manage settings, add contacts, and track your child's location. Visit the App Store (for iOS devices) or Google Play (for Android devices) and search for the app associated with your smartwatch's brand or model. Download and install the app on your smartphone.
Step 3: Register and Create an Account
Open the companion app and follow the registration process to create an account. You may need to provide your email address and set up a password. Some apps may also require you to verify your account through email or SMS.
Step 4: Pair the Smartwatch with Your Phone
Enable Bluetooth on your smartphone and the smartwatch. In the app, you'll find an option to pair the devices. Follow the on-screen instructions to connect the smartwatch to your phone via Bluetooth. This pairing allows the smartwatch to communicate with the app.
Step 5: Set Up Your Child's Profile
In the app, create a profile for your child. You'll typically need to input their name, age, and a profile picture. This information helps personalize the smartwatch and allows you to customize settings.
Step 6: Configure Safety Settings
Depending on the smartwatch model, you may find various safety settings. These settings often include geofencing, SOS alerts, and notification preferences. Configure these settings according to your preferences and your child's needs. Geofencing allows you to set up safe zones and receive alerts if your child leaves or enters these zones.
Step 7: Add Contacts
One of the essential functions of a kid's smartwatch is communication. Add the contacts your child can communicate with through the smartwatch. Typically, you'll need to input their names and phone numbers. These contacts will be accessible from the smartwatch, allowing your child to make calls or send messages.
Step 8: Configure GPS Tracking
If your smartwatch has GPS tracking capabilities, set up this feature in the app. Ensure that location services are enabled on your child's smartwatch and that the app has permission to access location data. This step is crucial for real-time tracking of your child's whereabouts.
Step 9: Test the Smartwatch
Before handing the smartwatch to your child, test its functionality. Ensure that communication features work as expected, and test the GPS tracking by checking your child's location on the app's map. Familiarize yourself with any other features your smartwatch may offer, such as alarms, educational apps, or games.
Step 10: Explain Usage to Your Child
Sit down with your child and explain how to use the smartwatch. Show them how to make calls, send messages, and use any safety features like the SOS button. Discuss the importance of responsible use and safety guidelines when wearing the smartwatch.
Setting up a GPS smartwatch for kids can provide valuable peace of mind while giving your child a sense of independence. Regularly check the app to ensure that everything is functioning correctly and that your child's safety remains a top priority. With proper setup and ongoing monitoring, a GPS smartwatch can be a valuable tool for keeping your child safe and connected.
Frequently Asked Questions (FAQs)
Conclusion
In the age of connectivity and technology, a smartwatch for kids can be a valuable tool for parents. It helps keep your child safe, engaged, and connected with loved ones. Each of the smartwatches mentioned here offers unique features and benefits, so consider your child's age, needs, and your own preferences when making your choice. With the right smartwatch, you can ensure that your child experiences the benefits of technology in a safe and controlled manner.