Best Headphones for Kids
Last updated: September, 2023
When it comes to providing your child with headphones, safety and quality are paramount. Whether it's for entertainment, educational purposes, or simply to keep them occupied during long car rides, selecting the right headphones for kids is essential. In this guide, we'll explore the top choices for headphones for kids, ensuring that they can enjoy their audio experiences while keeping their hearing health in mind.
Why Do Kids Need Special Headphones?
Children have more sensitive hearing than adults, and their ears are still developing. Exposing them to loud sounds for extended periods can lead to hearing damage or discomfort. Therefore, headphones designed specifically for kids are a must to ensure their auditory well-being. Here are some essential factors to consider when choosing headphones for kids:
Volume Limiting
One of the most critical features of kid-friendly headphones is volume limiting. These headphones have built-in mechanisms that restrict the maximum volume to a safe level (typically around 85 decibels), preventing accidental hearing damage caused by overly loud music or media.
Durability
Kids can be rough on their belongings, and headphones are no exception. Look for headphones with sturdy materials and reinforced cables to withstand the wear and tear of daily use.
Comfort and Fit
Comfort is essential for kids, especially during extended listening sessions. Opt for headphones with cushioned ear cups and an adjustable headband to ensure a snug yet comfortable fit.
Size and Weight
Choose headphones that are appropriately sized and lightweight for your child's age and head size. Overly large or heavy headphones can be uncomfortable and cumbersome for young users.
Style and Design
Kids often appreciate headphones with fun, colorful designs or characters from their favorite movies or TV shows. Choosing headphones with a design your child loves can make the listening experience even more enjoyable for them.
The Best Headphones for Kids: A Detailed Review
Puro Sound Labs BT2200 Headphones
---
Specifications
Sound Pressure Level:
85 dB
Connectivity:
Bluetooth wireless
Because of their occasionally high price and short battery life, wireless headphones were recommended as something you might want to avoid in our buyer's guide. The Puro Sound Labs BT2200 Headphones, however, may provide a good compromise between wired and wireless performance if your child does not want headphones that look like "kids' headphones" and it is not their first time owning a pair.
You can think of the BT2200 as a "premium" pair of audio equipment, which is important to know before diving into the details of the headphones' specifications and features. The brand aims to provide a bass-forward audio experience with crisp highs and mids while staying under 85 dB. In other words, the BT2200 tries to replicate the sound that, as an adult, you'll probably want to hear through headphones made for audiophiles. All of these features and the enhanced sound come at a higher cost, though. Continue reading if you don't mind spending a little more on your child's headphones.
Five colors—black, blue, gray, pink, and purple—are available for the BT2200. For maximum comfort, the headphones have a headband that is adjustable and ear pads that are cushioned. These headphones maintain a nice, sleek design that you can use for many years, unlike many kid-friendly headphones. The volume, power, and Bluetooth sharing buttons are located on the actual earcup of the headphones. These particular headphones have the advantage of being wired or wireless, so you won't ever have to worry about the battery dying. On a full charge, the BT2200 can operate for up to 18 hours, though actual battery life will depend on the volume setting.
The headphones themselves have 40 mm drivers inside. As was already mentioned, the sound quality is of a very high caliber, and the background noise isolation technology makes it even better. The BT2200 headphones are crammed with features, but they are also incredibly light and can be used up to 30 feet away from a Bluetooth source. The 30-day money-back guarantee and an additional one-year warranty are both included with these headphones from Puro Sound. Overall, the BT2200 might be just what your child needs if they want a stylish pair of wireless headphones with excellent audio quality.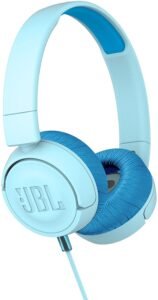 JBL JR 300 Headphones for Kids
---
Specifications
Sound Pressure Level:
85 dB
Connectivity:
3.5 mm audio jack
JBL is a well-known company with a history spanning more than 70 years. They produce high-quality audio equipment and have recently made an effort to design a set of headphones that are appropriate for children. Although it has a fun design, the JBL JR 300 still produces excellent audio with deep bass and clear highs. These headphones will be an excellent option for younger children thanks to their comfortable fit and included sticker set for personalization.
The clear matte finish on the JBL JR 300 is available in red and blue to prevent blemishes or streaks. The lovely soft cushioned feathery material used to make the earcups provides an excellent fit for both on-ear and over-ear listeners. Although most kids between the ages of five and twelve will probably have them fit on their ears, if you're buying these headphones for a toddler, it's likely that they will fit over-ear, which is great for sound isolation. Whatever the situation, the JR 300 offers a soft, breathable fit.
The earcups can be folded inward for convenient storage, and the headband is movable. L and R-labeled cloth-covered grills are located inside the earcups. These will house the 32 mm drivers, which have an 85 dB peak output. In order to protect your children's hearing while they listen, JBL made an effort to make sure that these headphones will limit sound. It's crucial to remember that the JR 300 does not come with an in-line controller for volume adjustment. Instead, any smartphone, tablet, or computer can be connected using a 3.5 mm male connector. As a result, you will need to adjust the device's volume.
The 32 mm drivers might seem a little too small, and the sound quality might be subpar. However, JBL has been able to make its stereo headphones produce a strong bass sensation. The headphones don't get excessively loud, but if you turn them up, your kid shouldn't have any trouble watching TV or listening to their favorite music. The mids and highs still have a lovely punchy brightness to them. Instruments and vocals will be audibly clear and undistorted, without any piercing or distortion.
When comparing price to performance, the JBL JR 300 most definitely delivers value for money. An added sticker pack will encourage your children to personalize and personalize their headphones.
Snug Play+ Kids Headphones
---
Specifications
Sound Pressure Level:
93 db
Connectivity:
3.5 mm audio jack
The Nenos headphones mentioned above are very similar to the Snug Play+ headset. It is advised for kids between the ages of 3 and 8 and has similar features. The Snug Play+, on the other hand, provides an easy plug-and-play experience with superior stereo sound for a significantly lower price and a wider selection of colors and patterns.
The Snug Play+ headphones' ability to be shared is one of their main draws. The Snug Play+ has a daisy chain to connect multiple headphones into one media device, just like other more expensive children's headphones. You'll typically need to spend a significant amount of money on adapters or additional tablets if you want to buy more than one set of headphones for your children so that everyone can watch their preferred program. However, the Snug Play+ budget price without the need for additional cables makes it extremely affordable.
Although the features of the Play+ headphones are somewhat constrained, build quality and durability have not been compromised. The headset was made to withstand pulling and drops without breaking. The headphones are also foldable and portable when carried in a backpack. In addition to the comfortable padded earcups, which can be folded for storage, the headband has an adjustable length to ensure a secure fit on any head size.
Surprisingly, the 40 mm drivers in the Snug Play+ headphones can produce up to 93dB of volume. Although these headphones can produce adult stereo sound quality, the typical driver size is 40 mm. They manage to have a generally warm sound signature despite not being particularly loud. Both the highs and the bass aren't piercing enough to cause discomfort in the ears. Simply put, these headphones are excellent for kids in terms of value for money and performance.
A 3.5 mm jack is used to connect the Snug Play+ to almost all media players. Since there is neither a microphone nor an in-line control, you must change the volume using your sound settings. In conclusion, the headset provides good quality at a reasonable cost. The daisy chain sharing feature is an added bonus. The Snug Play+ has everything you need to keep your child happy if you're looking for a straightforward set of headphones for casual trips and sporadic music marathons.
iClever HS14 Headphones
---
Specifications
Sound Pressure Level:
94 db
Connectivity:
3.5 mm audio jack
Does your kid seem to be prone to breaking things? The iClever HS14 headphones may be the safest choice on this list for you. The headphones will shield your children from hearing loss while also being durable enough to take a lot of abuse. The iClever will be popular with those who are prone to accidents due to its incredibly strong and durable build quality.
You might wonder what makes the iClever HS14 headphones so unbreakable. Well, to begin with, the headband is completely flexible and twistable, unlike most headphones on the market today. We don't just mean that it can be adjusted for the perfect fit; we mean that it can actually be bent and squeezed in all directions without suffering any harm. The HS14 guarantees to never shatter or break in half, even if your children throw the headphones to the ground or engage in a small tug-of-war with a friend.
Additionally, its comfortable design never compromises durability. The memory-protein material used to make the earmuffs gives them a leather-like finish. They not only have a nice appearance, but they also feel incredibly soft and breathable against the skin for extended periods of time. The headband still fits snugly on the head despite not having as much padding as rivals. This is probably being done to avoid tearing should any twisting take place. It's also useful to know that the earcups can be folded and wrapped easily inside the headband frame, making packing and traveling simple.
The iClever headphones guarantee an immersive audio experience. The volume of the HS14 is limited to 94 dB, which is slightly more than the recommended 85 dB standard but still offers excellent ear protection for children. You might wonder how iClever ensures protection at a higher volume level. The 30 mm driver size is the cause of the issue. In order to make up for the smaller driver's need to work a little harder to get a good audio output, the volume level has been increased. Although the sound is itself clear and crisp, the headphones' lack of bass is somewhat noticeable because of the 30 mm restriction.
The tangle-free cable on the iClever HS14 headphones adds another layer of defense. The 3.5 mm connector can withstand some pulling and rubbing because it is made of high-quality nylon fabric. That brings up the subject of the HS14 design's hues and variations. The modern pink, yellow, and green designs have an in-line controller but the conventional black and blue combination does not. These more recent variations also include a multi-function button for answering calls and managing music playlists, as well as microphone support.
The iClever HS14 headset is a great choice if you're looking for a reliable pair of headphones. For a few extra dollars, you can upgrade to the in-line controller and microphone version, which will be popular with kids who want to chat with their friends. The iClever headset is equipped to work with any laptop, tablet, or phone, regardless of style.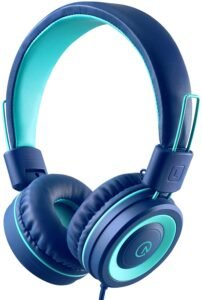 Noot K11 Foldable Stereo Headphones
---
Specifications
Sound Pressure Level:
93 dB
Connectivity:
3.5 mm audio jack
The Noot K11's are a reasonably priced pair of headphones that are designed with comfort and travel in mind. Although they lack fancy in-line controllers or built-in microphones, they make up for their lack of features with flexibility and strength. The Noot K11 is a pair of adjustable, straightforward headphones for children ages three and up that is worth considering.
The headphones are available in five different colors: black, mint, navy, skyline blue, and pink. The adjustable headband and foldable earcups of these headphones were designed with travel in mind. You shouldn't have to worry about any breakages if your child wants to pack these in their backpack. The headphones come with a 24-month warranty from Noot, along with top-notch customer support.
The earcups themselves are made of soft synthetic leather, which is both comfortable for small ears and effective at blocking outside noise. Although Noot has taken extra measures to ensure that toddlers can use these headphones, it is important to note that the headphones can also be worn by adults. All head sizes can be accommodated by the soft, padded, cushioned headband.
The 40 mm stereo drivers on the headphones allow for a maximum volume of 93 dB. We suggest turning down the volume on the device you're listening to since the headphones do not have an in-line volume controller. The K11 should work with all computers, tablets, and smartphones as it has a 3.5 mm connection. They used a premium fabric to create the nylon braided cord, which resists tangling and tears.
This might be the best choice if your child wants a basic pair of headphones to use for music listening while walking to school. They will be portable and offer a good audio experience thanks to the foldable earcups and 24-month warranty.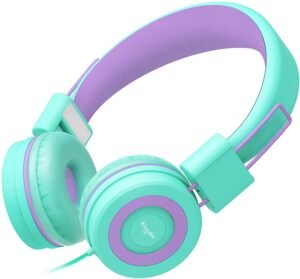 Elecder i37 Headphones for Kids
---
Specifications
Sound Pressure Level:
85 dB
Connectivity:
3.5 mm audio jack
A company that specializes in headphones is called Elecder, and it was founded in 2016. Girls love the i37 model for its vivid colors and incredibly light construction. Its features are comparable to those of the Noot K11 headphones, but it has a cuter design and is more comfortable for ears that are particularly sensitive.
It is claimed that the foldable on-ear headphones by Elecder i37 have excellent sound quality. Their sound is characterized by clear audio in the mids and highs with some powerful bass in the lows. The brand makes sure that the headphones have a maximum volume level of 85 dB; this means that the headphones provide an immersive sound experience while maintaining all safety precautions. You might wonder if the booming bass may have any negative effects on the ears.
The construction itself is pliable and light. These headphones have foldable ear cups for simple backpack storage, just like the Noot K11 models. Additionally, the 1.57-inch headband can be stretched to fit all head sizes, and additional padding has been added at the top for maximum comfort over extended periods of time. Your kids won't have to be concerned about what is going on around them because the earcups themselves are cushioned and will cancel out any background noise.
Your child won't be able to make any phone calls because the headphones lack a microphone and an in-line controller. The 40 mm drivers inside will still deliver a fantastic listening experience for music, movies, and video games. The 3.5 mm stereo jack and premium nylon fabric cord make it tangle-free and a great choice for gaming consoles, computers, kindles, or tablets.
The i37 could be the perfect pair of colorful headphones for your daughter if she wants high-caliber audio. It is a great addition to any environment and provides a comfortable fit throughout thanks to its lightweight design and sweat-resistant build quality.
Nenos Kids Headphones
---
Specifications
Connectivity:
3.5 mm audio jack
Children between the ages of 3 and 8 are advised to use the Nenos Kids Headphones. They are available in a variety of colors and function as a "plug-and-play" headset without any extra switches or buttons. The Nenos are worth looking into if you prefer to maintain control and your children are too young to be fiddling with their volume and tracklist.
Let's start off by stating that there is no in-line controller or microphone included with these headphones. Simple headphones that you can put on your head and do their intended job. That does not, however, imply that there is no personalization for the children. The headphones still come in a variety of colors and patterns and have an adjustable headband for the perfect fit. Girls might enjoy the patterns, especially since there are several colors that have "unicorn" and "cat" themes.
They made the Nenos with child safety in mind, just like they do with any other set of kid's headphones. The device has no volume control, but the maximum sound pressure level is 85 dB. They also feature soft earpads and a lightweight plastic shell for a comfortable fit. Given that they are over-ear headphones, you can anticipate that they will easily fit smaller ears. Since the Nenos headphones were designed for children between the ages of 3 and 8, older kids may have fit issues, which could lead to an uncomfortable "on-ear headphone experience" and impair sound quality.
The 40 mm drivers inside the headphones produce adequate sound quality. These headphones won't sound high-end because they are intended for young children. Due to the low volume, the sound is still clear and shouldn't harm anything. The daisy chain link, which enables multiple headphones to be connected, is an impressive feature of these headphones. You can connect another headset and lead the 3.5 mm connector to your audio device without an adapter. There won't be any issues for kids who want to share a tablet or computer.
Additionally foldable, the Neno headphones can go wherever your kid wants. Travel is made simple because you can easily fit them in suitcases and backpacks. In conclusion, the Nenos will meet all of your needs if you're looking for a simple, comfortable pair of headphones that can be connected together to share audio. They are a straightforward set of headphones that are designed with the smallest music lovers in mind.
LilGadgets Connect+ Kids Premium Headphones
---
Specifications
Sound Pressure Level:
93 dB
Connectivity:
3.5 mm audio jack
The Connect+ headphones from LilGadgets are made not just for your kids but also to spread awareness and preserve the outdoors for everyone. LilGadgets works to provide kids with a pair of high-end headphones so they can experience and enjoy their favorite music and movies. Along with the headphones, a small portion of each sale is donated to initiatives to stop bullying and clean up the environment. The Connect+ provides all of this and more if your kids are looking for a reliable pair of headphones and you're interested in helping a good cause.
With their 40 mm drivers and passive noise reduction design, LilGadgets has succeeded in fulfilling its mission to offer kids a high-quality product. Parents can expect a secure listening environment for their children with the music locked around noisy environments because the volume is limited to 93 dB. Since the frequency response ranges from 20 to 20,000 Hz, you can anticipate that all the lows, mids, and highs will sound natural and undistorted. The noise reduction makes up for the fact that the overall sound volume isn't high enough to protect your child's hearing.
High-quality polycarbonate plastic, which comes in green, blue, black, pink, and purple, was used to make the headphones themselves. Since the shell is fairly light, wearing the headphones for extended periods of time shouldn't be uncomfortable. Although the headband can also be adjusted to fit older children, the recommended age range is 3 to 7 years old.
The braided nylon 4-foot cable with an in-line microphone is a nice extra. There will be enough room to connect them to a computer if necessary because the cable is longer than standard headphones. When using a computer, it's crucial to understand that the 3.5 mm connector at the end of the cable is only for audio. Only smartphones will support the microphone when making calls. You'll need to purchase an additional adapter if you want to use the microphone with a computer.
Due to its small size and foldable design, the Connect+ is also ideal for travel. The earcups can fold inward, but the headband cannot bend like the iClever HS14. Last but not least, LilGadgets has added a "SharePort" similar to those in the Snug Play+. To listen to the same audio device with multiple headphones, you won't need any additional cables. It is best if you purchase additional Connect+ headphones to link together. Choose LilGadgets over rivals offering comparable features if only for their children's and environmental campaigns seeking to effect change.
Features to Look for When Buying Headphones for Kids
Selecting the perfect pair of headphones for your child involves more than just picking the most colorful or stylish option. To ensure both their safety and enjoyment, here are some crucial features to consider when buying headphones for kids:
Volume Limiting:
Volume limiting is perhaps the most critical feature to look for in kids' headphones. It restricts the maximum volume output to a safe level, usually around 85 decibels, protecting young ears from potential hearing damage caused by loud sounds.
Durability:
Kids can be quite rough on their belongings, so durability is paramount. Look for headphones made from robust materials and reinforced cables to withstand the wear and tear of daily use.
Comfort and Fit:
Comfort is essential for children, especially during extended listening sessions. Opt for headphones with cushioned ear cups and an adjustable headband to ensure a snug yet comfortable fit. Ill-fitting headphones can lead to discomfort and an unsatisfactory listening experience.
Size and Weight:
The size and weight of the headphones should be appropriate for your child's age and head size. Overly large or heavy headphones can be uncomfortable and cumbersome, making it essential to choose a size that suits your child.
Style and Design:
Kids are often drawn to fun, colorful designs or headphones featuring characters from their favorite movies or TV shows. Choosing headphones with a design your child loves can make the listening experience more enjoyable for them, encouraging responsible use.
Wired or Wireless:
Decide whether you prefer wired or wireless headphones for your child. Wired headphones typically offer a consistent connection but can come with the hassle of cords. Wireless options provide more freedom of movement but require battery charging. Consider your child's preferences and needs when making this choice.
Volume Controls:
Some headphones come with built-in volume controls, allowing kids to adjust the volume easily without needing to access the device they're connected to. This can be a convenient feature for both kids and parents.
Noise-Canceling:
Noise-canceling headphones can be beneficial, especially in noisy environments. They help reduce background noise, allowing your child to enjoy their audio content without needing to increase the volume to unsafe levels.
Frequently Asked Questions (FAQs)
Conclusion
When it comes to choosing the best headphones for kids, prioritizing their safety and comfort is essential. All the headphones mentioned in this guide are designed to provide a safe listening experience for children, ensuring that their delicate ears are protected from loud sounds while enjoying their favorite music, stories, or educational content. Whether you opt for the Puro Sound Labs PuroQuiet, BuddyPhones Explore+, LilGadgets Untangled Pro, JBL JR 300, or CozyPhones, you can rest assured that your child will have an enjoyable and safe audio experience. Make the right choice today to safeguard their auditory health and keep them entertained.