Best Telescope for Kids
Last updated: December, 2023
Exploring the cosmos is an awe-inspiring adventure that can spark curiosity and imagination in children. To nurture their fascination with the night sky, a quality telescope designed for kids is essential. In this guide, we'll delve into the world of kid-friendly telescopes and help you find the best telescope.
Why Invest in a Telescope for Kids?
Before we dive into the specifics of choosing a telescope for kids, let's understand why investing in one is a fantastic idea:
Encouraging Curiosity and Learning
A telescope is not just a tool; it's a gateway to a world of learning. It allows children to explore celestial objects, understand astronomy, and develop a lifelong passion for science.
Fostering Patience and Critical Thinking
Astronomy requires patience, precision, and critical thinking. Kids can develop these valuable skills while stargazing and studying celestial bodies.
Bonding Time
Telescope activities can be a perfect family bonding experience. It's a great way for parents to spend quality time with their children, fostering their love for science and exploration.
Key Features to Look for in a Telescope for Kids
When searching for the best telescope for kids, certain features are vital to ensure a smooth and enjoyable stargazing experience:
Portability
Kids may want to explore the night sky from different locations, so a portable and lightweight telescope is a must. Look for telescopes that are easy to carry and set up.
Durability
Children can be rough with their belongings, so opt for a telescope with a sturdy build. It should withstand occasional bumps and falls.
Ease of Use
Choose a telescope with user-friendly features and a simple setup process. Kids should be able to operate it with minimal adult assistance.
Appropriate Magnification
For kids, telescopes with modest magnification levels are ideal. Higher magnifications can make it difficult to locate and track celestial objects.
Quality Optics
The quality of the telescope's optics is paramount. Look for telescopes with good glass lenses or mirrors for sharp, clear images.
Accessories
Consider telescopes that come with extra accessories like eyepieces, a tripod, or a smartphone adapter for astrophotography. These additions can enhance the stargazing experience.
The Best Telescope For Kids: A Detailed Review
Celestron AstroMaster 70AZ
---
Specifications
A great first telescope for kids is the Celestron AstroMaster 70AZ Telescope. Kids can easily use this 700mm refractor telescope independently because it attaches to a portable tripod. On an altazimuth stand, which functions like a point-and-shoot camera, they mounted this model. The AZ model, which mounts on an equatorial mount unlike the EQ range, is particularly suitable for children because of its simplicity of use.
You won't be able to see deep-sky objects with the 70mm lens, but don't undervalue the power of the AstroMaster 70AZ telescope! Children will be able to see the moon in great detail through the 70AZ telescope, as well as Jupiter's moons and cloud belts. Mercury's phases or Saturn's rings will both be visible. You can see the Orion Nebula or even double stars outside of our solar system. During the day, the AstroMaster 70AZ can be used to observe large raptors or distant vistas.
Two eyepieces (10mm and 20mm), an erect image diagonal, an illuminated reticle, and a tripod are all included with the AstroMaster 70AZ telescope. One of the nicest Celestron stands we've seen so far, the stand is sturdy. The tray's inclusion gives the stand excellent stability and enables kids to keep all of the telescope eyepieces and other accessories in one place when not in use.
Along with the telescope, Celestron also offers some outstanding educational software. A fully interactive sky simulation is offered by the free to download Starry Night Educational Software. You can find and follow constellations in real-time using the Celestron SkyPorta app, which is accessible to Apple and Android users.
Celestron Travel Scope 70
---
Specifications
The Celestron Travel Scope 70 is the best option if you're looking for a cheap, portable telescope for kids. It is the most cost-effective telescope with the best quality available for less than $100. A convenient backpack is included with the telescope and its accessories to make transporting your telescope simple. It is also incredibly light, weighing less than 5 pounds in its entirety.
What do you get, then? You will also receive two eyepieces (20mm and 10mm) with 20x and 40x magnifications in addition to the Celestron Travel Scope 70 Telescope. A tripod and a backpack are also provided for carrying everything.
The Celestron Travel Scope 70's low-quality, flimsy tripod is arguably its only flaw, despite the telescope being exceptionally high-quality for this price range. We're happy Celestron chose the tripod over the telescope if we had to choose where we would sacrifice quality for a lower price.
Since the telescope is so light, it doesn't require a sturdy tripod; the one that comes with it is adequate. The good news is that because the tripod connector is universal, you can swap it out for a more robust tripod.
We have good news if you're wondering if you'll be able to see anything at all through such a cheap telescope. Niel Armstrong's footprints on the moon won't be visible, but you will be able to see the moon's craters. The rings on Saturn will be visible, but you can't count them one by one. That is incredible power for less than $100 and a great telescope for amateur astronomers.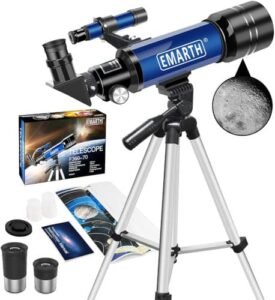 Emarth F360-70
---
Specifications
The Emarth F360-70 Refractor Travel Telescope is advertised as being portable, lightweight, and fantastic for kids who are interested in astronomy. If you're looking for a first telescope for your child to test their interest before purchasing something more expensive, the Emarth F360-70 is a great choice and costs less than $90.
The Emarth F360-70 is delivered in a sturdy black nylon storage bag with a shoulder strap for convenient transportation. The telescope, a portable aluminum tripod, an erect image diagonal, 25mm and 10mm eyepieces, a 524 finderscope, a moon and star map, and an instruction manual are all included. A lens cap for the telescope tube's lens serves as dust protection. Kids who wear glasses can also fold the rubber eyepieces back for convenient and comfortable viewing.
As a low-cost scope, the Emarth F360-70 tripod works best for near-field objects like the moon. On the moon and many other planets, such as Jupiter and Saturn, you can see their craters. Despite the fact that Jupiter's red spot is probably not visible to you, the Telesco.
Celestron PowerSeeker 127EQ
---
Specifications
The Celestron PowerSeeker 127EQ, one of the most well-known telescopes for kids, is perfect for beginners who want a high-quality telescope with a large aperture at a reasonably low price. As opposed to altazimuth mounts, which require constant movement of the telescope to maintain the object in view, equatorial mounts allow you to track stars while accounting for Earth's rotation.
The 20mm, 4mm, and 3x Barlow lenses on the Celestron PowerSeeker 127EQ Telescope are all optically superior. Although the PowerSeeker 127EQ has a maximum magnification of 250x, you won't often need such a high magnification. Your best magnification on most nights will be under 150x, but when the weather is good, you can use a higher magnification for bright objects like the moon.
So what can the PowerSeeker 127EQ see? You can see Mercury's phases, Saturn's rings, and the moon's minuscule craters. You can see the Martian ice caps when Mars is close to Earth. The PowerSeeker 127EQ displays its true power when there is a very dark sky. Children can anticipate seeing all 110 Messier catalog objects.
Although the PowerSeeker 127EQ has drawn a lot of criticism in online discussion forums, it should be noted that due to the telescope's power, it may not be as simple to use as refractor telescopes right out of the box. It's not a straightforward point-and-shoot telescope.
The PowerSeeker 127EQ telescope must be collimated and lined up with the finder scope because the mirrors are frequently out of alignment when they are shipped. Collimation is the process of lining up every component of a telescope for optimal light focus. The manual contained instructions on how to carry out this task.
Meade Instruments Infinity
---
Specifications
Perhaps the largest lens in a refractor telescope at this price range is the Meade Instruments Infinity 102mm Refractor Telescope. Beginners will love the Altazimuth mount on the Infinity Series, and slow-motion controls make it easier to see objects. Three eyepieces that offer magnifications of 23x, 66x, or 95x are included with the telescope. Also included is a 3x Barlow lens. An image diagonal and a red dot finderscope with batteries are also included.
Overall, it's very simple to set up and use the Meade Instruments Infinity 102mm. It won't be as effective at observing deep-sky objects as a reflector telescope would be because it is a refractor. Even so, it still has a distinct advantage over the other refractor telescopes we've reviewed thanks to the 102mm lens.
It can be too bright on a full moon, so we'd advise adding a moon filter to your purchase. Kids can anticipate, however, seeing amazing clarity and detail. You can see various nebulae as well as planets like Venus, Mars, Saturn, and her rings as well as Saturn's moons and Jupiter's moons. With a 102mm aperture that produces a bright, clear image, the Meade Instruments Infinity 102mm Refractor Telescope for children is a fantastic option for daytime bird and wildlife watching.
A one-year warranty is included with the Meade Instruments Infinity 102mm Refractor Telescope. There is also a planetarium DVD called Autostar Suite Astronomy with more than 10,000 celestial objects on it. Unfortunately, the DVD only functions on Windows-based computers.
Buyer's Guide
A telescope is a gateway to exploring the cosmos, allowing you to marvel at celestial wonders from the comfort of your own backyard. Whether you're a budding astronomer or an experienced stargazer, finding the right telescope can make all the difference in your stargazing experience. This buyer's guide will help you navigate the universe of telescopes and select the perfect one for your needs.
Know Your Budget
The first step in choosing a telescope is setting a budget. Telescopes range from affordable options to high-end models. By determining your budget, you'll narrow down your choices and ensure you get the best value for your money.
Decide on Your Observing Goals
Consider your observing goals. Are you primarily interested in viewing the Moon and planets, or are you more focused on deep-sky objects like galaxies and nebulae? Your observing goals will determine the type of telescope and its specifications that are most suitable for you.
Aperture Size
The aperture size, typically measured in millimeters or inches, determines how much light a telescope can gather. Larger apertures result in brighter and more detailed views. Consider your budget and the portability of the telescope when choosing the right aperture size.
Focal Length and Focal Ratio
The focal length and focal ratio (f/number) affect the magnification and field of view of your telescope. Longer focal lengths provide higher magnification, while shorter ones offer wider fields of view. Choose a combination that aligns with your observing goals.
Mount Type
Telescope mounts come in two main types:
Altazimuth Mounts
Simple to use for beginners.
Limited for astrophotography, especially for long exposures.
Equatorial Mounts
Ideal for tracking celestial objects.
More complex to set up and use but great for astrophotography.
Additional Features and Accessories
Consider the accessories and features that come with the telescope, such as:
Eyepieces: Multiple eyepieces for different magnifications.
Finderscope: Helps you locate objects more easily.
Barlow lenses: Enhance magnification.
Motorized or computerized mounts for automatic tracking.
Smartphone adapters for astrophotography.
Portability and Storage
Think about where and how you plan to use your telescope. If you need a portable option for travel, consider a compact and lightweight telescope. Also, think about how and where you'll store it when not in use.
Maintenance and Durability
Consider the maintenance required for your chosen telescope type. Some telescopes, like refractors, are low maintenance, while reflectors may require occasional collimation. Also, choose a telescope with a durable build to withstand the test of time.
Reviews and Recommendations
Before making a final decision, read reviews, watch videos, and seek recommendations from experienced astronomers or astronomy forums. Real-world experiences can help you make an informed choice.
Frequently Asked Questions (FAQs)
Conclusion
Introducing kids to the wonders of the night sky is a gift that keeps on giving. Choosing the best telescope for kids involves considering their age, interests, and budget. With the right telescope, you can inspire young astronomers to dream big and explore the universe from the comfort of their backyard. Happy stargazing!