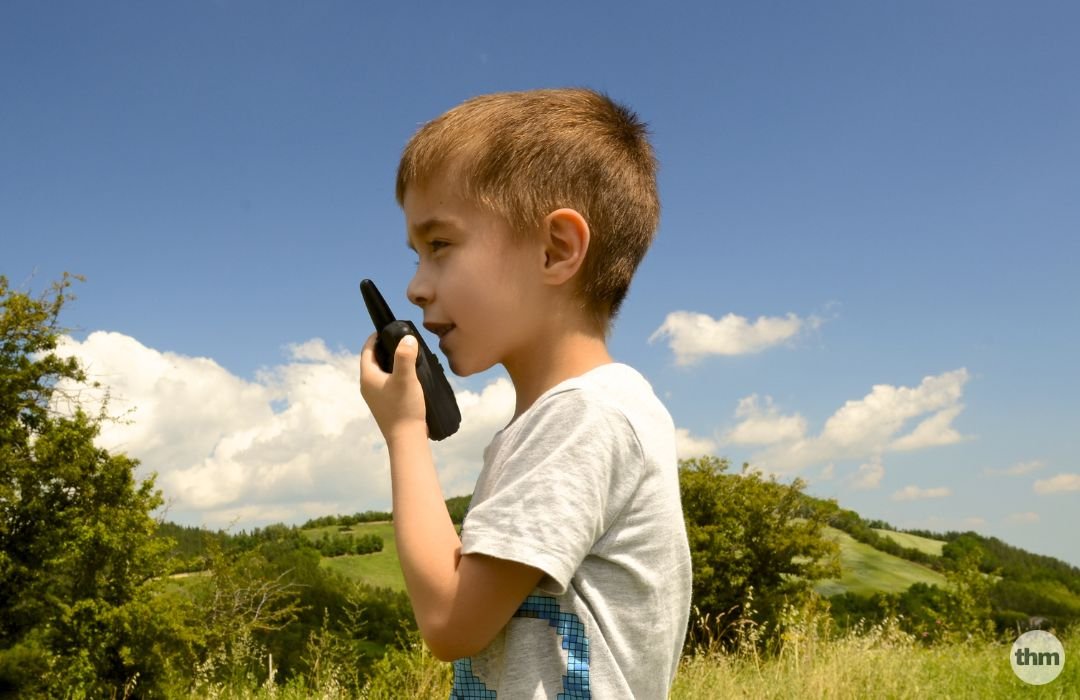 Best Walkie Talkies for Kids
Last updated: December, 2023
In today's digital age, where screens dominate the entertainment landscape, it's refreshing to see kids engaging in real-world activities. Walkie talkies provide an excellent opportunity for children to explore the world around them, stay connected with friends and family, and develop essential communication skills. Whether it's for outdoor adventures, backyard play, or even just keeping in touch around the house, walkie talkies for kids can be both entertaining and educational.
Why Choose Walkie Talkies for Kids?
Before diving into our list of the best walkie talkies, let's explore why these communication devices are a great choice for children:
Promotes Outdoor Play
Walkie talkies encourage kids to spend more time outdoors, fostering a deeper connection with nature and the world around them. Whether they're going on adventures in the backyard or exploring the local park, walkie talkies add an exciting element of communication to their playtime.
Enhances Communication Skills
Using walkie talkies helps children develop important communication skills. They learn to articulate their thoughts clearly, listen actively, and respond effectively—a valuable skill set that extends beyond playtime.
Safety and Peace of Mind
For parents, walkie talkies provide peace of mind when their children are playing outside. It allows for quick and reliable communication, ensuring you can always check in and make sure they're safe.
Now that we understand the benefits of walkie talkies for kids, let's explore some of the best options available on the market.
The Best Walkie Talkies for Kids: A Detailed Review
Selieve Toys Walkie Talkies for Kids
---
Specifications
Talking range:
1 mile residential, 3 miles open field
Battery:
4 AAA (not included)
Let your children play safely! The kids' Selieve Toys Walkie Talkies, which are sold in pairs, have a long transmitting range of up to one mile in densely populated areas or up to three miles in open fields. To reduce the likelihood of someone else using the same frequency, there are 99 CTCSS sub-codes added to the 22 channels.
Kids can talk to their friends without pressing any buttons when the voice-activated transmission (VOX) feature is turned on. A call alert feature, a key lock feature to stop children from accidentally changing the channel, and programmable volume levels are also included.
Kids can easily carry these walkies around with them because they only weigh 3.1 ounces each, and a belt loop makes it simple to attach them to a backpack or article of clothing. To assist kids in navigating the dark, there is also a built-in flashlight.
In case you want the option of wearing your walkie talkie on your belt and speaking into a headset, the Selieve Toys Walkie Talkie for Kids also has a headset connection plug (although it does not come with a headset). There is something for everyone with these tough walkie talkies, which come in a variety of colors like black, red, orange, pink, blue, purple, and green.
LOOIKOOS Walkie Talkies for Kids
---
Specifications
Talking range:
0.3 miles, 1.8 miles open field
Battery:
4 AAA (not included)
Use the kids' LOOIKOOS Walkie Talkies to stay in touch! With this set of three walkies, up to three kids or two adults and a kid can communicate over a distance of 1.8 miles. These walkie talkies feature crisp sound quality, high anti-interference technology, and volume-adjustable voice clarity.
Kids can easily carry around each lightweight unit because it weighs only 2.8 ounces, and the ergonomic design is suitable for small hands. Each walkie talkie has a belt clip on the back so that kids can attach it to their clothing or a lanyard around their neck.
There are 22 communication channels available on these walkie talkies, and they have a variety of settings so you can broadcast to one or several units. Additionally, there is a voice hands-free battery-saving feature. These walkie talkies allow children as young as 3 to use them thanks to the straightforward push-to-talk button.
The screen has an LCD backlight display when it's dark, and there is also a flashlight function, so you can be sure that kids will remain safe after it gets dark. Signal stability is improved by the potent transmitter and high receiving sensitivity. Children's LOOIKOOS Walkie Talkies require four AAA batteries, which are not provided.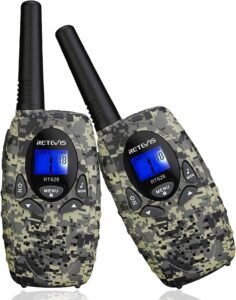 Retevis RT628 Kids Walkie Talkie
---
Specifications
Battery:
3 AA per unit (not included)
The Retevis RT628 Kids Walkie Talkie is a fantastic option if you're looking for high quality on a tighter budget. With 22 communication channels to choose from, a backlit LCD screen for use in the dark, VOX mode for hands-free communication, a keypad lock to prevent small fingers from inadvertently pressing the wrong buttons, and an added dual watch function so kids can keep track of the time, this set of two walkie talkies has all the features you're looking for.
This two-piece kids walkie-talkie set is available in a range of hues, including camouflage, black, red, and silver. You can also easily combine two or more sets to keep the whole family in touch.
Additionally, there are 121 CTCSS/DSS that allow for private communication. When all units are on the same channel and have the same CTCSS code entered, no outsiders are able to listen in. To prevent the devices from being misplaced or dropped, a belt clip is attached to clothing or a backpack.
The Retevis RTRT628 Kids Walkie Talkie is a great value at just over twenty dollars.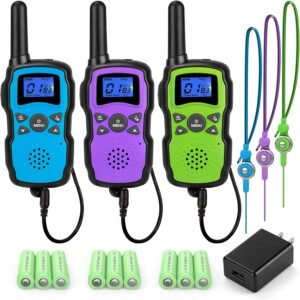 Wishouse Walkie Talkies for Kids
---
Specifications
Talking range:
1 mile residential, 8 miles open field
With this set of three walkie talkies, you can communicate even more! With an upgraded chipset that increases reception sensitivity and signal stability, the Wishouse Walkie Talkies for Kids have a talking range of up to 1 mile in residential areas, 8 miles in an open field, and an incredible 20 miles when communicating from a mountain to a valley!
A keypad lock and VOX mode allow you to use walkie-talkies hands-free while also preventing young children from randomly pressing buttons.
You can set up private channels for your family to communicate on without interruption using one of the 22 available channels and one of the 121 available privacy codes. You won't need to change batteries because the Wishouse Walkie Talkies include 9 rechargeable AA batteries—3 for each unit—and a USB charger. They also include a flashlight for use at night and a lanyard and clip to prevent loss.
Aikimi Walkie Talkies for Kids
---
Specifications
Talking range:
Up to 3 miles
Battery:
3 AAA (not included)
The Aikimi Walkie Talkies feature a stylish camouflage pattern that will appeal to outdoor enthusiasts or kids who want to play army soldiers. To complete your survival adventure, this set of two walkie talkies also includes two sturdy, camouflage-printed paracord bracelets with a whistle and a compass.
These walkie talkies have 22 channels of communication and VOX hands-free capability, allowing kids to talk to either their home base or their allies.
The range of these kids' walkie talkies is up to three miles over an open field, but it will be shorter if there are obstructions like houses in the way. The Aikimi Walkie Talkies for Kids do come with two lanyards that attach to the walkie talkies so they can't get lost, but they require three AAA batteries, which aren't included.
Even if the devices are dropped in the grass, the bright color of the lanyards will make it easy for you to find them despite their camouflage appearance. A built-in flashlight and a night-lighting LCD screen are provided for use during nighttime reconnaissance missions. You're sure to have exciting adventures with these kids walkie-talkies!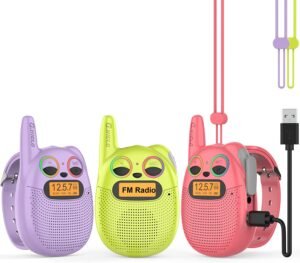 Qniglo Walkie Talkies for Kids
---
Specifications
Talking range:
0.5 miles residential, 2.8 miles open field
Battery:
1 rechargeable lithium (included)
You're sure to find something appealing here thanks to the charming animal motif and wide variety of color options on these kids' walkie talkies! The built-in rechargeable lithium-ion batteries in the Qniglo walkie talkies allow for up to 24 hours of talk time and 5 days of standby time on a single full charge.
Additionally, a built-in FM radio allows kids to listen to music when they aren't talking.
It's simple to communicate thanks to the twenty-two channels and communication codes, and thanks to the VOX mode and keypad lock, even young children can use these walkie talkies. Each walkie talkie comes with a watch band that can be used to attach the device to your wrist or a lanyard that you can wear around your neck.
These walkie talkies are ideal for younger children because of this feature. There are enough units here, sold in packs of two, three, or four, for the entire family to communicate.
Walkie Talkies for Kids: A Buyer's Guide
Walkie talkies for kids are not just toys; they're tools that encourage communication, outdoor play, and the development of essential skills. If you're in the market for the best walkie talkies for your child, this buyer's guide will help you make an informed decision.
Consider Your Child's Age and Abilities
The age and abilities of your child should be the first factors to consider when purchasing walkie talkies. Some models are designed for younger children, with simplified controls, large buttons, and colorful designs. Older kids may prefer more advanced models with additional features.
Determine the Range You Need
The range of a walkie talkie is an essential consideration. Think about where your child will be using them most often. If it's just for play around the house or in the backyard, a shorter range walkie talkie will suffice. However, for outdoor adventures, camping, or hiking, look for models with longer ranges, which can extend up to several miles in optimal conditions.
Check for Durability
Kids can be rough with their toys, so durability is crucial. Look for walkie talkies that are built to withstand drops and minor impacts. Water-resistant or waterproof models are also a plus if your child's adventures may involve water or rain.
Battery Life and Power Options
Consider the battery life of the walkie talkies. Some models use rechargeable batteries, while others use disposable ones. Rechargeable batteries can save money in the long run but may require access to electricity for charging. Models with a dual power option (both rechargeable and disposable batteries) offer versatility.
Ease of Use
Choose walkie talkies that are user-friendly, with clear buttons and an intuitive interface. Models with backlit displays and simple channel-changing mechanisms are easier for kids to operate. Ensure that your child can comfortably hold and use the walkie talkies.
Additional Features
Many walkie talkies for kids come with extra features that can enhance the overall experience. Some common additional features include:
Built-in Flashlights: Handy for night adventures or emergencies.
Sound Effects and Voice Changers: These add fun to communication.
Games: Some models have built-in games for entertainment.
NOAA Weather Alerts: Useful for keeping an eye on changing weather conditions during outdoor activities.
Privacy Codes: These codes help prevent interference from other nearby walkie talkies.
Consider Safety Features
Safety is a top concern for parents. Some walkie talkies offer safety features like:
Belt Clips: To prevent the loss of walkie talkies during play.
VOX (Voice-Activated Transmission): Allows for hands-free communication.
Child Monitoring Function: Lets you listen in on your child's conversations.
Check for Compliance
Ensure that the walkie talkies you choose comply with relevant safety standards and regulations in your country. Most kids' walkie talkies operate on Family Radio Service (FRS) or General Mobile Radio Service (GMRS) frequencies, which do not require a license for use.
Read Reviews and Seek Recommendations
Before making your final decision, read product reviews and seek recommendations from other parents or trusted sources. Real-world experiences can provide valuable insights into the performance and reliability of specific models.
Set a Budget
Walkie talkies for kids come in a wide price range. Set a budget that aligns with your requirements and expectations. While more expensive models may offer additional features, there are budget-friendly options that still provide reliable communication.
By considering these factors and conducting thorough research, you can choose the best walkie talkies for your child's needs. Whether it's for backyard adventures, family outings, or simply staying connected with friends, walkie talkies can provide hours of entertainment and valuable learning experiences for kids of all ages.
Frequently Asked Questions (FAQs)
Conclusion
Walkie talkies for kids provide an enjoyable way for children to communicate, explore, and develop essential skills. When choosing the best walkie talkie for your child, consider factors like range, durability, ease of use, and any additional features that may enhance their playtime. Whether they're going on adventures, playing in the backyard, or just keeping in touch with friends, a walkie talkie can add an extra layer of fun and safety to their activities.