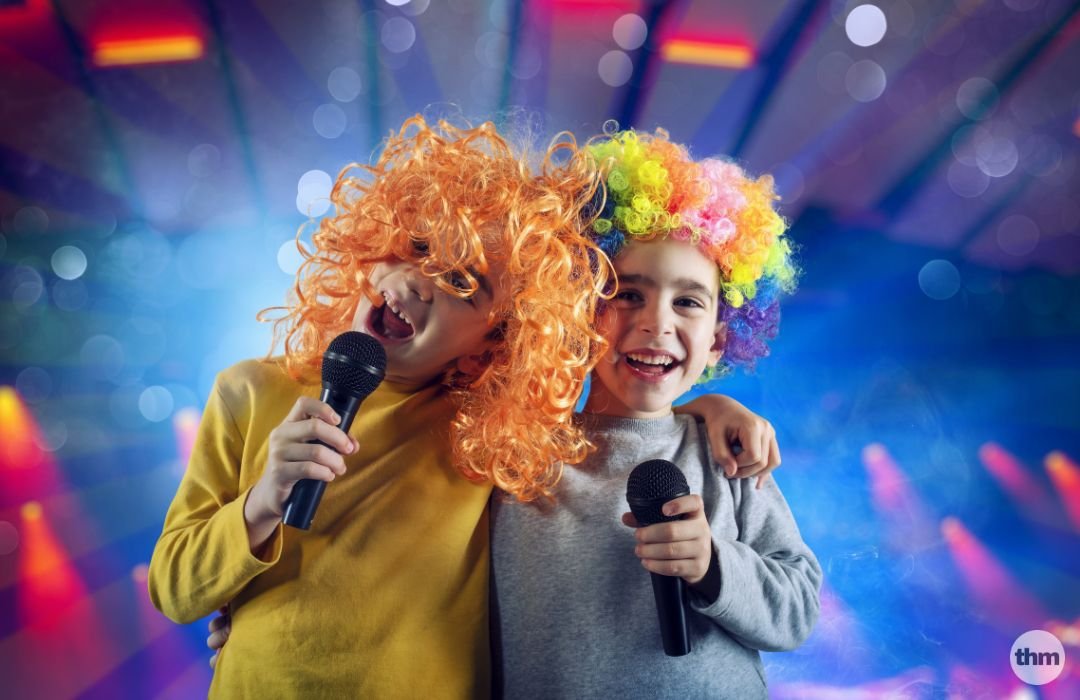 Best Microphone for Kids
Last updated: December, 2023
Children have boundless energy and imagination, and giving them the right tools to express themselves can be a wonderful gift. A microphone designed specifically for kids can be a fantastic way to encourage their creativity, boost their confidence, and even help them develop essential communication skills. In this article, we will explore the top choices for the best microphone for kids, ensuring that your little ones have a blast while learning and performing.
If you want to strengthen your kids' musical abilities, think about checking out some of our other entertaining and melodic suggestions:
Why Choose a Kid-Friendly Microphone?
Before we dive into our top picks, let's explore why a kid-friendly microphone is a worthwhile investment:
Boosting Confidence
Kids love to sing, talk, and make noise. A microphone can amplify their voice, making them feel like a superstar. This boost in confidence can have a positive impact on their self-esteem and public speaking abilities.
Fostering Creativity
Whether it's singing, storytelling, or hosting their radio show, a microphone can be a versatile tool for nurturing your child's creativity. It encourages them to explore their interests and engage in imaginative play.
Educational Benefits
Using a microphone can improve your child's language and communication skills. They'll learn how to articulate their thoughts clearly and project their voice effectively, which can be valuable in various aspects of life.
Entertainment and Fun
Above all, a microphone is a source of endless fun for kids. It can turn playtime into a performance and make family gatherings more entertaining.
The Best Microphones for Kids: A Detailed Review
BONAOK Wireless Karaoke Microphone for Kids
---
Specifications
Dimensions:
4.25″ x 3.86″ x 11.02″
Polar Pattern:
Unidirectional
The BONAOK Wireless Bluetooth Karaoke Microphone for Kids has something for everyone to enjoy! Use it to play music or record your own voice, or as a wireless microphone for solo or karaoke singing. There are nine different colors available, ranging from neutral to glittering gold and every shade in between.
Although you'll need to download a karaoke app to do this, you can simply use Bluetooth to connect to a smartphone, tablet, or computer for karaoke. You can also disable the Bluetooth function and sing by yourself.
This kid-friendly microphone has some awesome added features, like 48 vibrant LED lights that flash in time to the music to create a playful atmosphere. Parents can rest easy knowing that there is a volume control button on the microphone in addition to the ability to turn off this feature.
Made of a durable aluminum alloy, the BONAOK Wireless Bluetooth Karaoke Microphone is portable. It has a rechargeable battery and is supplied with an audio cable in addition to charging cables.
eKids Disney Frozen 2 Karaoke Microphone for Kids
---
Specifications
Dimensions:
2″ x 2″ x 9.24″
Polar Pattern:
Unidirectional
The eKids Disney Frozen 2 Bluetooth Karaoke Microphone lets kids (and adults!) 'Let It Go' and sing along to their heart's content. You could use it as a regular microphone or activate the Bluetooth feature to play music from a device of your choice while karaoke-ing.
Simply play music from your device, and it will come out of the speaker without the need for any additional apps. Use the integrated voice controls to play your next track like a real star when you connect this microphone to a Google Assistant or Siri-enabled device.
The multicolored LED lights that flash in time with the music are just one of the cool extra features included with the eKids Disney Frozen 2 Bluetooth Karaoke Microphone for kids. You can add entertaining sound effects to your performance, such as the echo feature, which will make your voice sound better as you sing along to your favorite songs. With its rechargeable battery, this kid-friendly karaoke microphone offers hours of entertainment. This kid-friendly karaoke microphone has a price under $30 and provides excellent value.
Carpool Karaoke The Mic 2.0
---
Specifications
Dimensions:
3.6″ x 2.1″ x 10.6″
Polar Pattern:
Unidirectional
With the official Carpool Karaoke microphone, you can perform in the car like your favorite celebrities! Karaoke in the car This product's updated version, The Mic 2.0, features six voice-changing effects: male, female, echo, robot, chipmunk, and radio. Thus, even the most tone-deaf among us can enjoy ourselves.
Additionally, there are three more sound effects, as well as entertaining lights that flash in time with the music. Although you'll have to buy the second mic separately, Version 2.0 also has the ability to connect to a second mic for duet singing.
Karaoke in the car Although the Mic 2.0 can be used anywhere, there are some design elements that make it perfect for use while traveling. Find an open station on your radio, then match the station to the mic to set it up. After pairing your device with the microphone via Bluetooth, you can start using your preferred music or karaoke app through the car's speakers. It's perfect for road trips, boating excursions, tailgating parties, and more with a battery life of up to six hours!
Shure SM58LC Cardioid Dynamic Microphone
---
Specifications
Dimensions:
10.3″ x 4.9″ x 3.3″
Polar Pattern:
Unidirectional
The Shure SM58LC Cardioid Dynamic Microphone is a great choice if you want a microphone that will highlight your voice. This microphone is of the same caliber as those used by musicians around the globe for both live performances and recording studios. The consistent cardioid polar pattern produces a clear and crisp sound every time, and its spherical mesh grill and built-in pop filter keep out unwanted background noises.
This microphone is made to last a lifetime. Even the roughest kids won't harm the Shure SM58LC Cardioid Dynamic Microphone because it was designed to withstand rough use on the road. To connect to a karaoke machine or amplifier, all you need is a cable.
However, parents should be aware that because of its sturdy design, this microphone weighs more than some of the others on our list, making it potentially impractical for young children to use. However, the quality is unmatched for older children or teenagers, and it also includes a microphone stand to give performances a more polished appearance. A storage bag is also provided to keep everything organized and safe.
GOODaaa Wireless Bluetooth Karaoke Microphone
---
Specifications
Dimensions:
12.4″ x 4.9″ x 3.58″
Polar Pattern:
Unidirectional
The night of family karaoke just got better! Premium features like strong HD speakers and the option to switch between Hi-Fi sound with reverb and the real, authentic sound of your own voice are all included with the GOODaaa Wireless Bluetooth Karaoke Microphone.
Because it has Bluetooth capabilities, you can turn it into a karaoke machine by pairing it with the device of your choice and a karaoke app. To sing together, activate Duet mode and add a second microphone. You do not wish to connect to a device. Additionally, the microphone has an SD card slot so you can store your favorite songs on a card, insert it, and listen to music through the integrated speaker.
The GOODaaa Wireless Bluetooth Karaoke Microphone has a built-in rechargeable battery that enables it to operate for up to 8–10 hours before needing to be recharged. It has a metal construction, a premium steel mesh microphone head, and an additional optional sponge cover that can be used to reduce background noise like wind and labored breathing.
Additionally, the handle is covered in soft leather. This microphone will provide hours of fun for the whole family thanks to its numerous features as a Bluetooth speaker, microphone, loudspeaker, and recorder.
Buyer's Guide
Microphones designed for kids are more than just playthings; they can be valuable tools for nurturing creativity and self-expression while providing hours of entertainment. To help you make an informed decision, here's a comprehensive buyer's guide on choosing the best microphone for kids.
Consider Your Child's Age and Interests
The first step in selecting a kid-friendly microphone is to consider your child's age and interests:
Young Children (Ages 2-5): For preschoolers, simple and colorful microphones with pre-recorded songs and sound effects are ideal. Look for durable designs and easy-to-use buttons.
Elementary School Kids (Ages 6-12): Older children might enjoy more interactive options like karaoke machines with built-in songs and lights. These can encourage singing and imaginative play.
Teens (Ages 13+): If your child is a budding musician, podcaster, or performer, consider more professional-grade microphones that offer higher audio quality and versatility.
Key Features to Look For
When shopping for a microphone for kids, pay attention to these key features:
Durability: Kids can be rough with their toys, so choose a microphone made from sturdy materials that can withstand drops and bumps.
Safety: Ensure that the microphone is made from non-toxic materials and does not have small parts that could pose a choking hazard.
Ease of Use: Younger children will benefit from simple, one-button designs, while older kids can handle more complex controls.
Sound Quality: For serious young musicians or podcasters, prioritize microphones with good audio quality and minimal background noise.
Connectivity: Some microphones offer Bluetooth or auxiliary input options for connecting to external devices or speakers.
Power Source: Consider whether the microphone uses batteries or has a rechargeable battery. Rechargeable options can be more cost-effective in the long run.
Accessories: Check if the microphone comes with additional accessories like a stand, headphones, or a carrying case.
Reviews and Recommendations
Before making a purchase, read reviews and recommendations from other parents to gauge the overall satisfaction with the product. Look for reviews that mention factors like durability, ease of use, and any issues encountered.
Setting a Budget
Kid-friendly microphones come in a range of price points, so it's essential to set a budget that aligns with your preferences. Keep in mind that more feature-rich options may be pricier, but they can offer more long-term value and entertainment.
Frequently Asked Questions (FAQs)
Conclusion
A microphone for kids is not just a toy; it's a gateway to creativity, confidence, and communication skills. Depending on your child's age and interests, there are various options to choose from, ranging from playful karaoke systems to high-quality recording microphones. Whatever you decide, rest assured that you're nurturing your child's talents and having a ton of fun in the process. So, amplify their creativity and let them shine with the best microphone for kids!