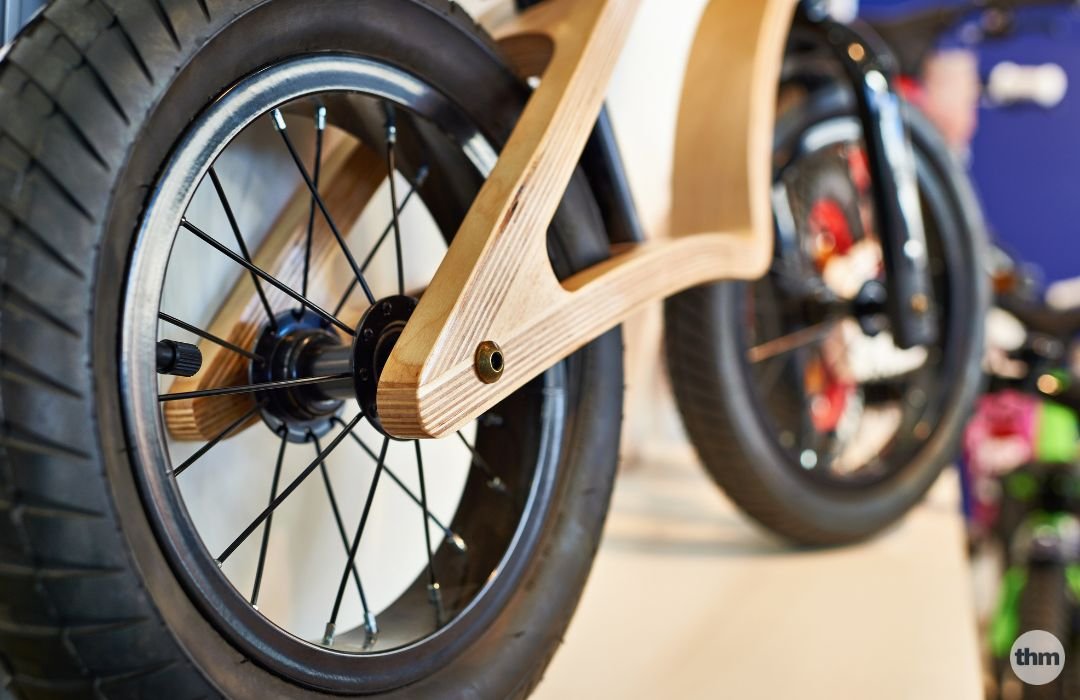 Best Wooden Balance Bikes
Last updated: September, 2023
When it comes to introducing your child to the world of cycling, nothing beats the simplicity and effectiveness of a wooden balance bike. These two-wheeled wonders are designed to help young riders develop their balance and coordination before making the transition to a traditional pedal bike. In this article, we'll explore the top wooden balance bikes on the market, helping you make an informed choice for your little one.
What is a Wooden Balance Bike?
A wooden balance bike, also known as a wooden run bike or a pushbike, is a child-sized bicycle without pedals. Instead of pedaling, kids use their feet to propel themselves forward and learn the fundamentals of balance and steering. These bikes are an excellent choice for toddlers and young children as they provide a seamless transition to pedaling bikes when the time is right.
Benefits of Wooden Balance Bikes
Before diving into our top picks, let's explore the numerous benefits of choosing a wooden balance bike for your child:
Balance and Coordination Development
The absence of pedals encourages kids to use their feet to push off the ground and maintain balance. This natural process helps them develop coordination and stability, preparing them for a pedal bike without the need for training wheels.
Safety First
With no pedals and a low center of gravity, wooden balance bikes are incredibly safe for young riders. They can easily put their feet down to stop or regain balance, reducing the risk of falls and injuries.
Confidence Building
As children gain confidence in their ability to balance and steer, they become more comfortable on two wheels. This confidence boost is essential for a smooth transition to a pedal bike.
Simplicity and Durability
Wooden balance bikes are often simpler in design and more durable than their plastic counterparts. They can withstand rough play and last through multiple children, making them a cost-effective choice for families.
The Best Wooden Balance Bikes: A Detailed Review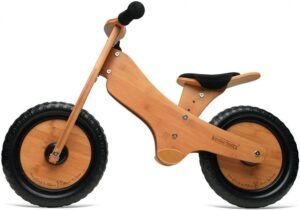 Kinderfeets Kids Balance Bike
---
Specifications
Due to its high-quality construction and more customizable options, the Kinderfeets Chalkboard Wooden Balance Bike, Classic Kids Training No-Pedal Balance Bike is one of the more expensive bikes on our list. This Birchwood balance bike is handcrafted, has EVA airless tires, and has an adjustable, padded seat. The seat can also be cleaned. The Kinderfeet Chalkboard Wooden Balance Bike has foot pegs to help your child get used to pedals later on and to ensure smooth riding, unlike some of the other wooden balance bikes on this list.
This bike is made of environmentally friendly Birchwood, and it is ergonomically created to promote good posture while still providing maximum comfort. Parents might buy it because of this, but kids will prefer it because of how easily customizable it is. The Kindereets Chalkboard Wooden Balance Bike has a chalkboard finish, allowing children to decorate their bikes with drawings. Even a box of chalk is included with your purchase! With each ride, your child can produce a brand-new design!
Children two years old and older are advised to use the Kinderfeet Chalkboard Wooden Balance Bike. The bike was created by a Dutch designer in California. He originally built this bike for his son because the "dream bike" he had for him wasn't offered by any retailer. Even though his son is now an adult, he believes that his father's balance bike was instrumental in teaching him the skills required to ride a regular bike.
The Forest Stewardship Council has also granted certification to the Kinderfeet Chalkboard Wooden Balance Bike, a prize-winning balance bike. The business guarantees to plant a tree for each bike it sells. There are eight color options for the Kinderfeet Chalkboard Wooden Balance Bike: black, blue, pink, red, black, white, green, and orange.
Hape Scoot Around Kid's Wooden Ride On Balance Bike
---
Specifications
Four wheels are what distinguish the Hape Scoot Around Kid's Wooden Ride On Balance Bike from other wooden balance bikes. To teach new riders how to balance themselves correctly, the majority of balance bikes only have two wheels. However, they kept the much younger riders in mind when creating this model. To be more precise, this bike would be helpful for toddlers who are just starting to test their mobility and refine their motor skills.
The Hape Scoot Around Kid's Wooden Ride On Balance Bike encourages your child to learn to balance by having them move their feet. The advantage of this is that your child will enjoy themselves while strengthening their muscles. Not to mention that being mobile on their own will give your child more confidence.
You may already be considering the security of your home's floors. Hape has already considered that. The rubberized wheels on the Hape Scoot Around Kid's Wooden Ride On Balance Bike ensure that no floors will be scratched. This balance bike was designed for indoor use and wasn't intended for use on rough terrain.
The bike is made of materials that are safe for children and has a non-toxic finish in a vibrant, enjoyable shade of green. Hape cautions parents that some of the small pieces could be choking hazards. Do not ever leave your kid unattended.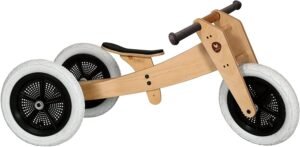 Wishbone 3-in-1 Original Wooden Balance Bike
---
Specifications
The Wishbone 3 in 1 Original Wooden Balance Bike stands out from the other bikes on this list right away just based on the materials it is constructed of. The bike is made of Birchwood, just like the other balance bikes, but it was harvested sustainably, and it also has eucalyptus wood. Non-toxic glues and finishes, recycled packaging, and other eco-friendly components were also used in the production of this balance bike by this environmentally conscious company.
The Wishbone balance bike's ability to grow with your child is another special feature. The bicycle can be transformed into a baby walker, push tricycle, miniature balance bike, and finally the larger balance bike. One of the priciest bikes on our list, though, is a bike this versatile. Consider this bicycle an investment. Until your child is ready for a traditional bike, you won't need to buy any additional mobile toys.
The rubber tires on the Wishbone are inflated with air. When you decide to take the Wishbone Balance Bike on outdoor excursions where you might need to pack a bag, this organic canvas drawstring tool bag that comes with your order of the Wishbone Balance Bike will come in handy.
The Wishbone 3 in 1 Original Wooden Balance Bike surpasses the European, American, and Australian toy safety standards in addition to everything I've already mentioned. That's great news for the parents, but did you also know that this bike has won numerous awards? The Wishbone has won awards from numerous organizations, including the 2009 JPMA Innovation Award, the Dutch Best Baby Toy Award, the TIME Magazine Design 100, Dr. Toy Best Green Toy 2011, and Babble.com Best Kids Bike 2011. That many honors for a single toy is impressive.
Wishbone urges parents to supervise young children riding this bike in light of all of the above. There are little pieces present that might become choking hazards.
Kinderfeets Retro Wooden Balance Bike
---
Specifications
Although Kinderfeets is undoubtedly a well-known brand on this list, this is the last entry we have for this business. Given that it is the oldest-looking model on the list and is described as "retro" and "natural," the Kinderfeets Retro Wooden Balance Bike probably fits the bill. However, aren't those tire spokes cool-looking?
The bike is one of the more expensive items on the list, despite its natural description. But don't be misled by the name. The bike is available in colors other than "wood." The designs "Princess" (which has a cool white and red design with a girl, flowers, and hearts), the "Cupcake" (which has a brown, pink, and white polka dot design), the "Red and White Rocket," and the "Superhero" designs are among the available hues.
The "natural" bike is one of the sexiest balance bikes thanks to all these cool and distinctive options. The bikes with the designs are surprisingly less expensive than the standard wooden ones, and they are made with both boys and girls in mind.
The vintage wooden balance bike features EVA airless tires, a washable, adjustable seat cushion, and foot pedals that aid in cruising and get your child ready for a regular bike. The Retro Wooden Balance Bike's seat and handlebars encourage good posture, which will also please parents. Of course, the manufacturers continue to prioritize comfort.
The Retro Wooden Balance Bike is patented, as are all Kinderfeet bikes, and with each bike sold, Kinderfeets vows to work with Trees for the Future to plant a tree.
ZÜM CX Wooden Balance Bike
---
Specifications
For those looking for a high-quality wooden balance bike without breaking the bank, the ZÜM CX Wooden Balance Bike is a great option. The ZÜM CX is made of 100% top-grade clear birchwood and is long-lasting. ZUM balance bikes are without training wheels and pedals.
They are ideal for fostering the child's coordination and balance development. When the time is right, the knowledge gained on the ZÜM CX Wooden Balance Bike can easily be applied to a regular bike.
The top-grade Birchwood that is 100% clear is perfect for an eco-friendly frame. Parents who are concerned about their children's safety will be relieved to hear that the patented steering wheel ensures that no accidents resembling a jackknife will occur. To prevent your child's hands from getting hurt while holding the handlebars, rubber handgrips were used in their construction.
Wheels that run quietly and smoothly use sealed cartridge bearings. A smoother ride is also made possible by the fact that the wheels are made of rubber air-inflated tires. The adjustable seat, however, is what distinguishes the ZÜM CX from other wooden balance bikes.
The seat on the ZÜM CX can be adjusted from 12 to 17 inches. Vinyl padding has been used to make the seat as comfortable as possible for your child. The frame is reversible and the seat is adjustable to accommodate smaller riders.
This particular balance bike has a non-toxic lacquer finish and a flashy red and white design. To ensure simple assembly, tools are included. Be advised that this bike should not be used by anyone who weighs more than 50 pounds.
Kinderfeets TinyTot Wooden Balance Bike and Tricycle
---
Specifications
Here is Kinderfeets' second contribution. The name of the business is adorable as well. The "Tiny Tot" model claims to be safe enough for one-year-olds to ride. Given that the Tiny Tot has three wheels instead of two, which enables the younger child to begin learning how to move their feet easily, this is most likely made possible. You don't need to buy a new balance bike once they have mastered the three wheels; you can simply convert the bike to two wheels.
The Kinderfeets Tiny Tot Wooden Balance Bike has non-toxic hand grips and adjustable, cushioned, and washable airless tires. To help kids get ready for pedals in the future, the Tiny Tot also has footpegs. The smallest 2-in-1 balance bike available right now is the Tiny Tot. The Dutch design has a low step-through frame that allows kids to feel safer by putting their feet closer to the ground.
The Tiny Tot is a prize-winning balance bike, just like the previous Kinderfeet entry. Additionally protected by a patent, the bike is made of lacquered bamboo wood. Together with Trees for the Future, a tree is planted for every bicycle sold. There are bamboo, blue, green, pink, red, and white versions of the Kinderfeet TinyTot Wooden Balance Bike and Tricycle, Convertible No-Pedal Balance Trike for Kids, and Push Bike.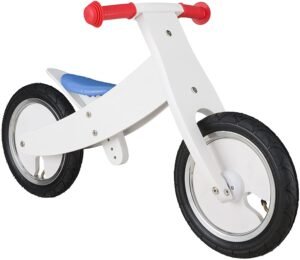 BIKESTAR® Original Safety Wooden Balance Bike
---
Specifications
The Bikestar Wooden Balance Bike model, which retails for a reasonable price, touts being high-quality and lightweight. The Beechwood frame is strong. The extra-large handle on the frame for simple steering is one of the features that the company takes great pride in. The bike's paint is water-based, solvent-free, and impact-resistant.
The certified non-toxic safety "eco rubber steering wheel handgrips" are another safety feature of this bike. The extra wide-base promises for driving comfort and a good suspension, and the handgrips have "end-caps" to stop the child's hands from slipping off.
The business that makes the Bikestar line takes pride in having appealing designs for kids. But it doesn't appear that there are many design options for this particular bike. Additionally, Bikestar offers skateboards and scooters for larger riders.
One of Europe's top producers of kids' bikes, the business has its headquarters in Germany. The customer's needs will always come first, according to Bikestar customer service.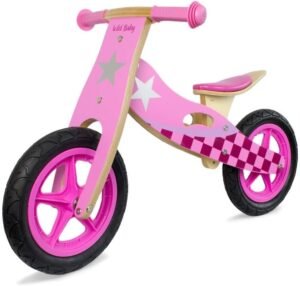 Wild Baby Girls and Boys Training Bike For Toddlers and Kids
---
Specifications
This balance bike has a non-toxic finish and is made entirely of Birchwood. This model, which weighs only 8 pounds and has 12 inches of sturdy, airless EVA tires, is surprisingly lightweight. The handlebars of the bike have soft rubber grips as well.
Your child will learn balance, steering, and coordination skills with the help of the wooden balance running bike. This model promises to help with the transition to a regular bike and boost self-confidence, just like the majority of balance bikes do. Your child cannot walk or run while riding the bike because there are no pedals for them to push with their feet. Once in control, they will lift their feet and glide, which also aids in strengthening their muscles.
With an adjustable seat, this model is another that grows with your child. 13 to 16 inches are the range of height. For maximum comfort, vinyl was used to make the seat. The manufacturer guarantees that your family will own this balance bike for many years.
Parents who are concerned about their children's safety can also relax. Your child won't oversteer or make too sharp of a turn thanks to the restricted steering ratio. Just keep in mind that there is a 60-pound weight restriction on the bike.
Kids will adore the super cool star and stripes design of the bike, while parents adore its safety features. The bike is already 95% assembled, but more work is still needed.
Diggin Active Skuut Wooden Balance Bike
---
Specifications
A popular choice is the red Diggin Active Skuut Wooden Balance Bike. Numerous awards, including the Oppenheim Gold Seal and Creative Top Toy of the Year, were given to the bike. This little toy bike is now a contender because of its impressive performance. The fact that Diggin (the real company name) plants a tree for every bike of this model sold may even be more impressive than the awards! When a large corporation cares about the environment, it is admirable.
Kids must kick themselves off the ground (as if running) in order to move the Diggin Active Skuut Wooden Balance Bike. The "skuuting" technique is ideal for developing balance, steering proficiency, coordination, and independence. The Diggin Active Skuut Wooden Balance Bike lacks training wheels and pedals, just like other balance bikes. When the time is right, your child shouldn't have any trouble transferring the skills acquired on the Diggin to a conventional bike.
The bike is simple to assemble and modify, according to the Diggin Company. The lowest setting for the seat's adjustment is 13 inches, and the highest setting is 16.5 inches. The Diggin Active Skuut Wooden Balance Bike is constructed entirely of Birchwood and has a non-toxic lacquer finish, just like the ZUM model that was mentioned earlier. It has vinyl seats and pneumatic rubber tires.
The Diggin Active Skuut Wooden Balance Bike has a maximum weight limit of 75 pounds and is recommended for children ages 2 to 5. This bike is also available in blue and green for your youngster. Last but not least, in addition to the distinctions already mentioned, this bike has also received the Dr. Toy's 10 Best Active Products, National Parenting Center Seal of Approval, Toy Man Award of Excellence, and Education.com A+ Award.
Things to Consider When Buying a Wooden Balance Bike
Choosing the right wooden balance bike for your child involves more than just selecting a popular brand or a stylish design. To ensure that your little rider has the best experience, here are some crucial factors to consider when making your purchase:
Age and Size of Your Child
First and foremost, consider your child's age and size. Wooden balance bikes are typically designed for toddlers and young children, with recommended age and size ranges specified by the manufacturer. Ensure that the bike you choose is appropriate for your child's current size and developmental stage.
Seat Height Adjustability
A key feature to look for is seat height adjustability. Children grow quickly, and a bike with an adjustable seat allows you to extend its usability as your child grows taller. Most wooden balance bikes have this feature, but it's important to check the range of adjustability to ensure a comfortable fit for your child.
Frame Material and Durability
While wooden balance bikes are known for their durability, it's still essential to examine the quality of the frame material. Look for bikes constructed from sturdy, sustainable wood that can withstand the wear and tear of active play. A durable frame ensures that the bike can be passed down to younger siblings or resold when your child outgrows it.
Tire Type
Consider the type of tires the balance bike uses. Some models come with air-filled (pneumatic) tires, while others have solid rubber or foam tires. Pneumatic tires offer a smoother and more comfortable ride, but they may require occasional maintenance to keep them inflated. Solid rubber or foam tires are maintenance-free but may provide a slightly less cushioned experience.
Handlebar Height and Grip
Check the handlebar height to ensure it's comfortable for your child to reach and grip. The handlebars should be easy for them to hold onto without straining their arms. Some balance bikes also feature padded grips for added comfort and control.
Weight Capacity
Each wooden balance bike has a maximum weight capacity specified by the manufacturer. Ensure that the bike you choose can support your child's weight. It's worth considering a model with a higher weight capacity if you want the bike to last longer as your child grows.
Brake System
While most wooden balance bikes don't have traditional brakes like pedal bikes, some may come with a hand brake. A hand brake can be beneficial for teaching children how to stop safely. However, many balance bikes rely on a "feet-down" braking method, which is intuitive for young riders.
Price and Budget
Balance bikes come in a range of price points. Set a budget that aligns with your preferences and needs. While it's tempting to go for the cheapest option, remember that a slightly higher investment in a quality wooden balance bike can result in better durability and a more enjoyable experience for your child.
Safety Features
Ensure that the balance bike you choose meets safety standards and has features like rounded edges and non-toxic finishes. Safety should always be a top priority when selecting a bike for your child.
By carefully considering these factors, you can select the perfect wooden balance bike that suits your child's age, size, and needs, providing them with a safe and enjoyable introduction to the world of cycling.
Frequently Asked Questions (FAQs)
Conclusion
In conclusion, wooden balance bikes provide an ideal foundation for your child's cycling journey. They promote balance and coordination while instilling confidence in young riders. With our top picks, you can choose the perfect wooden balance bike to kickstart your child's love for cycling. Invest in one of these quality bikes, and watch your little one embark on their exciting journey to becoming a confident cyclist.