Best Karaoke Machine for Kids
Last updated: December, 2023
Karaoke is not just a pastime; it's a gateway to imagination and self-expression, especially for kids. Choosing the right karaoke machine for your little ones can make all the difference in transforming their playtime into a stage-worthy performance. In this guide, we'll explore the best karaoke machine for kids, ensuring they have a blast while fostering their creativity and confidence.
Comparison of Popular Karaoke Machines for Kids
| Karaoke Machine | Durability | Safety Features | Sound Quality | Affordability | Price |
| --- | --- | --- | --- | --- | --- |
| Singing Machine SML385UBK | Good | Yes | Average | Affordable | $69.99 |
| 808 Singstation XL | Good | Yes | Good | Moderate | $99.99 |
| 808 Singsation All-in-One | Good | Yes | Good | Moderate | $129.99 |
| Earise Vigorowl T65 | Moderate | Yes | Good | Affordable | $59.99 |
| KaraoKing 4-in-1 Karaoke Machine | Good | Yes | Good | Affordable | $89.99 |
| Singstation SPKA30R | Good | Yes | Average | Moderate | $119.99 |
The Best Karaoke Machine for Kids: A Detailed Review
Singing Machine SML385UBK
---
Specifications
Battery Life:
Not Battery Support
The ease of use is one of the most crucial aspects of karaoke machines for children. With its straightforward controls, the Singing Machine SML385UBK boasts an easy-to-use design that even young children can grasp and operate. In addition, parents or guardians can easily set up and operate the machine with the help of a comprehensive instruction manual. With the USB connection on the Singing Machine—which comes in white and black—you can record and playback your child's priceless performances at a later time. With its LED 2-digital display feature, you can follow along to your song word for word and beat without missing a beat.
With its integrated LED disco lights, the Singing Machine SML385UBK provides kids with hours of entertainment they will love. The ambiance that the lights create is lively and exciting, adding to the fun of karaoke night. Users have the option to turn on or off the lights based on their preferences. Several built-in sound effects on the Singing Machine SML385UBK improve the karaoke experience. Voice echo control, balance control, and auto voice control are some of these sound effects. Youngsters can play around with these settings to customize a sound that fits their singing style.
Your child won't have any trouble using the control panel because of how easy it is to use. Plugging in the RCAL cable allows you to immediately begin singing. The Singing Machine SML385UBK's Bluetooth connectivity is yet another fantastic feature. Kids can stream karaoke music from websites like YouTube or Spotify or play their favorite songs on the machine by connecting their smartphones, tablets, or other Bluetooth-enabled devices. With the help of this feature, kids can add more songs to their karaoke library than what comes pre-installed on the computer.
The karaoke file formats supported by the Singing Machine SML385UBK are MP3, CD+G, and MP3+G. This implies that, provided the music is in one of the supported formats, children can listen to music from a variety of devices, such as CDs, USB drives, and even smartphones.
Kids can easily carry the Singing Machine SML385UBK to various places because it is lightweight and portable. Kids who wish to bring the machine to sleepovers, parties, or other events will find this feature useful.
The Singing Machine's outstanding sound quality and light features are two of my favorite things about it. When using this karaoke machine, one thing to keep an eye out for is the power cord located at the back. Take care when plugging it in as it can be a little tricky to get just right.
808 Singstation XL
---
Specifications
Battery Life:
4 or 5 Hours
Any song or performance can benefit from the many built-in voice effects available in the Singstation Professional Karaoke Machine. These consist of various vocal filters, reverb, echo, and pitch correction. These effects can be changed by users to produce a distinctive sound that fits their tastes and style. Additionally lightweight and portable, the Singstation Professional Karaoke Machine is convenient to carry with you wherever you go. It can produce excellent sound in any environment and is small and powerful enough to fit in a small bag or backpack.
Similar to the Singing Machine, it features two microphones and inputs so your kids can sing along on a duet or, for the solo artist in them, they can plug in their guitar, drums, or piano and jam out on their own. With the device holder, you can put your phone or tablet down and listen to your favorite music via YouTube, karaoke apps, or Bluetooth. Because of its high-quality sound delivery design, the Singstation Professional Karaoke Machine is appropriate for use in professional environments. It has excellent speakers that deliver clear, crisp sound even at loud volumes, along with a strong amplifier. By doing this, users can listen to their favorite songs without any disruption or distortion.
Even for new users, the Singstation Professional Karaoke Machine is simple to operate and intuitive. Its user interface is simple and easy to use, with buttons and controls that have clear labels. Users can quickly and simply change the voice effects and other settings as needed thanks to this. Compatible devices with the Singstation Professional Karaoke Machine include laptops, tablets, and smartphones. This makes it simple to stream your preferred music videos and songs straight to the computer without the need for extra hardware.
The portability of the Singsation XL is one of my favorite features. It has a handle for carrying on top and pairing it with your phone via Bluetooth and your preferred karaoke app is simple. Although I haven't personally experienced this problem, I have seen some complaints that the charger eventually stopped working and needed to be replaced by the company because a universal charge wouldn't work with this karaoke machine.
808 Singsation All-in-One
---
Specifications
Battery Life:
Not Battery Supported
It's easy to set up and operate the Singstation All-In-One Karaoke System. The system's controls are simple to use and intuitive, and the microphone stand can be easily adjusted in position. Because of this, individuals of all ages and ability levels can use it. With this product, Singsation set out to create a device that could amuse people of any age, from 4 to 104. It has two mic inputs for those romantic duet moments, a height-adjustable microphone stand, and sixteen distinct light shows.
Excellent audio quality is offered by this karaoke system for both music and voice. Reverb and echo are two built-in voice effects in the microphones that can improve the singer's vocal quality. Additionally, the system features an integrated speaker that generates a strong, clear sound.
Similar to the Singing Machine and Singsation, the previous two machines, this all-in-one karaoke system is highly adaptable, providing a range of features that enable various singing experiences. Because it has two microphone inputs, duets and group performances are possible. Additionally, the system has Bluetooth connectivity, which enables users to stream music from other devices, such as phones, to increase the number of songs available.
It is simple to move to different locations because it is completely portable. It is portable and lightweight, making it perfect for events like karaoke in different locations. I think it offers great value for the money. It comes with every feature required for an extensive karaoke experience, such as speakers, microphones, microphone stands, and voice effects. In comparison to acquiring these components individually, the Singstation All-In-One Karaoke System is a reasonably priced and practical choice.
I adore how simple it is to use a device to set this up. The Singsation All-in-One's platform for holding your phone or tablet at eye level so you can follow along with the words while at the microphone stand is a great addition, and Bluetooth makes pairing karaoke apps with the device incredibly simple. If you take your karaoke seriously, you may discover that the microphone isn't the best quality; however, you can easily upgrade the microphone. I will never sound like Mariah Carey, so the microphone that came with the Singsation All-in-One was perfect for me!
Earise Vigorowl T65
---
Specifications
Being among the most reasonably priced karaoke machines available, the EARISE T26 Portable Karaoke System is a great choice for anyone on a tight budget. It has features and great sound quality that you would expect from a more expensive karaoke machine, all for a low price of $65.99.
It is portable and lightweight, making it simple to carry around. It is conveniently portable, fitting neatly into a backpack or carried by hand for events like picnics and parties. With its many uses, the EARISE T26 is a multipurpose machine. It can be utilized as a karaoke machine to belt out your favorite tunes or as a Bluetooth speaker to play music from your phone, tablet, or other devices.
It's easy to use the Earise T26 Portable Karaoke System. It takes only a few minutes to set up and has straightforward controls. You can begin singing right away by pairing it with your phone or other devices via Bluetooth or an aux cable.
The Earise T26 Portable Karaoke System, however, has remarkable sound quality despite its compact size. With its 3-inch speaker's strong bass and crisp treble, you can enjoy great-sounding music and karaoke. Additionally, it has a wireless microphone, so you can easily sing along to your favorite songs without having to deal with messy wires and cords. Additionally, the microphone's range is good, allowing you to move around freely while singing.
KaraoKing 4-in-1 Karaoke Machine
---
Specifications
With the ability to function as a karaoke machine, Bluetooth speaker, FM radio, and voice recorder, the KaraoKing Wireless Karaoke Machine is a 4-in-1 gadget. It can be used to record your voice, listen to the radio, play music from your phone, and sing karaoke. With its small and lightweight design, the KaraoKing Wireless Karaoke Machine is convenient to use anywhere you go. With its rechargeable battery, it can be used for outdoor events like picnics and parties for up to eight hours of playtime.
Numerous gadgets, such as MP3 players, laptops, tablets, and smartphones, are compatible with the KaraoKing Wireless Karaoke Machine. Almost any device with a 3.5mm audio jack or Bluetooth can be used with it. The 3.5mm AUX cable that is included can also be used to connect other devices. Due to the two microphone inputs on the KaraoKing Wireless Karaoke Machine, two people can sing at once. Additionally, it features a balance control and digital echo to ensure you sound your best. You can access a large library of karaoke songs, lyrics, and videos with the free karaoke app that comes with the KaraoKing Wireless Karaoke Machine. Devices running iOS and Android can download the app.
Built-in multi-color LED lights in the KaraoKing Wireless Karaoke Machine flash and change color in time with the music, enhancing your performance with a lively and enjoyable atmosphere. A fun element is added to your performance with the KaraoKing Wireless Karaoke Machine's voice effects, which include a high-pitched, low-pitched, and robot voice.
The versatility of the KaraoKing is one of my favorite things about it. It can even be amplified by connecting it to a keyboard. Additionally, even if you're not tech-savvy, setting it up is simple. The machine's Bluetooth connectivity is the only thing I find problematic. It can occasionally take some time for your device to pair. Furthermore, this karaoke machine is rather expensive; if you're on a tight budget, I suggest checking out one of the other devices on our list, such as the Earise Vigorowl T26 Karaoke System.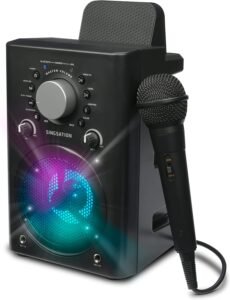 Singstation SPKA30R Classic Karaoke Machine
---
Specifications
Battery Life:
Not Battery Supported
Despite being on the smaller side, the Singsation SPKA30R Classic Karaoke Machine still has good sound quality. You can customize the sound to your preference by adjusting the sound using the machine's controls. Because of its portability and lightweight, the SPKA30R is simple to move to various locations. You have a choice of power sources because the machine can be powered by batteries or an AC adapter.
Without requiring CDs, you can connect your smartphone or tablet to your preferred karaoke apps and access thousands of songs and karaoke videos from YouTube. As an alternative, you can stream your preferred music wirelessly from a smartphone or tablet using Bluetooth. As an alternative, you can use the aux-in cable to enjoy the large bass and room-filling sound of this wireless speaker.
A speaker, microphone, AC power adapter, and cradle to hold your tablet, smartphone, or other devices are all included in the package. With the three voice effects (chipmunk, low pitch, and high pitch) available, you can alter your voice and have hours of fun.
The simplicity of use of this karaoke machine is my favorite feature. Everything is clearly labeled, and setup is a breeze. After pairing your device with the Singsation Classic via Bluetooth, download any karaoke app. Before purchasing this karaoke machine, which is on the small side at less than a foot high, keep in mind that one person's plus is another person's minus.
Why Do You Need a Karaoke Machine?
In a world filled with gadgets and gizmos, you might wonder, "Why do I need a karaoke machine for my kids?" The answer lies in the multitude of benefits that this musical device brings to the table, enriching your child's playtime in ways beyond mere entertainment.
Boosting Confidence and Self-Expression:
Karaoke provides a platform for kids to express themselves in a safe and supportive environment. As they take the stage (or living room floor), singing their hearts out, they are building confidence in their abilities and finding their unique voice. This boost in self-esteem carries over into various aspects of their lives, fostering a sense of empowerment.
Enhancing Social Skills:
Whether it's a solo act or a group performance, karaoke encourages social interaction. Sharing the stage with friends or family members promotes teamwork, cooperation, and the joy of creating music together. These shared experiences contribute to the development of essential social skills that will benefit your child as they navigate the broader social landscape.
Stimulating Creativity:
Music is a powerful medium for fostering creativity. A karaoke machine turns your child's play area into a mini recording studio, allowing them to experiment with different tones, and styles, and even create their own performances. This imaginative play not only entertains but also nurtures a creative mindset that can extend to other aspects of their lives.
Educational Value:
Karaoke machines, especially those with features like on-screen lyrics and voice modulation, can have educational benefits. Following lyrics promotes reading skills while experimenting with different vocal tones aids in understanding musical concepts. Without even realizing it, your child is engaging in an educational activity that complements their formal learning.
Buyer's Guide
Embarking on the journey to find the ideal karaoke machine for your little one can be both exciting and daunting. With a myriad of options available, it's essential to consider various factors to ensure that your purchase aligns with your child's preferences and your expectations. Here's a comprehensive buyer's guide to help you make an informed decision:
Age-Appropriate Features:
Begin by considering the age of your child. Younger kids may benefit from simpler designs with large buttons and minimal controls, while older children might appreciate more advanced features. Look for age-appropriate designs that cater to your child's developmental stage.
Durability and Build Quality:
Kids are known for their enthusiasm, which can sometimes translate into accidental bumps and falls. Opt for a karaoke machine with sturdy construction and durable materials. A robust build ensures that the device can withstand the inevitable wear and tear associated with playful activities.
Portability and Size:
Kids love to carry their favorite toys around the house. Choose a karaoke machine that is compact and lightweight, allowing your child to take it from the bedroom to the living room effortlessly. Portability enhances the versatility of the device and encourages your child to enjoy music wherever they go.
User-Friendly Controls:
Make sure the karaoke machine is easy for your child to operate independently. Intuitive controls, clear buttons, and straightforward interfaces ensure that your little one can navigate through song selections, adjust volume, and manage other settings without constant assistance.
Microphone Options:
The microphone is the heart of the karaoke experience. Ensure the machine comes with a microphone, and consider whether a wireless option would be more convenient for your child. Some machines even offer multiple microphone inputs, perfect for duets and group performances.
Song Library and Connectivity:
Explore the machine's song library and connectivity options. Some karaoke machines come with a built-in selection of songs, while others allow you to connect external devices for a broader range of choices. Consider the diversity of the song library and ensure it aligns with your child's musical preferences.
Educational Features:
Look for karaoke machines that offer educational features to enhance the learning experience. Features such as on-screen lyrics, voice modulation, and interactive games can make the karaoke sessions not only entertaining but also educational, contributing to your child's cognitive development.
Volume Controls and Safety:
Protect your child's hearing by choosing a karaoke machine with adjustable volume controls. This feature allows you to set an appropriate volume level, ensuring that the musical fun remains safe for young ears.
Brand Reputation and Reviews:
Research the reputation of the brand and read reviews from other parents. A reliable brand with positive reviews is more likely to deliver a quality product. Pay attention to feedback regarding durability, ease of use, and customer support.
Budget Considerations:
Finally, establish a budget based on your preferences and the features you deem essential. While it's tempting to go for the latest and most feature-rich model, there are excellent options available at various price points. Finding the right balance ensures that you get value for your money.
Frequently Asked Questions (FAQs)
Conclusion
In the world of childhood play, a karaoke machine is not just a device; it's a portal to creativity, confidence, and endless fun. By considering the features mentioned above, you can find the best karaoke machine for kids that not only entertains but also nurtures their love for music and self-expression. Watch as your little ones transform into confident performers, ready to take on the world, one melody at a time.